PlayStation Leaks Point To Next-Gen Handheld Named Q Lite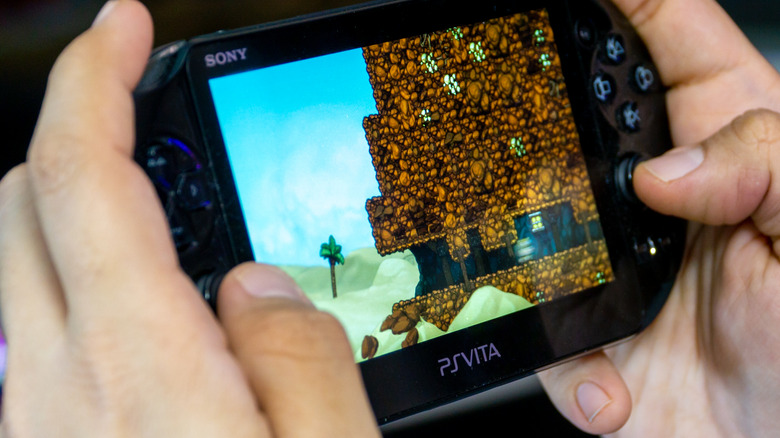 Taner Muhlis Karaguzel/Shutterstock
Almost as soon as the PlayStation 5 hit the shelves, rumors have swirled surrounding what Sony's next move might be in the console arena. Those rumors heated up again last month when word of an upcoming PS5 Pro console began to spread like wildfire on Twitter. 
In March, Tom Henderson's Insider Gaming reported that Sony was already actively working on the successor to the PlayStation 5 console, with aims to release it at some point in 2024. These reports have yet to be corroborated by Sony, but the timeline would line up nearly with previous PlayStation console life cycles. Now, Insider Gaming's sources have alerted Tom Henderson to the development of an all-new handheld gaming platform from Sony, the company's first since the PlayStation Vita's unfortunate release (and subsequent flop) over a decade ago. It's codenamed the Q Lite, and it sounds like it's poised to seriously upgrade the Remote Play experience for PlayStation fans. Henderson's sources describe the handheld device as being roughly the size of a PS5 DualSense controller and featuring "a massive 8-inch LCD touchscreen in the center." 
Details are still a little hazy about this rumored gaming device, but Henderson's sources have disclosed some exciting features, and it sounds like Sony is gearing up for an extremely busy year ahead. Here's what we've heard about the Q Lite so far.
How would the Q Lite work?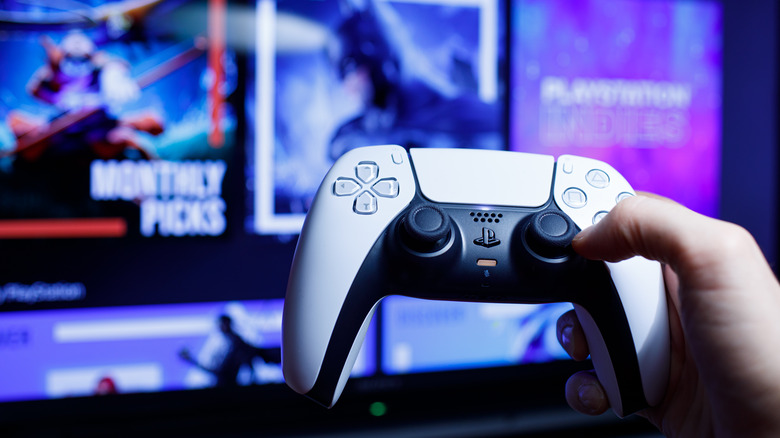 Girts Ragelis/Shutterstock
Before you get too excited about the possibility of PS5-level gaming on the go, it should be noted that the Q Lite requires players to also own a PlayStation 5 console. This rumored console would not quite be the next-gen equivalent of the PSP or PS Vita, nor is it being positioned as a serious competitor for the Steam Deck. It is also reportedly not a cloud-based portable system in the vein of the Logitech G. Instead, according to Insider Gaming's sources, the Q Lite will apparently make use of the PlayStation 5's Remote Play feature. 
For those who haven't dabbled with it before, Remote Play allows gamers to stream titles from their PS5 or PS4 to other compatible devices, such as tablets, smartphones, and laptops. All that's required is a broadband connection, the Remote Play app, a DualShock or DualSense controller, and internet service that provides speeds of at least 5Mbps. The Q Lite would presumably require a fast and stable internet connection, as it is reportedly capable of supporting 1080p and 60FPS gaming. It would also do away with the need for the controller, as the purported handheld features buttons and a joystick on its face, as well as the haptic feedback and responsive triggers of the DualSense controller.
This last detail would seem to position this as one of the most immersive handhelds in gaming. Imagine having the sound and the vibrations of your favorite FPS literally right at your fingertips!
Fans want more info on the rumored PlayStation handheld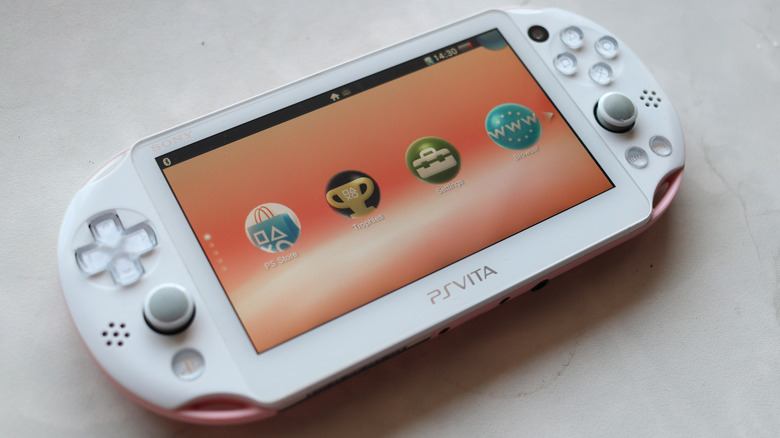 Daria Gromova/Shutterstock
The response to this news has been mixed, with some fans on social media expressing that they'd like to see something more in line with Sony's previous portable offerings. Others are intrigued by the idea of a handheld that incorporates the power of the DualSense. Meanwhile, gaming insider and podcaster Jeff Grubb is urging fans not to get too worked up about the rumors. Interestingly, Grubb indicates that his sources have described the Q Lite (or whatever its official name might be) as more of a cloud-based system.
I am traveling to Super Nintendo World, but I see the reports about a potential Vita 2, and I would definitely scope down those expectations. I've only ever heard about a cloud-streaming handheld.

— Grubb (@JeffGrubb) April 4, 2023
Fans in Grubb's replies seemed to be a bit underwhelmed by this news, but it's worth noting that exact details regarding Sony's plans for the Q Lite are still unclear. As always, fans will just need to keep their eyes peeled and remain patient until Sony makes any official announcements regarding its future console plans. If Tom Henderson's sources are correct, it may not be a terribly long wait, as the Q Lite is expected to be announced and shipped before Sony's rumored PS5 Pro arrives in stores. 
The next logical question, of course, is when PlayStation would make such an announcement. Prior to E3's official cancelation, rumors abounded that Sony would not have a presence at this year's planned convention, and would instead be holding its own direct presentations going forward. Sony will no doubt be present at this year's Summer Games Fest and Game Awards ceremonies, as well. In other words, there are plenty of opportunities ahead for the gaming giant to clue fans in on the future of its console line. Hopefully we'll hear something concrete about the Q Lite before the year is out.