Why The PS5 Pro Is Trending Again On Twitter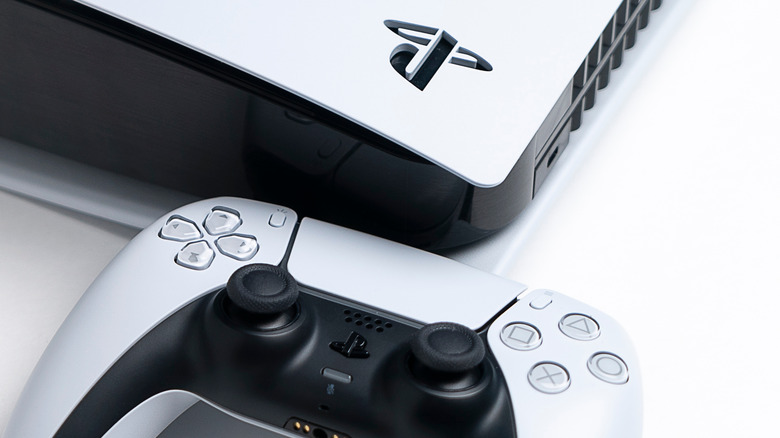 mkfilm/Shutterstock
Evidence has been mounting for a while now that Sony has plans for a PS5 Pro at some point in the future. As recently as last Spring, leaks had the rumor mill turning about if and when the console might release, with some folks even expecting Sony to phase out its base model PS5 before it reached its third anniversary. While Sony has been quiet about the topic for some time, the possibility of a PS5 Pro has been raised among gamers again and has even started trending on Twitter. This renewed interest is thanks to a new leak reported by Tom Henderson of Insider Gaming on March 14.
Advertisement
According to the exclusive report, the PS5 Pro is not only planned, but it's currently in active development and is set to release sooner than many fans might expect. Henderson says that his sources indicate that the updated version of the PS5 has may be out as soon as next year, and that the PS6 may not be seen until 2028 or later.
It should be noted that Sony has not confirmed this information yet and no other sources have confirmed these leaks at this time. Even so, Insider Gaming has expressed confidence in its intel and this new information does fit with past leaks and rumors. Further, as Paul Tassi at Forbes has pointed out, the reported release window for the PS5 Pro and the PS6 would fit the pattern displayed by Sony's previous console generation. For instance, the PS4 Pro launched at roughly the halfway point between the PS4 and PS5. Getting a PS5 Pro in 2024 and a PS6 in 2028 would also put this Pro console at the halfway point of the system's life cycle. 
Advertisement
Possible updates and improvements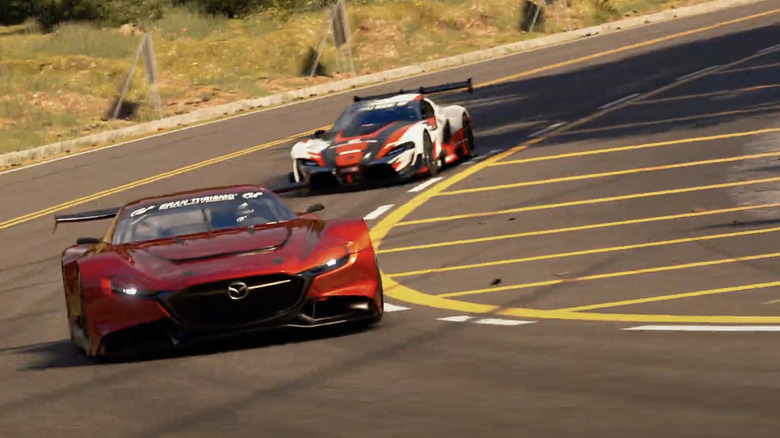 Sony Interactive Entertainment
Although sources are apparently revealing the active production of the PS5 Pro, there's no word yet on just what sort of specs it might feature. In his reporting on the latest leaks, Henderson reminded readers that Sony filed a new patent last year for improved ray tracing technology, so it's possible these updates could make it into the new console. 
Advertisement
Other patents filed by Sony within the last year have likewise been focused on making the company's games more lifelike than ever before. One patent perfectly simulates injuries inflicted on virtual models, which could theoretically change the future of video game violence. Another would actively block spoilers present in user-generated content, keeping players from accidentally stumbling upon trophies, clips, and streams that might ruin the surprises in games they haven't completed. Of course, this is all speculative at this point, and beyond guessing based on patents, there's no concrete evidence to indicate what features the PS5 Pro could offer. It's also worth noting that Sony has filed plenty of patents that have never seen the light of day, like one for a PS5-friendly robot that would give players pointers while they gamed (no, really).
Advertisement
There's certainly no shortage of changes fans would like to see Sony make for the PS5 Pro, however, including cosmetic changes, hardware improvements, and expanded storage. Some are hoping that the updated console will allow for both top-tier graphics and higher frame rates at the same time, rather than forcing players to pick one or the other when they play.
This might not be a popular opinion but if a PS5 Pro means I stop having to choose between native 4K and 60 frames per second, it's well worth it to me.

— The Dual Sense Podcast (@TheDualSensePod) March 14, 2023
Details may be scarce at the moment, but it hasn't stopped gamers on social media from speculating and sharing their opinions about the news. Unfortunately for Sony, not everyone seems thrilled about the possibility of a coming PS5 Pro.
Fan reaction is mixed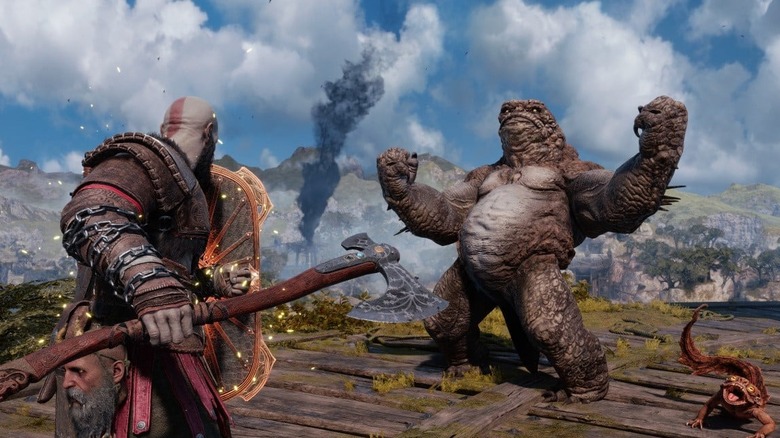 Sony Interactive Entertainment
Shortly after Insider Gaming's report came out concerning the PS5 Pro leaks, the rumored console began trending on Twitter — and opinions vary wildly. Some fans are certainly thrilled by the news and are already planning on grabbing the PS5 Pro and handing off their current PS5s. 
Advertisement
Many others are expressing frustration at what they feel is a misstep for Sony. Some are pointing out that the PS5 hasn't even been out for very long at this point, and many gamers haven't even been able to get their hands on one yet. Others are already seeing this as a craven cash grab for Sony and have responded with the internet's greatest currency: memes.
Y'all ready for a $650 PS5 Pro w/ $70 Remake of Horizon Zero Dawn lmfao https://t.co/R87qslIA1G pic.twitter.com/R91LFZ13Do

— TM06💿: I 💙 Dragon Quest (@trsrpc) March 14, 2023
Granted, the lack of PS5 stock has partly been due to forces outside of Sony's control, like the pandemic and supply chain disruptions, but many fans are still questioning why a new console would be released before most fans have been able to fully enjoy the last one. Further, some fans are noting that the PS5 still hasn't received many must-have exclusive games yet, arguing that it doesn't make total sense for Sony to be working on a new console when the company could be focusing on delivering games tailor-made for the current one. While the PS5 has scored some critical hits, like "Deathloop," it's fair to say that major releases have been limited so far. 
Advertisement
sony making a PS5 Pro? Why not just make some games bro 😭 pic.twitter.com/pYcr2xAiza

— Jeff (@gamingmeanie) March 14, 2023
Of course, with only rumors to go on and no word about what the PS5 Pro will actually be like, it remains to be seen how fans will respond when (or if) they finally get a look at the actual console specs.