Someone Just Beat Multiple Bosses In Elden Ring With A Bop It (And Without LetMeSoloHer)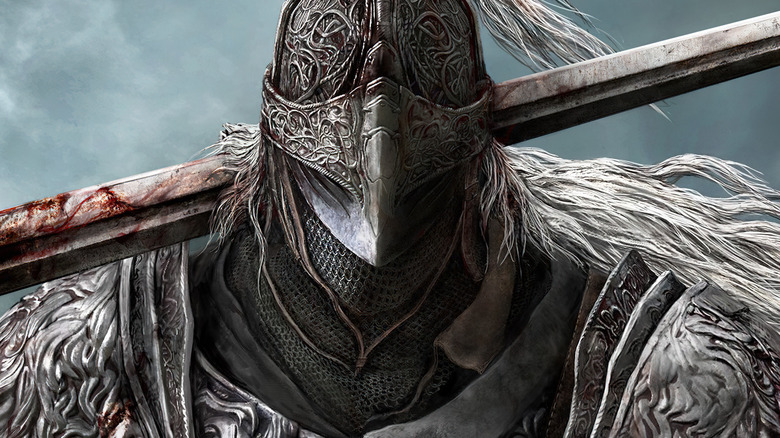 Bandai Namco
There are many strategies to beating the famously challenging Game of the Year winner "Elden Ring," but a Bop It has never been an option on the table — until now. In March 2023, a creative gamer and streamer by the name of Swoop Douglas modded a Bop-It Extreme 2 toy to make it into a viable "Elden Ring" controller. Nostalgic and never-before-seen, this original method may not be practical, but it is surprisingly effective.
With only 5 buttons, the Bop It Extreme 2 offers only a slim chance at victory, necessitating precise action in battle. As self-described "pretend internet streamer man" Swoop Douglas explained , the Bop It was split into layers via the front and back "Bop It" buttons. The "Flick It" mechanism works as a joystick and camera reset, "Twist It" is R1, "Pull It" is R2, "Spin It" is Y, and hitting the main "Bop It" button causes the player to roll. When the back "Bop-It" button is clicked to switch layers, "Twist It" becomes L1, "Pull It" switches items, "Spin It" is jump, and the "Bop It" button allows for item use. "Flick It" stays consistent in both configurations, but switching back and forth can still be a tall ask.
Using this unconventional set-up, Swoop Douglas took a run through the game's brutal bosses.
Swoop Douglas combines creativity and determination for Elden Ring success
It's kind of unbelievable to watch, but Swoop Douglas manages to clear through villains like the Erdtree Burial Watchdog, Grave Warden Duelist, Tree Sentinel, and even the Elden Beast with nothing more than a Bop It and plenty of concentration. The excitement of the new challenge was enough to keep Swoop Douglas on his toes as he worked his way to the end and defeated all the bosses on his radar (even with sweaty hands).
Talking with PC Gamer, Swoop Douglas explained why he pursued this challenge: "I've been playing 'Souls' games for thousands of hours and wanted a fresh/unique challenge for the game and after some brainstorming decided combining it with some childhood nostalgia would be the most fun challenge I could do." He got so into the Bop It version of "Elden Ring" that it added to his already-honed skill and changed how he thinks about the game. In his words, "I think it had to do with having no choice but to use more focus while playing on a Bop It that made me actually better versus a normal controller. And yes, after this run, I held an Xbox controller and it felt absolutely foreign."
Beating all the bosses in "Elden Ring" could be done more easily with the help of lauded players like LetMeSoloHer (the unbeatable player known for their Malenia-beating skills just as much as their signature birthday suit "outfit"), but this Bop It victory was completely unassisted. Swoop Douglas had to rely on his success and knowledge from previous runs and make it work with a totally novel controller configuration. From one-handed runs to complex modded controllers, what will "Elden Ring" players think of next?