Zelda: Tears Of The Kingdom GWP Included With Best Buy Pre-Order (& What Is GWP?)
Nintendo
"The Legend of Zelda: Tears of the Kingdom" is finally releasing on May 12 and plenty of hardcore fans are already pre-ordering the game to ensure that they'll get to dive in on day one. For those who pre-order from Best Buy, it's possible that their pre-order confirmation also lists a GWP along with the game itself. It's not entirely clear what this means, and it's left some gamers confused about what's happening with their pre-orders. As it turns out, anyone who has GWP listed on their pre-order should consider themselves lucky. It means they'll be getting an exclusive bonus when they pick up their copy of "Tears of the Kingdom" in May. But what is GWP?
GWP is apparently a new code Best Buy has begun using, and it simply means "gift with purchase." Seeing GWP means there is some sort of bonus that will come with the product itself at the time of sale. Gamers who have a GWP on their pre-order should make a note of it and remember to confirm they get their gift before they leave the store when they go in to fulfill their pre-order.
In the case of "Zelda: Tears Of The Kingdom" GWP, anyone who has GWP on their pre-order is doubly fortunate. They'll be receiving a nice little souvenir and, as this offer is in limited supply, not everyone will have a chance to get it.
Best Buy pre-orders will come with a free art print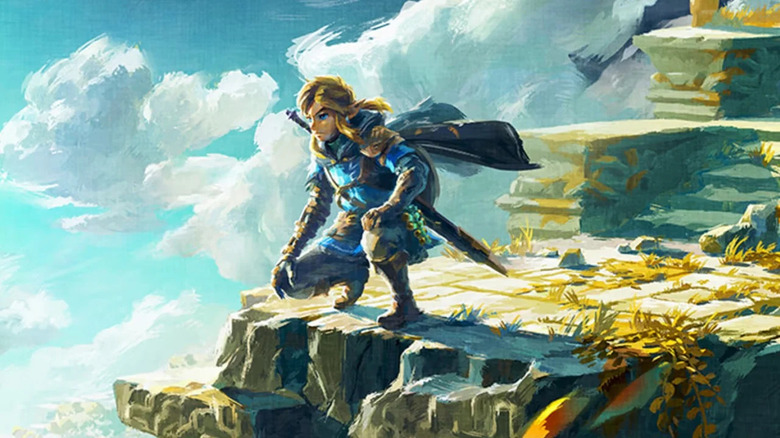 Nintendo
Fans who pre-order "Tears of the Kingdom" early enough will have a chance to get the mysterious GWP, which is a stylish art print of Link perched on the ledge of a floating island. The image certainly conveys a sense of wonder, mystery, and adventure, and it would look great on the wall of any "Zelda" fan's game room.
This "Zelda: Tears Of The Kingdom" GWP will be available for pre-orders of both the standard and the Collector's Edition of the game, so everyone has a chance to get a copy of the print. Supplies are limited, however, and there's no indication of when they'll run out. When they eventually do, all future pre-orders will come without the bonus, so players have an incentive to head to Best Buy sooner rather than later.
This print should entice a few more fans to get their pre-orders in, and, in the future, Best Buy customers will likely be checking their receipts for mention of a GWP whenever they make a pre-order.