MrBeast Is Fed Up With The Attacks On Chris Tyson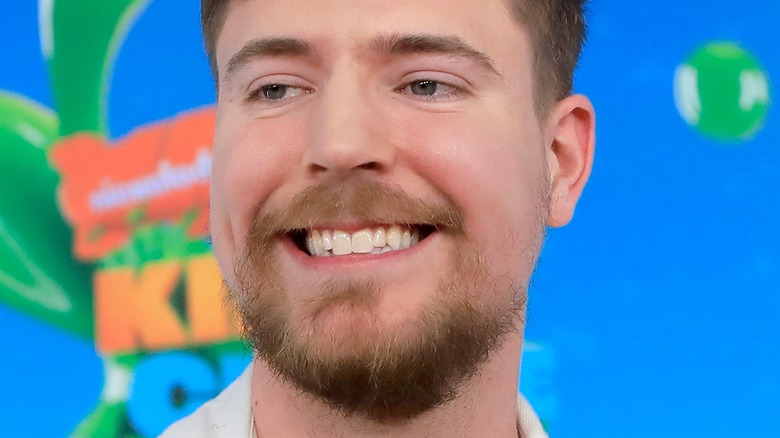 Kathy Hutchins/Shutterstock
Last week, content creator Chris Tyson had everyone talking when he revealed that he'd begun Hormone Replacement Therapy (HRT). As a longtime member of MrBeast's regular crew and a co-host of the Beast Reacts channel, Tyson spends a great deal of time in the public eye, and fans had begun to notice a definite difference in his appearance. Tyson responded to the discourse surrounding his new look by revealing that he's been on HRT for a few months.
The YouTuber, who now goes by any pronouns, tweeted to his fans that he felt extremely lucky to be able to talk openly about HRT and its positive effects. According to Tyson, gender-affirming care has been a lifesaver for him, and he encouraged his followers and detractors to "let people make informed decisions about their own bodies." He also promised fans that more conversations about his new outlook on life would be forthcoming and encouraged people to ask questions, as long as they were respectful. Unfortunately, not all of the reactions to Tyson's announcement have been quite so positive, and MrBeast has had enough.
In addition to a number of hurtful replies to Tyson's initial tweets, a new video from fellow YouTuber SunnyV2 argues that Tyson's hormone therapy is going to cause problems for the YouTube channel that he calls home. The video, entitled "Why Chris Will Soon Be A Nightmare For MrBeast," has racked up well over 2 million views since it was posted a day ago. It's also attracted the ire of MrBeast himself.
MrBeast responds to a video about Chris Tyson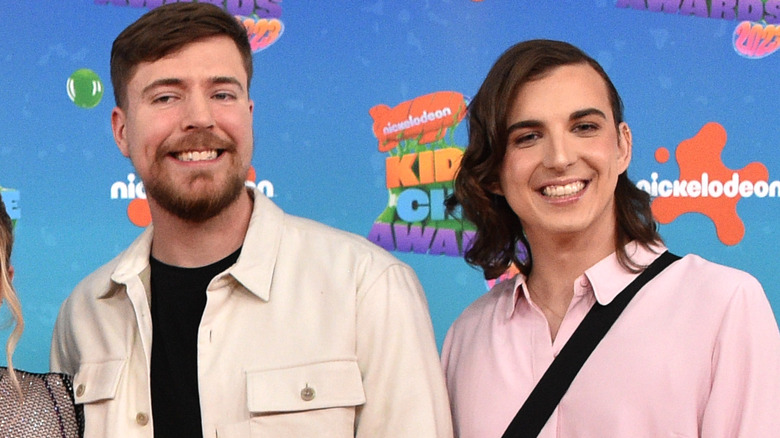 SunnyV2's video takes people through the timeline of Chris Tyson's change in appearance and even touches briefly on the YouTuber's divorce, putting together an argument that Chris' direction in life will ultimately cause viewers to abandon MrBeast's channel. The video also spotlights a number of critical comments from fans and viewers who have made fun of Tyson's new look, while also noting that Chris' friends are standing by him. SunnyV2 also argues out that the number of downvotes on MrBeast's channels have increased since Chris Tyson began speaking out about Hormone Replacement Therapy, pointing to a recent unboxing video as proof that the dynamic of MrBeast's group has changed drastically.
The video has been a divisive one on Twitter, one that MrBeast has been unable to ignore. Twitter user @Relolyn shared a screenshot of the video and noted, "This new sunnyv2 video feels really invasive for all the wrong reasons. Like why did u make this? ... its just really offputting and unnecessary." This led MrBeast to respond: "Yeah, this is getting absurd. Chris isn't my 'nightmare' he's my f***en friend and things are fine. All this transphobia is starting to p*** me off." 
Of course, MrBeast's comment is not simply directed at SunnyV2's content, but on the whole of the negativity directed at Chris in recent history. This video just seemed to be the final straw for the YouTuber. MrBeast's tweet was met with a flurry of varied responses, from people doubling down on the criticism to others congratulating MrBeast for standing by Chris. Some even encouraged MrBeast to share some of his wealth with organizations focused on trans rights. 
xQc and TikTok respond to Chris Tyson's critics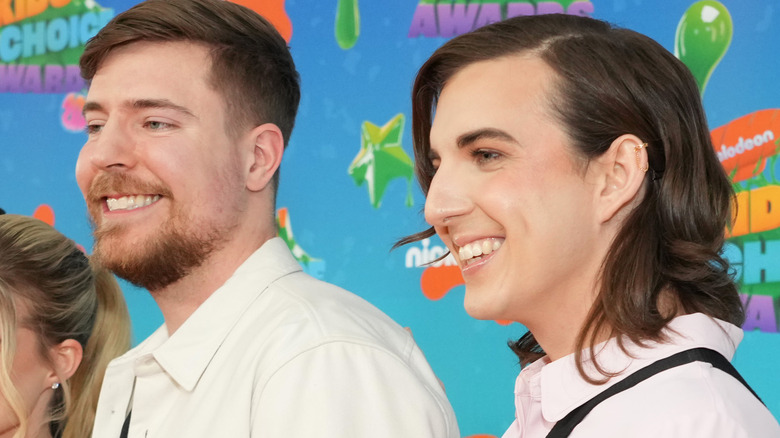 Kevin Mazur/Getty Images
MrBeast isn't alone in feeling frustrated by the negative response to the changes in his friend's life. xQc also watched SunnyV2's new video and reacted live on Twitch — and he didn't mince words. He especially seemed to take issue with the insinuation that Chris Tyson's personality could be getting too far away from what fans liked to begin with. Partway through the video, xQc paused the clip, turned to his audience, and said, "This f***ing take from Sunny is absolutely unhinged." He added, "There is a million things that happen in people's private lives that change the nature of content, behavior, and personality ... And that's just being a human. That's what that is. It's called the human experience."
TikTok has also had quite the time trying to tackle videos on the platform criticizing Chris Tyson. After Insider forwarded a handful of videos making fun of Tyson for his new appearance, a rep for TikTok promised they had all been deleted for "hateful behavior."
In the meantime, Chris Tyson has promised to continue to be open and honest with his fans as he continues his journey. He will most likely discuss more about his gender identity in the near future, but for now, Chris seems to be happy just being Chris.
It's never too late, to start being yourself 💜💜💜 pic.twitter.com/UqiQ6QkU4K

— Chris (@chris) April 7, 2023