Chris Tyson's Relationship With Ex-Wife Katie Tyson Explained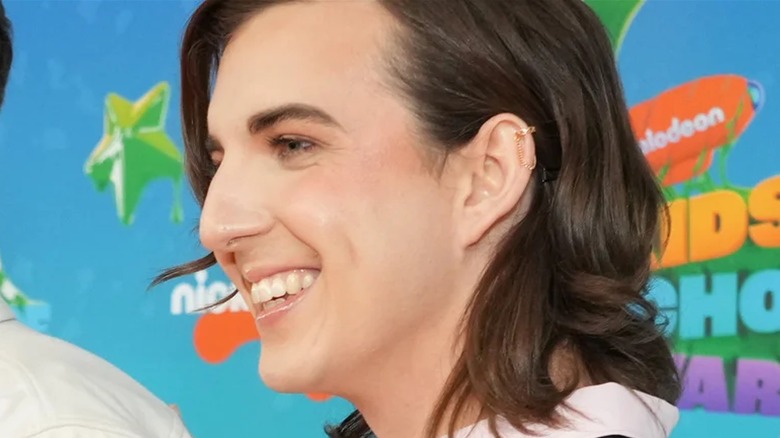 Kevin Mazur/Getty Images
Chris Tyson has been a member of MrBeast's crew for years now, which has inevitably brought him into the spotlight. As a regular participant in MrBeast's increasingly over the top stunts and the co-host of the Beast Reacts YouTube channel, fans have gotten to know Tyson rather well. That's why so many people were blown away when the YouTuber publicly revealed his new look and told his followers on Twitter that he had begun Hormone Replacement Therapy, which in turn has helped him look and feel more like himself than he has in a long time. At the time of this writing, Chris Tyson goes by any pronouns, but has made it clear that he no longer conforms to any one gender in his personal life. These bombshells followed closely after another reveal: Chris and Katie Tyson, his wife of nearly four years, have split up.
In 2018, Chris married Katie, who'd already built up a respectable online following as a social media influencer. Katie seemingly preferred to stay out of the YouTube game, however, only appearing in one MrBeast video during the entirety of her relationship with Chris.
The couple then welcomed their son, Tucker Stephen Tyson, in June 2020. They apparently took to parenting right away, and Chris often posts about bringing their son to MrBeast video shoots. Since then, fans have kept up with the family on Instagram and through various other channels, which is also how their followers gradually noticed a change in the relationship.
Chris and Katie split up back in 2022
For folks following along with Chris and Katie on social media, it became obvious over the course of 2022 that something had shifted. The couple had essentially stopped posting pictures of one another, although they would still occasionally leave cute or friendly comments on pictures of their son. Some internet sleuths did a bit of digging and discovered that the last known photo Kate had posted with Chris was uploaded to Instagram back around Christmas 2021.
After being asked numerous times about their relationship status, Chris finally relented and told the fans that he and Katie had actually split up the previous year and were going through the process of a divorce. Chris also reiterated that they didn't want to make this a hugely public affair, so fans may not ever get all of the answers they're asking for. Chris added, "Please respect our privacy and please do not comment asking questions about this specific topic on our socials about this from here on. Thank you so much love you all."
For a little over a year now me and Katie have been separated. We are finalizing things soon but these things take time. We like to keep our personal lives private, which a lot of people don't understand because we share so much, but this is the only time I want to discuss it. https://t.co/i3B4hY0hk0

— Chris (@Christhealtgod) March 28, 2023
The response to this news was a mix of support and confusion, with some wondering how this might impact their young son. However, concerned fans will be happy to note that some of Chris and Katie's social media posts since this bombshell have shown that they're very much still focused on what's best for Tucker.
Chris and Katie are still in touch and are co-parenting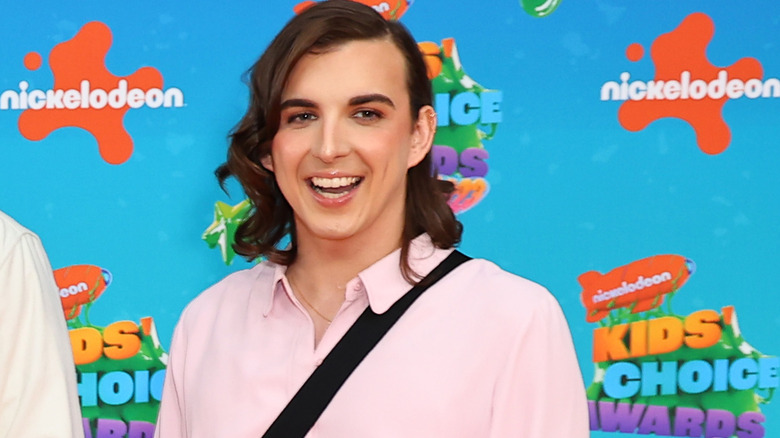 Leon Bennett/Getty Images
Chris and Katie might not be romantically involved anymore, but that doesn't mean they can't combine resources to be good co-parents to their son, Tucker. It seems that there's no ill will between the two when it comes to raising Tucker, and they frequently collaborate on giving him enriching experiences. For example, Katie shared a post on Instagram remarking that Tucker got the chance to fly on a fancy plane while spending time with Chris — even though he snoozed through the whole trip. Chris commented on the post emphasizing how much fun Tucker had on the luxurious planes.
Chris also made a separate post about the trip, explaining that it originally began as a premise for a MrBeast video, but ended up being a chance for parent-child bonding. In other words, it sounds like the trip ended up being more fulfilling than expected. And who knows — maybe that unmade MrBeast video will still get filmed with Chris and Tucker at some point!
In the meantime, the fact that both Katie and Chris continue to post about each other and their dedication to their son shows a priority for communication and interaction when it comes to the child they clearly love very much. Chris Tyson has also recently explained that he intends on posting fewer pictures of Tucker in the future, apparently to preserve the family's privacy as best he can. What's important for fans to know currently is that Chris and Katie are clearly dedicated to being good parents, which is all any kid can ask for.