How The Super Mario Bros. Movie's Viral Peaches Song Came Together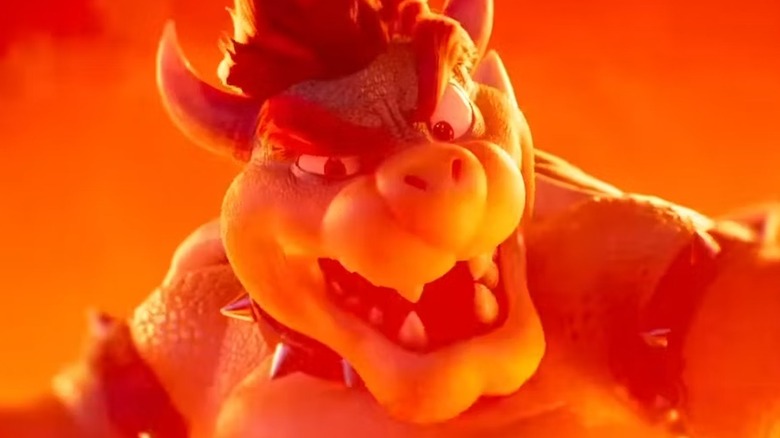 Universal Pictures
Viewers could not get enough of "Peaches," Bowser's Princess Peach-centric love ballad, following the release of "The Super Mario Bros. Movie." The song went viral, hitting multiple music charts. The list included the US Billboard Hot 100 where it peaked at 56 and served as actor Jack Black's first solo single to rank. Given the success of "Peaches," it may surprise some fans to learn that Bowser didn't start out as a singing role.
According to actor Jack Black (via IGN), the concept of incorporating a vocal component into the film didn't come up until after a year of recording. While directors Aaron Horvath and Michael Jelenic may not have mentioned it until that late stage, it seems they'd long had this end in mind. "As soon as we cast Jack, our greatest desire was to get him to sing in the movie," Horvath confessed to GameSpot.
When the directors approached him with the idea, Black didn't agree right away. "I'm very protective about my singing career with my band, Tenacious D," he told IGN. Before committing, he wanted to hear the material. Horvath and Jelenic accepted this challenge and got to work. The process snowballed from there.
Peaches comes together in record time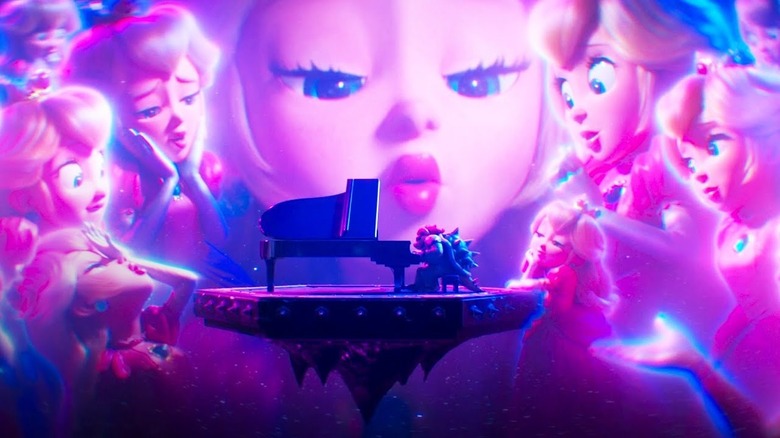 Universal Pictures
Drawing on Black's Tenacious D background, Horvath initially envisioned a much different genre for the track: metal. The movie's narrative sent the directors in another direction and the project evolved into a love song. "It's like, well, we need to tell the audience [about Bowser's feelings for Peach], and it's boring for him to just say like, 'I love Princess Peach,'" Horvath explained while speaking to GameSpot. "We can tell the audience this through song, which is the best way to tell an audience anything."
After receiving the go-ahead, Horvath and Jelenic put together a 30-second demo with the help of film editor Eric Osmond. They then pitched it to Black. He could see that they were on to something. "I was like, I get it. I see why you want Bowser to do this, tickling the ivories and singing a love song to Peaches," Black told IGN. "It was undeniable."
As detailed by Horvath and Jelenic, Black and pianist John Spiker got to work refining the piece right away, composing music and tweaking the lyrics. They didn't even pause to share their thoughts on it. A couple of days later, they returned the finished product to the directors. "There wasn't really any notes or anything. Everyone just loved it. It's a very sort of pure moment, I think, in the movie," reflected Jelenic.