Batman: Art For Canceled Dark Knight Game Appears After 16 Years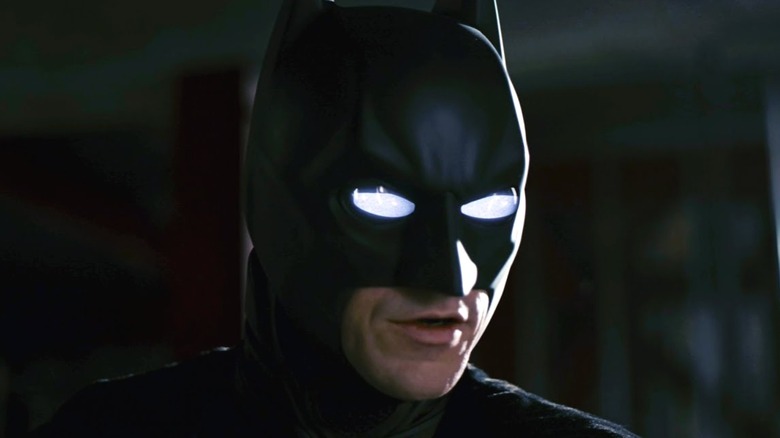 Warner Bros. Pictures
Despite not having too many bonafide successes in video gaming as a whole until the "Arkham" series launched in 2009, the "Batman" franchise has been inspiring games as far back as 1986. With almost forty years of release history, the beloved vigilante has more video games under his utility belt than some gaming household names like "Final Fantasy" and "Legend of Zelda."
Inevitably, this huge repertoire does include some titles you'll never get to play, as a few ended up being canceled before seeing the light of day. Among them is Pandemic and EA's unfortunately scrapped counterpart to "The Dark Knight," the singular highest-grossing "Batman" film of all time. The fact that this huge movie didn't get a tie-in game is unfortunate, but with the "Arkham" series taking off shortly after, Batman still enjoyed a healthy presence in both film and games in the late aughts.
Now, almost 16 years later, "Batman" fans have gotten a new glimpse into the creative vision that drove the ambitious project before its cancelation. Freelance concept artist Goran Bukvic has uploaded some of the work he created for the game, including some seriously cool redesigns of famed DC villains.
A look at the Batman game that could have been
According to Bukvic, he was tasked in 2007 with creating villains that would "look believable and not too exaggerated." This resulted in designs that stray away from the dramatic comic books to make something that wouldn't look terribly out of place in real life (or Christopher Nolan's grounded take on the material). 
His work draws heavily from the street fashion of the time, including a few unnamed enemies as well as redesigns of some of Gotham's resident criminals, including Deadshot and Black Mask. He also took a crack at Batman's suit, borrowing some elements from the tactical armor plates as seen in the film, but also sporting a red logo reminiscent of "Batman Beyond": 
Unseen side and back #Batman suit concept. The cape would cover it for the most part but still gotta have it fleshed out. pic.twitter.com/VW6BuM4yQz

— Goran (@CrazyBrushART) May 15, 2023
While the "Arkham" games went on to deliver open-world action to "Batman" fans, it seems a shame that these designs never got to see the light of day. Though, as some might argue, breaking the tradition of tying video game releases to films might have been the healthiest thing to do for the franchise. According to a 2009 report from Kotaku, the developers lost six months of production work when they were suddenly told the game had to be tied to "The Dark Knight." It's also hard to imagine the "Arkham" series taking off quite so successfully, were it not allowed to play in its own sandbox.