Metal Gear Solid Delta: Snake Eater - Everything You Need To Know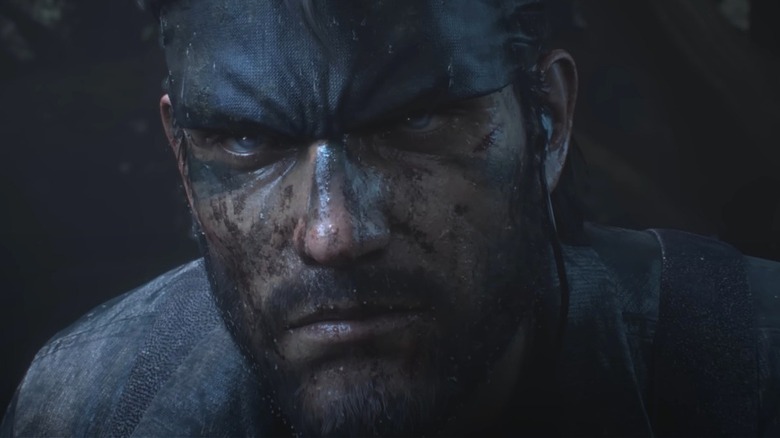 Konami
Konami made big waves during the May 24 PlayStation Showcase when it announced that its developers are currently working on a new game in the "Metal Gear" franchise: "Metal Gear Solid Delta: Snake Eater." Many fans thought that this series might have come to an end after Hideo Kojima's messy split from the studio. The auteur writer, director, and producer has widely been regarded as the creative mastermind behind the franchise, and some fans have been concerned that Konami might be unable to continue it without him.
"Delta" isn't exactly a new entry in the series though. It's actually a remake of "Metal Gear Solid 3: Snake Eater" — a title that many consider to be one of the best PS2 games of all time. So while it doesn't appear that Kojima will be directly involved in this new game's creation, it will still be centered on one of his most influential stories.
The announcement didn't give fans a whole heck of a lot of information about "Delta," however. This has left many of them eager to learn as much as they can about this newly revived action and tactical espionage game. Here's everything we know about it so far.
Is there a release date?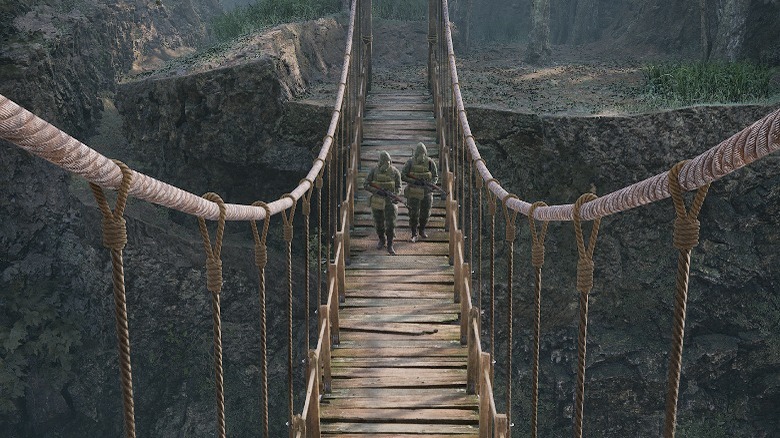 Konami
Fans who saw Konami's flashy announcement are probably eager to know when they will actually be able to play "Metal Gear Solid Delta: Snake Eater." Unfortunately, the game still appears to be in the early development stages, so it probably isn't very likely that fans will be able to play it any time soon. No official release date has been announced as of yet, and the website clearly states that even the images that have been shared so far are from content that is still in development. This likely means that it will be a while before fans know for sure when "Delta" will be coming out.
There is some information about which platforms the game will be coming to though. The announcement during the PlayStation Showcase only stated that the game would be available on the PS5, but Konami's website has revealed that it will also be available on PC via Steam and Xbox Series X|S. Konami has been heavily marketing the game's visual fidelity, so it's likely that these are the only three platforms currently available that are powerful enough to run "Delta."
Is there a trailer?
Those who want to get a better look at what to expect in "Metal Gear Solid Delta: Snake Eater" should definitely check out the announcement trailer that Konami released during the PlayStation Showcase. It states near the beginning that the visuals featured in the trailer are not actual gameplay footage. Even so, they certainly succeed in striking a mood.
The trailer opens with a slow, panning shot of ants crawling across a jungle floor toward the corpse of a frog. This dead amphibian is then suddenly scooped up by a green parrot, which carries it over the canopy of a lush and stormy jungle. The bird dives through a gap in an electrified fence and lands on a log in the middle of a river. The camera then takes an aerial view of the bird as it starts eating the frog, showing something stirring under the water. An anaconda lunges out of the depths, and snags the bird by its wing, only to immediately be grabbed in turn by a huge crocodile. From here, the camera slowly skirts across the water to reveal the jungle's greatest predator yet: Naked Snake, silently moving through the riverbed.
This video doesn't offer much information about gameplay or plot, but it certainly establishes the 'hunt or be hunted' themes that the original title was known for.
What will the story be about?
Konami's official Twitter account stated that the studio chose the name "Delta" because the symbol means "'change' or 'difference' without changing structure," suggesting that Konami is approaching this remake with a philosophy of updating features without changing the core of what the game is. This seems to be confirmed by a message from the development team which states that they are working hard to ensure that "Delta" will be "a faithful recreation of the original story and game design while evolving the gameplay with stunning visuals and a seamless user experience."
For those who've never played the original, "Metal Gear Solid 3" is a stealth action game set in a jungle within the USSR during the Cold War. Over the course of the game, FOX special forces operative Naked Snake has to infiltrate this treacherous enemy territory, rescue a weapons designer, destroy a weapon of mass destruction, and assassinate his own former mentor.
The naming conventions can be a little confusing, but "MGS3" is actually a prequel to the "Metal Gear" franchise, making it an excellent place for Konami to start if they wish to remake the entire series. This also makes it a good place for new fans who've never played a "Metal Gear" game to get into the franchise.
What kind of changes can fans expect?
"Metal Gear Solid Delta: Snake Eater" is keeping a lot of its content the same as in "MGS3." In addition to maintaining the story, Konami has also announced that it will feature character voices from the original as well. If nothing else, this seems to suggest that David Hayter will be reprising his role as Snake. That said, the studio is planning on making a good deal of upgrades as well.
To start, environmental design is going to be a big one. The official "Metal Gear" Twitter account has posted several screenshots of the densely forested areas, with one of the posts stating that the game's "jungle boasts a level of detail that takes the immersion to another level." The account has also stated that the creatures living in this jungle will be highly deadly to those who unwittingly cross their path.
Graphical improvements aren't the only thing getting an upgrade, but Konami has yet to share any details about how its developers plan to 'evolve the gameplay.' It seems fans will have to wait until the project is farther along for more information.