Why The Cast Of Alone In The Dark Looks So Familiar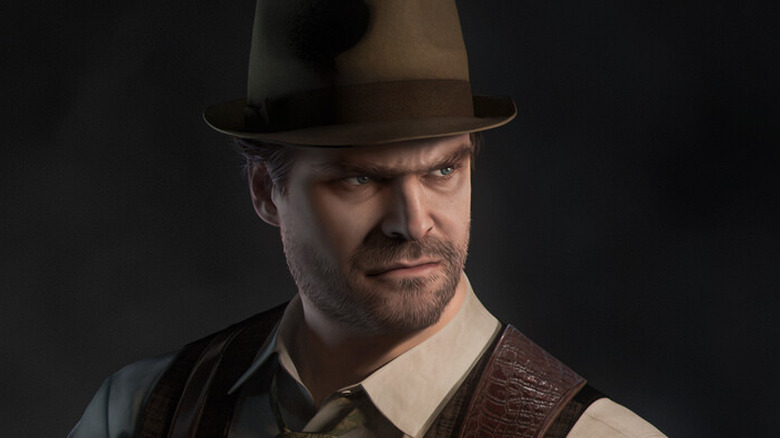 THQ Nordic
The "Alone in the Dark" remake is coming this October to help fans everywhere celebrate Halloween with action and scares. While still a ways off, publisher THQ Nordic has given fans a full trailer and offered them a closer look at the upcoming game in a recent spotlight event. Gamers who have been following these reveals are likely excited for what's to come and may also have noticed that some of the characters in the game sound familiar.
Those who heard the dual protagonists of Edward Carnby and Emily Hartwood and were sure they'd heard those voices before will be happy to know that their instincts were correct. For the stars of the game, THQ Nordic sought out talented actors with lots of experience, including in the realms of sci-fi, fantasy, and horror. Now these actors are adding this experience to the "Alone in the Dark" series, and fans should be glad to hear such accomplished performers bringing their characters to life.
Jodie Comer - Emily Hartwood
Taking on the role of one of two leads in "Alone in the Dark" is Jodie Comer. This will mark her debut in video games, but she's already made a name for herself in television and film.
Comer will likely be more recognized by fans of British movies and shows, having appeared in series like "Waterloo Road," "Killing Eve," and "Law and Order: UK" — but she's also had major roles here across the pond. Recently, she's appeared in "Free Guy," and played Rey's mother in "Star Wars: Rise of Skywalker." She may not share her co-star's experience with supernatural horror, but she has more than her share of practice in roles related to science fiction and mystery.
This experience with detective shows may have been what drew Comer to the role. Speaking during a game spotlight, she explained that she "love[s] the mystery of the game," and she received praise for her portrayal of Emily Hartwood from game writer and director Mikael Hedberg.
David Harbour - Edward Carnby
Fans of "Stranger Things" should immediately recognize private detective Edward Carnby. Actor David Harbour, who plays Hawkins Police Chief Hopper on the hit series, lends his voice and appearance to "Alone in the Dark," once again playing a character investigating strange and terrifying paranormal events.
Harbour has already had a long and successful career, beginning with guest appearances on shows like "Law and Order" and "Lie to Me" and working his way up to supporting parts in movies like "Quantum of Solace" and "Suicide Squad." It was his role as Jim Hopper in "Stranger Things," however, that truly launched Harbour to stardom and likely led to lots of other major roles.
Harbour is set to return for season five of "Stranger Things" and has also recently appeared in "Hellboy," "Black Widow," and "Violent Night." Now he's making the jump to video games with "Alone in the Dark." This should be a great opportunity for the actor who has said that he's interested in "the video game world" with a specific appreciation for horror games. Now, he'll get to be a part of that world and make his mark on yet another medium.
Fans will have to wait until this Fall to finally get to experience the mystery and terror of "Alone in the Dark," but they will likely be excited to know that such talented and committed performers will be featured when the game finally launches.