New TMNT: Shredder's Revenge DLC Brings Fan Favorite Usagi Yojimbo Into The Fight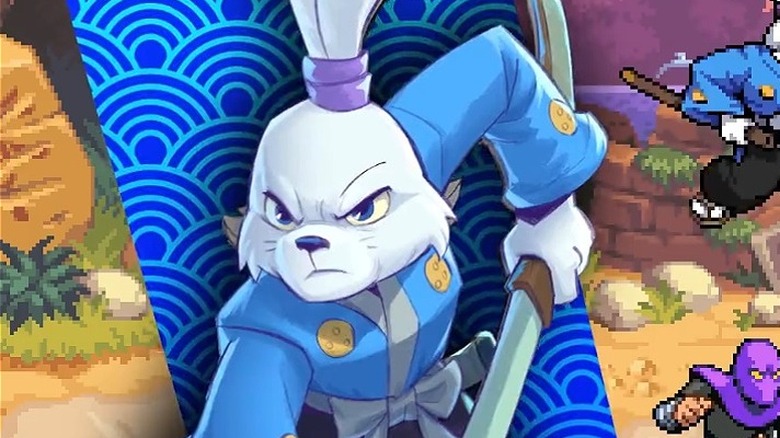 Dotemu
"Teenage Mutant Ninja Turtles: Shredder's Revenge" blew away fan expectations in 2022, delivering an old school beat-em-up that called back to the heroes' arcade glory days. One of the few complaints leveled at the title was its brief runtime, with players conquering every level and boss — and unlocking bonus character Casey Jones — within a matter of hours. Well, fans who are hungry for more mutant action will be happy to know that an update is on the way, bringing with it new modes, new outfits for the turtles and their pals, and guest characters including Usagi Yojimbo.
Advertisement
The new DLC is called "Dimension Shellshock," and it was announced with a high-energy trailer showing off some of the goodies it has in store. From the looks of things, "Dimension Shellshock" might be taking a cue from "Turtles in Time," throwing our heroes across time and space for more radical fun. The DLC does not have a solid release date in place, but gamers should expect to see it at some point later this year. 
Read on to learn about the Ninja Turtles' newest ally, who actually has quite a storied history with our favorite mutants.
Introducing Usagi Yojimbo
Much like the Teenage Mutant Ninja Turtles, Usagi is a beloved comic book character in his own right, hailing from the mind of writer/artist Stan Sakai. Usagi is a traveling swordsman in a version of Feudal Japan populated by anthropomorphic animals, which eventually made the cult classic character a natural fit for crossovers with the Ninja Turtles. 
Advertisement
Usagi and the four mutated brothers have crossed paths (and swords) several times over the years, both on the comics page and in various TV series. He's also starred in a few video games of his own: 1988's "Samurai Warrior: The Battles of Usagi Yojimbo" and 2013's "Usagi Yojimbo: Way of the Ronin." This will be his first time teaming up with the turtles in a game, however.
The trailer for the new DLC sure makes it look like it's been worth the wait, as the samurai rabbit can be seen putting a serious hurting on the bad guys. Even more exciting, there seem to be more guest characters on the way who haven't been announced. Could we expect some other characters the Ninja Turtles have crossed over with in the past? Is it too much to hope for an appearance from Batman when "Dimension Shellshock" finally arrives?
Advertisement