PlayStation Fans Roast Alleged Project Q Leak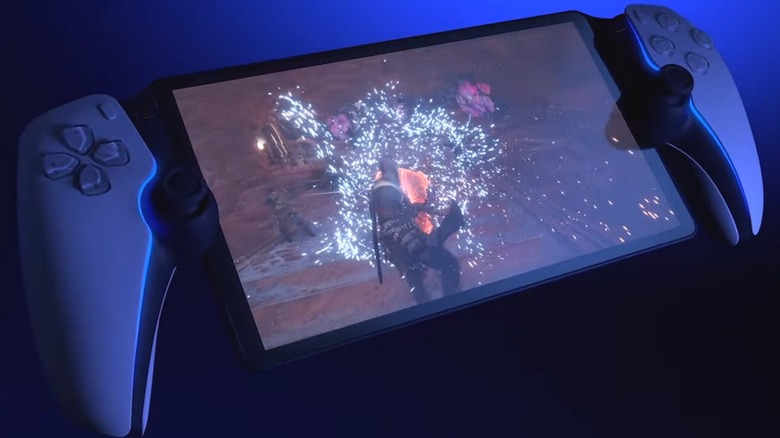 Sony Interactive Entertainment
Sony's Project Q, formerly known as Q Lite, has been causing quite a stir among gamers ever since it was first announced. What appears on the surface to be a new portable console from PlayStation is actually a handheld device that streams games from PS5 using Remote Play. When the system was officially announced, fans couldn't help but comment on how silly it seemed to hype up what looked like a glorified tablet with DualSense buttons, especially if it can't work independently of a full console. Jokes were made at Project Q's expense, but most fans still agreed to wait and see what else Sony had up its sleeve.
Now, it appears that the first look at one of these handhelds in the wild has leaked online. A video of an unknown user testing Project Q has popped up on social media, allegedly showing off the device's touchscreen and beefy control pads. This clip, along with a few pictures of the device and its interiors, have been shared widely following a post from @Zuby_Tech on Twitter (sorry, X).
PlayStation Project Q Leaks:#PlayStation #ProjectQ https://t.co/gyFrsW7xkN pic.twitter.com/0R0yQIdr0I

— @Zuby_Tech (@Zuby_Tech) July 22, 2023
It should be noted that it's unlikely the final product's menu screen will look like the one glimpsed in the video. However, the clip still gives folks a good idea of how this thing can be navigated, and seems to reveal that the product will be run using Android OS. 
Further in the thread, @Zuby_Tech also compiles a list of the specs that have thus far been revealed for Project Q, including haptic feedback and an 8" LCD screen capable of 1080p/60 fps. However, unlike many such leaks that immediately get fans excited about the possibilities of new tech, many of the responses to this leak came in the form of jokes at its appearance and function. 
Project Q is not impressing fans at the moment
Fans sounded off in the comments and retweets of @Zuby_Tech's post about the Project Q leaks, and they didn't hold back with their feelings. A number of people commented that they thought the device looked ugly, while others argued that it seems flimsier than they expected from Sony. Others said it made them even more nostalgic for the days when Sony made dedicated portable consoles like the PS Vita.
And of course, there were the memes. One of the most common jokes among commenters is that the device reminds them of the Wii U, with one Twitter user quipping that Project Q should be jealous of the failed Nintendo console's looks.
he thinks he's him https://t.co/T8LLUzOGU5 pic.twitter.com/s5b6eJGWg6

— The Phantom (@ThePhan34583825) July 23, 2023
Others took it upon themselves to recommend alternatives to Project Q, pointing to a number of handhelds on the market that support cloud gaming:
Here are android handheld alternatives that looks better than project Q and supports cloud gaming:

Logitech G cloud
AYN odin
Retroid pocket 3+ / pocket flip https://t.co/r9UiFxAGbs pic.twitter.com/lyzlcl80xp

— Lez (@whitesiIver) July 23, 2023
Some are already predicting doom for the device, with one user remarking, "by the looks of it, it's just a locked down android tablet with a gutted ps5 controller strapped on ... this thing's not selling." Sony has yet to release an official statement regarding the leaks, but it sounds like some damage control is certainly in order.