MrBeast Sues Business Partners Over Bad Burgers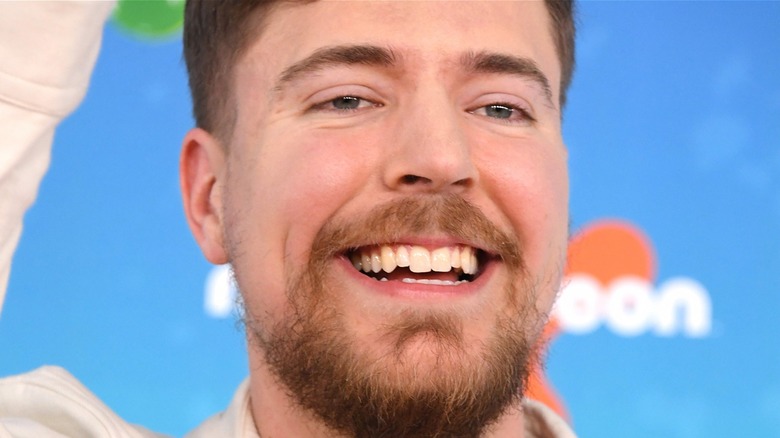 Steve Granitz/Getty Images
In the YouTube world, Jimmy "MrBeast" Donaldson reigns supreme. His channel has grown over the years to finally overtake PewDiePie's in sheer subscriber numbers, and he's achieved crossover success with huge stunts, fancy giveaways, and even a small voice role in this summer's "Teenage Mutant Ninja Turtles: Mutant Mayhem." Not bad for a guy who started out on YouTube playing "Minecraft" and counting to 100,000! Unfortunately, not all of his ventures have reached the same heights, and now he's suing the company that facilitated his moves in the world of fast food. 
Advertisement
Despite MrBeast's popularity and reputation, his burgers have left a lot to be desired. First opened as a series of ghost kitchens back in 2020, MrBeast Burger has expanded to a major delivery operation and one physical location in New Jersey. The line has clearly been successful from a monetary standpoint, but patrons of MrBeast Burger have frequently complained about the quality of the food, with some even saying they've gotten sick from eating improperly prepared sandwiches. MrBeast has now taken his business partner to task, as revealed in a new lawsuit filing obtained by Bloomberg.
MrBeast's lawsuit alleges that his partner in opening MrBeast Burger, Virtual Dining Concepts, put a greater emphasis on expanding the burger chain over actual quality control, and the resulting food has damaged his brand. "MrBeast Burger has been regarded as a misleading, poor reflection of the MrBeast brand that provides low-quality products to customers that are delivered late, in unbranded packaging, fail to include the ordered items, and in some instances, were inedible," reads the lawsuit.
Advertisement
MrBeast and his reps claim that Virtual Dining Concepts ignored his complaints following dozens of negative reviews of the MrBeast Burger brand.
MrBeast seeks to put an end to MrBeast Burger
Fans of MrBeast might not be too surprised to see that he's severing ties with Virtual Dining Concepts. Just last month, the YouTuber told on Twitter that he was eager to put MrBeast Burger behind him and to focus instead on his expanding line of Feastables snacks. He explained that his biggest issue with the burger chain is that he can't personally guarantee that each order was up to his standards. 
Advertisement
Then, in a series of tweets he's since deleted, MrBeast said that felt he'd signed a horrible contract and was afraid he couldn't shut down MrBeast Burger if he tried. He remarked, "Young beast signed a bad deal."
However, as addressed by the new lawsuit, MrBeast couldn't let things go when Virtual Dining Concepts continued to use his image and branding to promote the burger chain. He's now trying to get permission from the court to end his business deal with Virtual Dining Concepts, in theory ending the MrBeast Burger name altogether.