Fortnitemares Brings PvE Into Fortnite: Battle Royale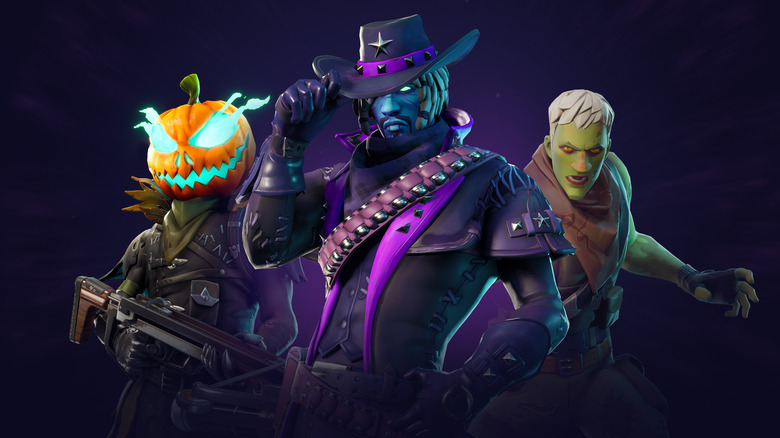 Those who've been anxiously awaiting Fortnite: Battle Royale's Halloween event can stop waiting and start playing. An update pushed today has introduced Fortnitemares 2018, a spooky spin on Battle Royale that adds PvE enemies to the mix for the very first time.
Advertisement
According to Epic, which detailed the event in a blog post, players will "face off against Cube Monsters in a whole new way of playing Battle Royale." These enemies will drop loot much like human players, and that loot could include some brand new weapons that have been added to Battle Royale for Fortnitemares, such as a Six Shooter and a Fiend Hunter Crossbow.
Unfortunately, monsters aren't all you'll have to worry about. This is Battle Royale after all, which means human opponents are still very much in the game. It'll be interesting to see how the PvP and PvE elements of Fortnitemares intersect during gameplay, and how similar things feel to Call of Duty: Black Ops 4, which also includes PvE enemies in its Blackout battle royale mode.
Advertisement
In addition to its Battle Royale twist, Fortnitemares will also introduce a brand new type of skin that changes during the game. The Deadfire outfit starts your character off as a normal-looking cowboy, but gradually morphs into a more zombie-like being as you damage enemies and stay alive. And there's also a creepy train glider called the Dark Engine that can be unlocked by completing challenges during the Fortnitemares event.
Battle Royale isn't the only game getting the Fortnitemares treatment. Save the World will also receive some updates, too. Two new characters — Braniac Jonesy and Skull Ranger Ramirez — will join the fun. And Fortnite heroes from past Fortnitemares events will also be coming back, though Epic didn't go into specifics on that front.
There's no word yet on how long Fortnitemares will be sticking around.