November Lineup Revealed For Xbox Live Games With Gold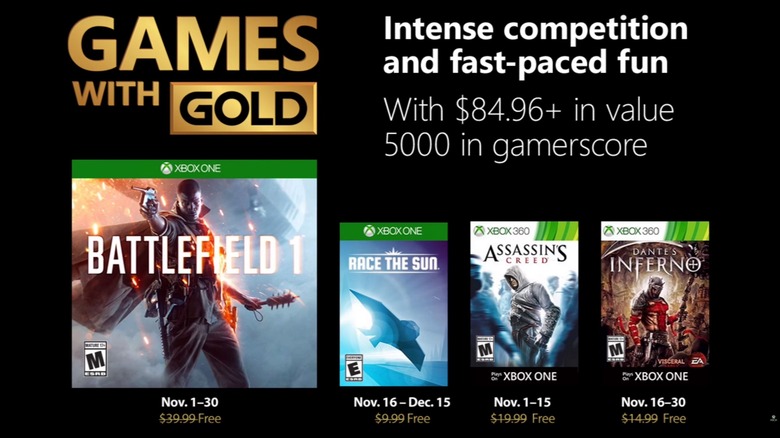 You can finally stop refreshing Major Nelson's Twitter feed. Microsoft has announced its November Games with Gold lineup, giving Xbox Live subscribers four new titles to look forward to in the coming weeks.
Players can plan on downloading Battlefield 1, Race the Sun, Assassin's Creed, and Dante's Inferno throughout the month of November, though those who subscribe to EA Access might find the offering a little slim. EA Access customers can already play both Battlefield 1 and Dante's Inferno as a part of that program.
Still, the lineup is pretty solid.
Battlefield 1 is the unquestionable headliner for November. Even if the game doesn't have as large a multiplayer population as it used to, Battlefield 1 is still worth a play-through thanks to its single-player campaign, which takes place in vignettes that explore World War I from several different perspectives.
Race the Sun is probably the biggest mystery on the list. It's a futuristic racer that actually arrived back in mid-2017, but failed to capture much attention at that time. GameSpot enjoyed it enough to grant it an 8 out of 10, calling it "compelling in a way that could make it a daily habit." So perhaps this one's a hidden gem.
Assassin's Creed likely needs no introduction. This is the game that kicked off Ubisoft's long-running series, which had a few down years before roaring back with Assassin's Creed Origins and Assassin's Creed Odyssey. Most agree that the original Assassin's Creed lacked the polish found in its sequel, but if you're a die-hard franchise fan that missed out on its very first entry, you'll soon have the opportunity to get on it.
And last, we have Dante's Inferno. This one isn't looked back on quite as fondly as the other games on this list. Eurogamer gave it a 6 out of 10, calling it a "God of War clone at its core" that you may just enjoy if you like action and scantily clad women.
You'll be able to grab Battlefield 1 and Assassin's Creed right off the bat on Nov. 1. But you'll have to wait a bit for Race the Sun and Dante's Inferno. Those arrive on Nov. 16.