The ESRB Just Rated Sunset Overdrive For PC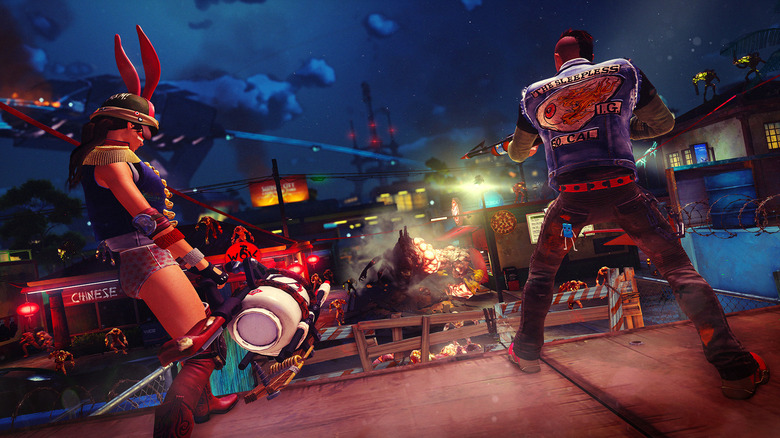 PC gamers are likely getting an oldie-but-goodie title to play in the very near future. Thanks to a report from Gematsu, we now know that the Entertainment Software Rating Board — ESRB for short — has dished out a rating for a PC version of Sunset Overdrive, a stellar action adventure game from the same team that made this year's Spider-Man on PlayStation 4.
Advertisement
The game, which has been exclusive to Xbox One since its release in October 2014, was also rated for PC in South Korea earlier this year.
Sunset Overdrive was a sleeper hit on Xbox One, with many outlets singing its praises. A reviewer for IGN called it "some of the most fun, frantic, and fantastic gaming" they'd experienced on the system. And GameSpot had no problem calling it "one of the best games on the Xbox One." Unfortunately, it arrived at a time when the Xbox One was still finding its footing. Sony had delivered a roundhouse the prior year, and Sunset Overdrive — along with many other Xbox titles — felt the pain as gamers flocked to the PlayStation 4.
Now that Sunset Overdrive appears to be on its way to PC, even more players will get a chance to try this hidden gem. But if you're skeptical, here's some motivation: Sunset Overdrive feels quite similar to the aforementioned Spider-Man game that the developer, Insomniac Games, released back in September. And that game is almost universally loved.
Advertisement
You may be wondering, why is Sunset Overdrive coming to PC over four years after its initial release? To start, it hasn't exactly been a secret that Insomniac Games wants to make a sequel. Some additional sales, along with the success of Spider-Man, could line the war chest enough to make that happen.
But we can't help but think about Xbox Game Pass, as well. Sunset Overdrive has been a mainstay in Game Pass on the Xbox One since that service launched last year. Microsoft has its sights set on bringing Xbox Game Pass to PC at some point, and having Sunset Overdrive at the start could help in a big way.
No word yet on when Sunset Overdrive could potentially launch on PC, or who the company is working with to publish it.