Fortnite Is Getting NFL Skins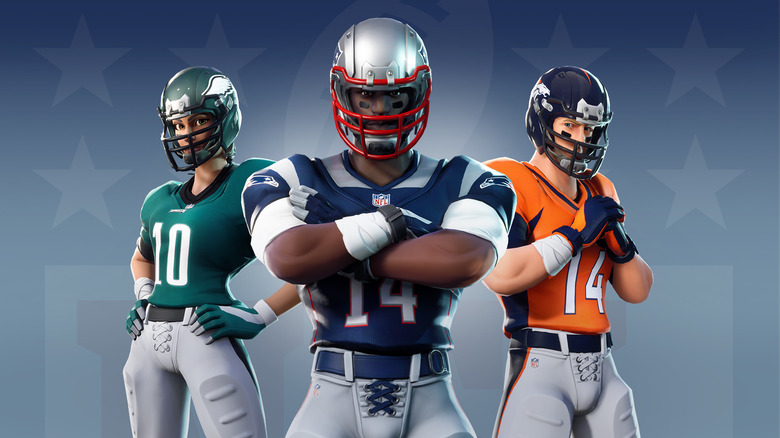 You'll soon be able to don the uniforms of your favorite NFL team in Fortnite, according to a post published on the game's blog today. The NFL is partnering with Fortnite to provide skins for the Fortnite Item Shop, all of which can be swapped to feature the colors and logos of all 32 NFL teams. And yes, you can even customize the jersey number to pay homage to your team's star player.
Advertisement
That means New England Patriots fans can grab an NFL skin, switch it to number 12, and pull out a half-inflated balloon in Battle Royale. That would be on brand, right?
The partnership between the NFL and Fortnite kicks off this Friday, Nov. 9 at 7 p.m. ET. There's no word yet on whether or not this is a limited time event, and if it is, how long said event will last.
This isn't the first time Fortnite has explored an interesting crossover. You might recall the game's Infinity Gauntlet mode that ran back in May. That was a mash-up created to promote Avengers: Infinity War and gave every player on the map an opportunity to transform into Thanos. That particular mode only lasted a few weeks, but then again, that was an entire custom game type.
Advertisement
Fortnite could conceivably keep the NFL skins selling at least throughout the NFL season. And who knows — this partnership could potentially open the door for other major sports to step in and take the baton. Imagine an NHL partnership with hockey stick pickaxes and Zamboni gliders! It's almost too perfect.
The game recently wrapped up its Fortnitemares Halloween event, so there are bound to be some other special events down the line as we enter the holiday season. And those will undoubtedly introduce some new skins and in-game items, as well. We'll keep an eye out for those and fill you in once they show up, either as part of the Fortnite Battle Pass or in the Item Store.