Fortnite V6.22 Patch Drops, Adds Heavy AR And New Modes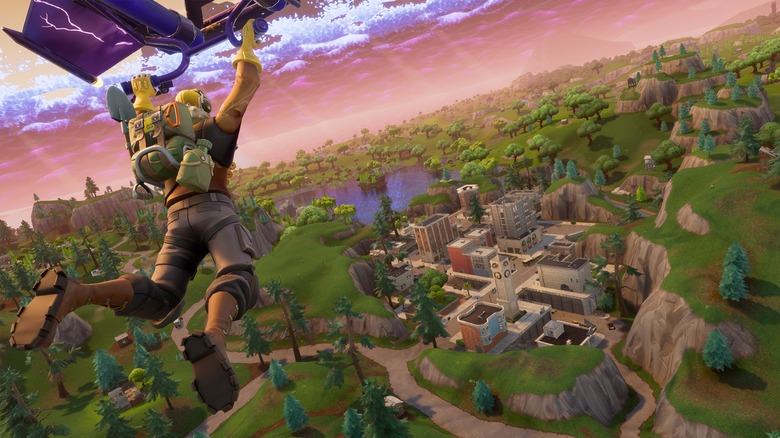 Fortnite's v6.22 patch hit today, bringing a brand new Heavy Assault Rifle to the game along with a few new modes for both Battle Royale and Save the World. Epic Games detailed the changes today in patch notes posted to the company's Fortnite blog.
Advertisement
First, the Heavy AR. According to Epic, this gun "packs a punch," and the damage numbers provided in the patch notes seem to back that up. There are rare, epic, and legendary versions of the Heavy AR, doing 44, 46, and 48 damage, respectively. And it can be found in all the usual spots, which Epic says is "floor loot, chests, Vending Machines, and Supply Drops."
Fortnite players will have a chance to use the Heavy AR in normal Battle Royale as well as two new modes coming to BR: Team Terror and Blitz!
Team Terror adds more PvPvE fun to Battle Royale, pitting two teams of 32 players against each other while monsters spawn all over the map. Because you'll have additional AI enemies to contend with, Epic is cranking up the rates on just about everything. You'll gather resources more quickly. Ammo drops are getting buffed significantly. And helpful resources will be even easier to find.
Advertisement
Blitz! is all about speed. It plays like a typical Battle Royale mode, but aims to have matches wrapped up in 15 minutes or less. To achieve that goal, the storm starts moving immediately at the start of the match, and the period of time between each circle reduction has been lessened. Loot is also more bountiful, thanks to increased spawn rates for treasure chests and supply drops.
Those on the Save the World side of things are getting a Halloween-themed treat, in spite of the fact that the holiday is long gone. Fortnitemares Part 2 is coming to Save the World, offering players a chance to "complete the epic storyline of Hexsylvania," according to Epic, and pick up a brand new reward weapon called the Candy Corn LMG.
The Fortnite v6.22 Patch is available now.