Pre-Order Your Nintendo Switch NES Controllers Now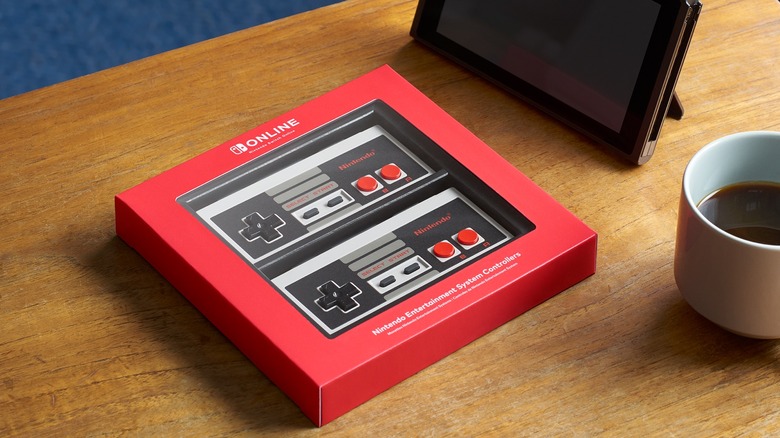 Fans of the Nintendo Entertainment System are even closer to the authentic NES experience on Nintendo Switch. According to Destructoid, Nintendo's special NES controllers are now available for pre-order on the company's website.
Advertisement
The controllers, which charge by connecting to the Joy-Con slots on the Switch, are selling for $59.99. Nintendo is currently limiting orders to one pack per customer.
There are some pretty obvious advantages to ordering these controllers if you plan on playing NES games on Switch. To start, they're pretty true recreations of the classic NES gamepads sold with that system over three decades ago. Playing NES games using the Joy-Con Grip or a Pro Controller can be a bit awkward, too, due to the placement of the buttons on those controllers. And even if you opt to use the Joy-Cons as separate controllers, the button spacing is a bit odd on that front, and you'll be forced to use a joystick instead of a d-pad. Not exactly optimal.
Advertisement
Get a hold of these, though, and you'll be ready to jump into the 20+ games currently available through Nintendo Switch Online. Many of the classics are there, including Super Mario Bros., Donkey Kong, Excitebike, Dr. Mario, and Donkey Kong. You'll also find cult hits like Tecmo Bowl, Ice Hockey, and Super Dodge Ball. And there's even a special version of The Legend of Zelda, if you'd like to start that game with a little bit of extra help in the form of late-game items and resources.
A few more games are set to arrive this month and next, as well. Metroid, Mighty Bomb Jack, and TwinBee will hit the service sometime this month. Wario's Woods, Ninja Gaiden, and Adventures of Lolo are set to arrive in December.
The NES controllers only work with the NES games available through Nintendo Switch Online, so keep that in mind should you decide to pre-order. And you won't be able to put money down for the controllers if you aren't already a subscriber to that service. Nintendo Switch online costs $3.99 per month or $19.99 per year.