Destiny 2 Mission Goes Back To The Cosmodrome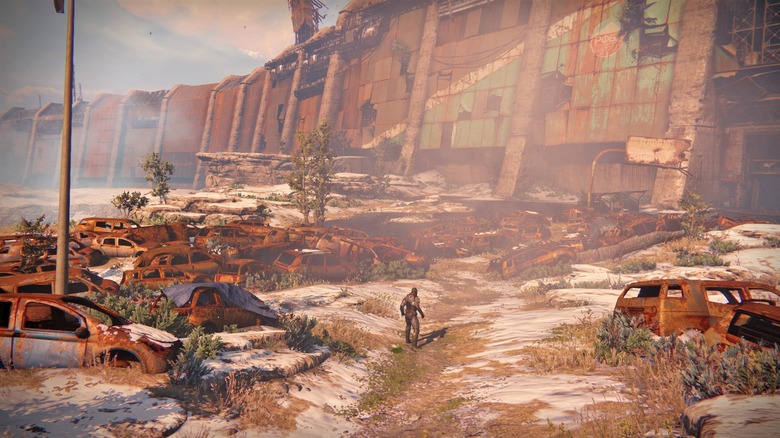 The last leg of the Master Ives Murder Mystery quest launched today in Destiny 2, and those who pick up the final quest from shipwright Amanda Holliday are in for a big dose of nostalgia. The final mission takes players to the outer walls of the Cosmodrome — the spot where the first Destiny game began.
Advertisement
Players entering the Cosmodrome portion of the quest will find that the snow is very much still present from the first game's Rise of Iron expansion, as are the alterations made by the Siva-infused Fallen during that same time period. The entire mission itself isn't very long — you can knock it out in just a few minutes — but regardless, it's a nice trip back for those who've always wished that older Destiny locations were present in Destiny 2.
And perhaps the biggest deal of all with regard to this last Ives mission is the reward you get for taking out his killers. There are spoilers ahead.
For avenging Master Ives and completing the final mission in this three-week quest, players are gifted with the Thunderlord, a heavy machine gun. It's the first heavy machine gun to make an appearance in Destiny 2, and it actually has a bit of history with regard to the Cosmodrome itself and Destiny's early days.
Advertisement
One of the earliest E3 demonstrations of the first Destiny showed several members of Bungie's development team playing through the game's beginning. They met up outside the Cosmodrome, battled their way inside, and eventually encountered a large Fallen boss. Working together, they took the boss's health down.
When they finally killed that boss, it dropped an exotic engram. And that engram decrypted into a Thunderlord.
The Master Ives quest as a whole was pretty underwhelming. Each step could be completed in barely any time at all. But the final step, though short, was a nice wink and nod to the history of the game and its development. And now that the Thunderlord is back and heavy machine guns are a thing again, we can probably look forward to seeing more of them in future content.
Destiny 2's next expansion, Black Armory, is set to launch sometime next month.