Rocket League Gets Xbox One X Enhanced Next Month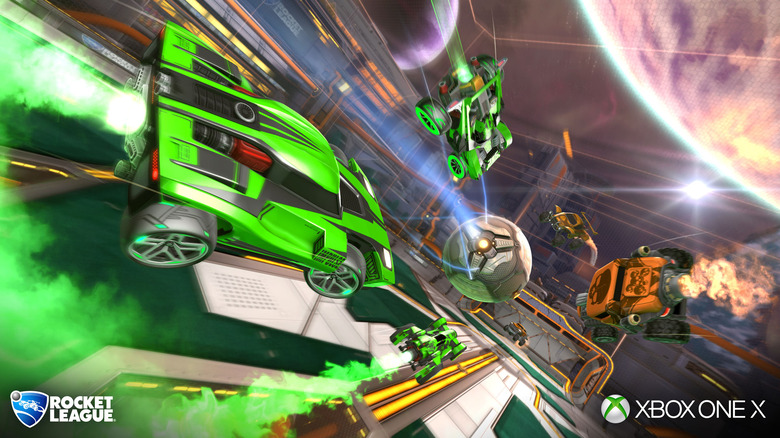 Rocket League fans can look forward to a pretty hefty update next month that features a number of changes, but none as big as the one coming for Xbox One X owners. The Rocket League website has announced that the next patch for the game, titled the December Update, will arrive on Dec. 3. And it'll finally bring Xbox One X enhancements to the game for the very first time.
According to Psyonix, the game's publisher, Rocket League will render on Xbox One X "in native 4K at 60 frames per second," and will also include support for HDR. Those who own an Xbox One X but don't have a 4K television will still benefit, as well. The game's graphics will be supersampled from that 4K image, so players on a 1080p display will see some graphical improvements that won't be visible on a standard Xbox One or Xbox One S.
The Xbox One X enhancements will be welcome news for Rocket League aficionados on the platform. The game hasn't looked all that bad thanks to its arcade-style looks and the speed at which it plays. But anyone who's picked up one of the more stellar-looking games available on the system – Red Dead Redemption 2 or Shadow of the Tomb Raider, for example — has likely noticed the visual downgrade when jumping into a game of Rocket League. Both native 4K and HDR support will bring major improvements.
Rocket League is also getting some other changes when the December Update rolls around. Leaderboards are set to be introduced for some of the game's Ranked Extra Modes. Rocket League will get some much-needed changes to the leveling and progression systems, too, giving players more opportunities to collect in-game items. Some new music tracks are planned for the release, and trust us when we say that Rocket League has fantastic soundtrack. And lastly, Psyonix is adding new community flags, which players can proudly fly in support of their favorite online communities and charities.
All of that will be ready to go in the December Update, which arrives Dec. 3 at 10 a.m. PT. Two other major additions — Rocket Pass 2 and the Frosty Fest 2018 seasonal event — will come before the end of the year.