December's Xbox Live Games With Gold Announced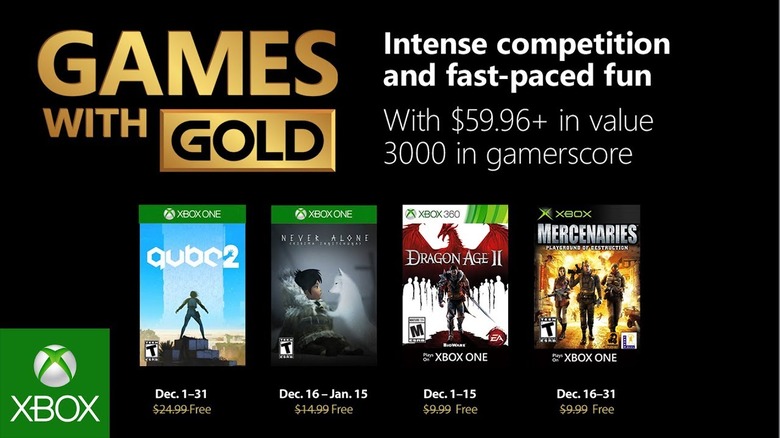 December will soon be upon us, which means more shopping, holiday music, and — of course — a fresh set of Xbox Live Games with Gold titles. Microsoft has announced the next four games joining the program, including one that may very well surprise you.
Advertisement
The first two games you'll be able to download arrive on Dec. 1. Q.U.B.E. 2 for Xbox One puts you in the shoes of archaeologist Amelia Cross, who comes to on a strange alien world and must solve puzzles in order to figure out where she is and how she can escape. The second game coming at the start of December is Xbox 360's Dragon Age 2, the second entry in BioWare's acclaimed Dragon Age series. It's the second game in the series to become a Games with Gold title – Dragon Age: Origins was available for download last year.
The next two games will become available via Games with Gold on Dec. 16. The first is Never Alone, a clever platformer with a unique art style and a touching story that draws inspiration from the Iñupiaq people of Alaska. The second one, though, is something that Games with Gold hasn't ever seen before. As part of the Xbox One's Backward Compatibility initiative, the original Xbox game Mercenaries: Playground of Destruction will become a free title in the middle of next month. Mercenaries first released on Jan. 11, 2005, and marks the first time a back-compat original Xbox game has been given away as a part of Games with Gold.
Advertisement
You still have a few more days to get this month's games before they disappear at the end of the month. The games that'll vanish once the calendar hits Dec. 1 are two EA titles: Battlefield 1 for the Xbox One and Dante's Inferno for the Xbox 360.