Xbox Game Pass Adds Sniper Elite 4, More In November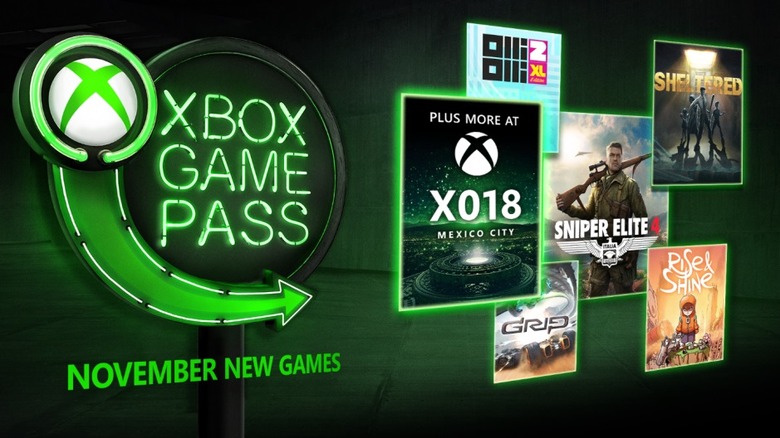 We're just a few days away from November, which means brand new games are slated to arrive on Xbox Game Pass very soon. Earlier today, Microsoft revealed five of the games coming to the service next month. Not only that, the company teased the possibility of more being added in the weeks to come.
Advertisement
Starting on Nov. 1, Xbox Game Pass subscribers will gain access to the following titles: Sniper Elite 4; Olli Olli 2 XL Edition; Sheltered; and Rise and Shine. A few days later on Nov. 6, Grip: Combat Racing will launch directly into Xbox Game Pass.
But that's not all. According to Microsoft, Game Pass customers should watch the Inside Xbox show at XO18 for word on "even more great games."
Microsoft saving news for Inside Xbox is notable, as the company has made bigger Game Pass announcements at events in the past. In the September edition of Inside Xbox, Microsoft added Wolfenstein: The New Order and Metro 2033 Redux, along with several other games. And at E3 2018, Game Pass got a huge boost from The Elder Scrolls Online: Tamriel Unlimited, The Division, and Fallout 4.
Advertisement
There also exists the possibility that Microsoft could announce the launch of Xbox Game Pass on PC.
Unfortunately, the addition of new Game Pass games can sometimes mean older titles get the boot, and that'll be the case in November. True Achievements reports that Oddworld: New 'n' Tasty, Resident Evil, Sky Force Anniversary, World of Van Helsing: Deathtrap, and Mega Man 9 will all disappear at the end of October.
Xbox Game Pass news usually comes in close proximity to news on Xbox Live Games with Gold. As of now, there's no word on which titles Microsoft will be adding to that latter program. But you still have time to pick up October's games before they vanish from the service. They include Overcooked and Hitman: Blood Money.