CBS Had A Game Awards Show, And It Was Not Great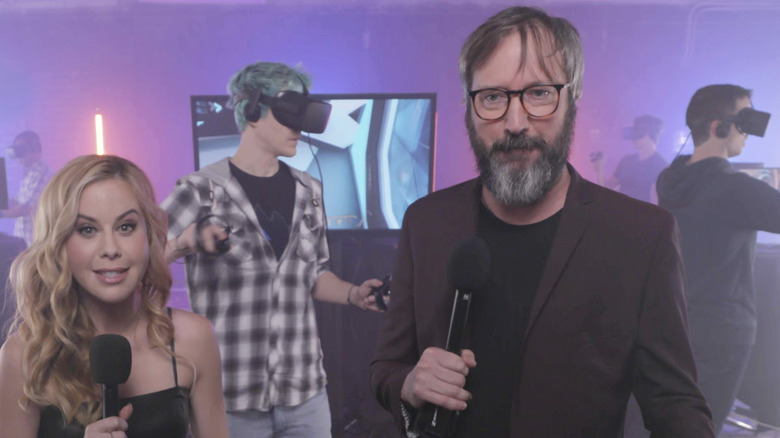 The first-ever Gamers' Choice Awards have officially wrapped up, and thank goodness. The show had the feel of something from a bygone era, where celebrity was celebrated more than the teams behind the games. And wow, the GCAs were all over the place.
Things kicked off with KISS performing live on stage. Yes, KISS — not exactly a band you'd imagine appealing to the younger Fortnite crowd. The show then tackled awards, jumping into a category for Female Voice Actor, which to its credit, managed to award a female voice actress something. At the Game Awards, everyone was lumped into one category and there was one lone female in the list of five.
Camilla Luddington took that one home, by the way, for her work as Lara Croft in Shadow of the Tomb Raider.
After that, though? The Gamers' Choice Awards became less about awards and more about working celebrities and streamers into the show by any means necessary.
The GCAs pulled out all of the stops from the 1990s by enlisting Tara Lipinski and Tom Green as special correspondents. Ninja probably had more screen time than the hosts, Carrie Keagan and djWHEAT. No developers were on hand to accept awards, though viewers got a healthy dose of Snoop Dogg and Terry Crews. And whole awards categories were flipped through at lightning speed. Female Voice Actor got stage time, but Male Voice Actor did not. Male Streamer of the Year got a special segment, but the female version did not.
And yes, more celebrities and streamers, and awards to honor to just about every popular streamer imaginable. Chuck Liddell and Chandler Riggs were on hand to dish out awards. For some reason, the GCAs felt that every big multiplayer game needed an esports player award. And there some other truly baffling awards categories along the way. Fan Favorite Gaming Device? But why?
By now, you're probably wondering — which game won the Game of the Year award? This has been an incredible year for games, with a few in particular standing out as true masterpieces. The award could go to God of War, or Spider-Man, or Red Dead Redemption 2, or Assassin's Creed: Odyssey and not feel out of place.
But the Gamers' Choice Awards were decided by fans, and Game of the Year went to Fortnite.
So there you have it. The Gamers' Choice Awards in a nutshell. You can scroll through the dozens of tweets on the show's official Twitter account to check out all the winners and see who took home the prize for Most Desired Franchise Resurrection. And you can appreciate that there's finally an awards show that treats the games industry with respect: the one that aired last Thursday.