Xbox's Leaked Sebile Controller Has Everyone Saying The Same Thing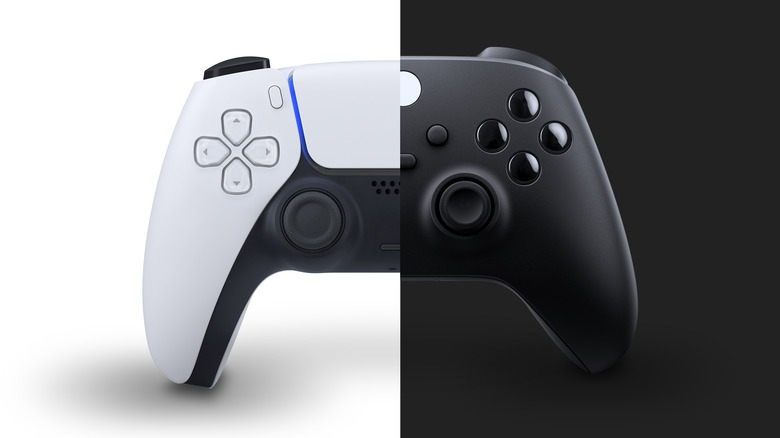 Miguel Lagoa/Shutterstock
Xbox fans got more news than they bargained for this week, as several documents from Microsoft's court case against the FTC were shared online. Unlike many other similar documents, these leaked files were not redacted in any way, giving the public a clear look at some of the gaming giant's plans. While Xbox boss Phil Spencer has since explained that many of these plans have changed, gamers were still excited to see mock-up designs for a new Xbox Series X model, a possible Xbox handheld, and even a brand new controller designed for next-gen gaming. 
Advertisement
The controller, codenamed "Sebile" in the leaked documents, has sparked perhaps the most heated conversations. The design incorporates swappable thumbsticks (similar to the Elite Series 2 controllers), as well as haptic feedback, an internal speaker, and much more. While it appears cosmetically similar to previous Xbox controller models (albeit with an odd two-tone color scheme), the extra features built into the controller have led to a debate among gamers. There is one sentiment that keeps popping up as people get their first looks at the new controller: Doesn't it feel awfully familiar? Some gaming fans think that Xbox is taking some cues from Sony in developing the next generation of Xbox controllers.
Advertisement
Sebile can't escape DualSense comparisons
Even Xbox fans are comparing the design and function of the Sebile controller to the PlayStation 5 DualSense. From the "precision haptic feedback" to the rechargable battery and built-in speakers, gamers are seeing a huge number of parallels between the two next-gen gamepads. Some are excited by this, as it means Xbox is taking the competition seriously and is looking to keep up with customer demands. Others are already writing the new controller off as a craven copy of what worked for Sony in the past. Some have already taken to referring to the Sebile colloquially as the "DualSense Xbox controller." Even PC Gamer got in on the fun, hinting heavily that someone else already beat Xbox to the punch by putting speakers inside of a controller:
Advertisement
Speakers inside a controller!?! Where have we seen that before?https://t.co/hUpbtfkypt

— PC Gamer (@pcgamer) September 19, 2023
Others are more into the idea of Xbox taking cues from another company's successes, since it means a good controller can get even better. Over on X (formerly known as Twitter), user @shaneluigi13 posted, "I'm really looking forward to the new Xbox controller. In my opinion, [Xbox's] controllers are more comfortable than the DualSense but adaptive triggers and haptic feedback are amazing." Others have quipped that the DualSense still wins out thanks to some of its weirder applications, like the ability to blow into the speakers (for whatever reason).
Whether you're on Xbox's side or not, it seems Sebile can't quite escape comparisons to Sony's PS5 controller. Given Phil Spencer's comments about Xbox's plans still being in flux, there's a chance this upgraded controller will never see the light of day, at least in this form. Fans will just have to wait and see.
Advertisement