The One Hot Tub Stream That Went Too Far For Amouranth's Manager
From live "MasterChef" commentary to exploiting incorrect hashtags, Twitch has seen quite a few unorthodox "metas" in its time, trends that have overtaken the usual "just chatting" and "let's play" streams. However, none have caused the same level of debate among viewers as hot tub streams, in which content creators lounge in pools or jacuzzis while interacting with the live chat. In the early days of hot tub streams, Kate "Amouranth" Siragusa was one of the most prominent streamers at the forefront of this controversial meta, which mostly died down once Twitch gave hot tub streams their own separate category on the platform. Forbes recently sat down with Amouranth for a wide-ranging interview covering her rise to popularity, maintaining her audience, and her lucrative deal with Kick. In the process, the streaming superstar also revealed that there was one idea for a broadcast that her manager shot down outright.
Advertisement
As she discusses in the interview, Amouranth really broke through to mainstream success when she joined in some of the more popular Twitch trends, including sleep streams and hot tub streams. She's even taken a stab at inventing her own innovative metas, buying stock in a plastic ball company and writing fans' names on the toys after a donation. However, not all of her attempts to do something new made it onto the internet — and for good reason.
Amouranth almost combined two metas, but management said no
In the interview with Forbes, Amouranth gives props to other streamers for paving the way with the aforementioned sleeping and hot tub metas, but notes that her plans to combine trends did not go over quite as well. She explains that she tried multiple different types of hot tub streams, combining other popular types of content with the provocative meta. Listing some of the activities she enjoyed during this time, she explains, "I would game in the hot tub, I would work out in the hot tub, I would talk to people in the hot tub," and so on.
Advertisement
At one point, it occurred to her to try combining the sleeping stream trend with the hot tub meta. At first glance, it's hard to imagine anything could be more relaxing that a snooze in a jacuzzi? Amouranth explains, however, that her management would not allow her to do this, fearing for her safety. She says, "I thought about sleeping in the hot tub, but my manager told me that was against the rules; I might drown and die." Even if she wasn't hurt by the stunt in some way, there's also a chance that Twitch might have banned her for pulling such a potentially dangerous move on her channel.
Luckily for Amouranth's fans, she thought twice about this particular experiment. Right now, the streamer's career is looking bright: She signed a multi-million dollar non-exclusive contract with Kick and continues to broadcast to millions of fans — with no dangerous sleeping streams required.
Advertisement
Amouranth is still crushing the streaming game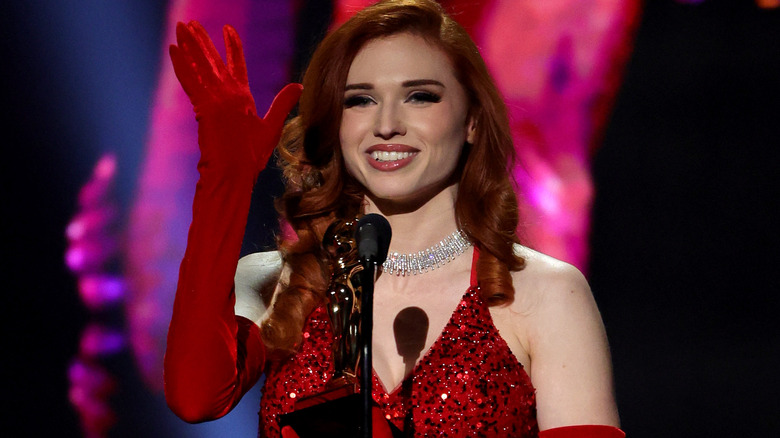 Ethan Miller/Getty Images
These days, Amouranth explains in her interview with Forbes, she doesn't attempt sleeping streams quite as often. After all, she has a number of animals to care for, and can't afford to not be conscious for huge portions of her day. Instead, she fills her days with a variety of content streams, from ASMR to gaming and (yes) even hot tub streams. "It varies on the day," Amouranth says, "but typically, between now Kick and Twitch, I am live, probably, at least 10 hours a day." 
Advertisement
As it turns out, Amouranth didn't need to take any dangerous risks to stay on top of the content creation game. The streamer has continued to be hugely successful in multiple business ventures, and now she doesn't have to feel bound by Twitch's terms of service. Her contract with Kick allows her the freedom to stream on both platforms, but she seems to be very happy with the new digs. 
In a recent conversation with NBC News about Kick's rise in viewership, Amouranth remarked that she never felt like Twitch offered her the recognition she deserved as a top earner on the platform. However, she explained, "Kick is open from the beginning and communicative. They are open to hearing suggestions." It seems like a good fit for Amouranth, who racked up a staggering 434,000 hours watched in her first month on Kick. According to a report from Streams Charts, Amouranth managed to be far and away the most-watched female content creator on the platform in August — all without risking a drowning incident.
Advertisement