Spider-Man 2 Leaks All But Confirmed To Be True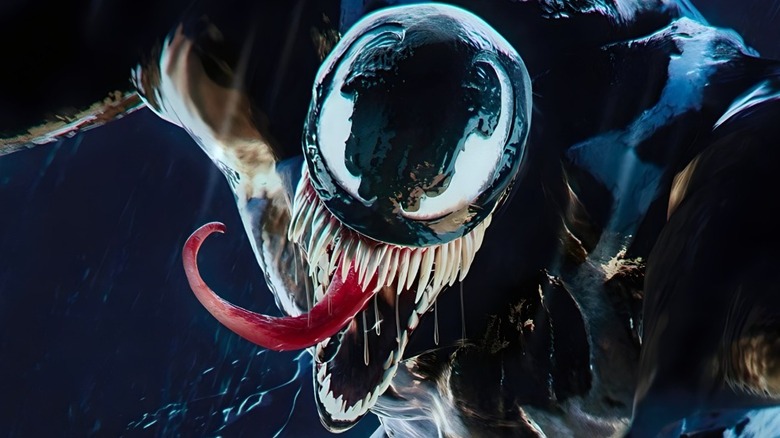 Sony Interactive Entertainment
The following article contains mild spoilers for "Marvel's Spider-Man 2."
"Marvel's Spider-Man 2" has been a long time coming, but the wait is almost over. The high-profile sequel finally arrives on October 20, 2023, and fans of our web-swinging heroes, Peter Parker and Miles Morales, are itching to suit up again to take on Venom and Kraven. Unfortunately, the last week has been filled with spoilers that have made their way online weeks in advance. Though some fans were reluctant to believe the legitimacy of these spoilers, a warning statement released by developer Insomniac Games seems to imply that they're the real deal. Fans are going to want to start treading softly on social media if they want to go into Spidey's latest adventure totally fresh.
Advertisement
The leaks started rather innocuously, as a few gamers who received advance review copies began posting images of the game's title screen. In fact, a few variations of the title screen have made their way to X (formerly known as Twitter), including one depicting a character staring at a glass case containing the Venom Symbiote and another showing Peter and Miles on a rooftop together. Some fans believe the title screen may change in relation to completing certain milestones in the story campaign, while others think the appearance of different title screens means at least one of them is a fan-made creation. These are pretty mild in terms of spoilage, as folks who played the previous games already know Norman Osborn has been using the black costume to help his son, not to mention Miles' current status as New York's second Spider-Man. 
Advertisement
Unfortunately, the next round of leaks were bad enough that Insomniac Games had to step in. It's safe to say that these reveals are a little bit bigger than when Venom actor Tony Todd accidentally leaked the game's release window.
Spider-Man 2 trophies may spoil story beats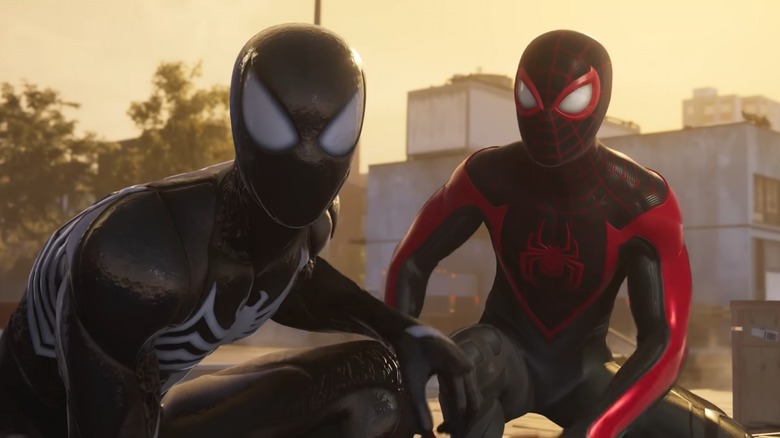 Sony Interactive Entertainment
In a much more spoiler-heavy leak, the full Trophy list for "Marvel's Spider-Man 2" made its way onto the internet over the last few days. Many of these are typical Trophy fare, including rewards for completing the campaign in its entirety, clearing all enemy bases, finding special collectible items, and (of course) collecting every Trophy in the game. These are pretty much what players would expect from most games, particularly if they Platinum-ed the previous "Spider-Man" entries from Insomniac. However, some these Trophies have slightly more spoiler-y objectives attached to them, as well as some titles that seem to hint at major plot points in the late game. 
Advertisement
We're not going to mention specifics here, but if you're a super-fan of the "Spider-Man" games and you don't want to know some of the finer details of Spider-Man's fight against Venom (both internally and externally), then you're going to want to avert your eyes until you've collected the trophies for yourself. Some of the Trophy names reveal some of the side missions in the game, as well as hint at villains and characters that have not been revealed by any of the pre-release trailers for the game. There are 42 trophies in all — a possible reference to the number that recurs in the Miles Morales-starring "Spider-Verse" movies.
Additionally, a few early access players have claimed to have already beaten the game in its entirety, earning every Trophy in the game and Platinum-ing Insomniac's latest Spidey opus. According to one player on Reddit, it is possible to 100% the game in 30 hours, putting the sequel at roughly the same total runtime as the original (but significantly longer than "Spider-Man: Miles Morales"). Some fans remained unconvinced that these trophies were the real deal — until Insomniac Games released a warning to all potential "Spider-Man 2" players.
Advertisement
Insomniac Games urges players to 'tread carefully'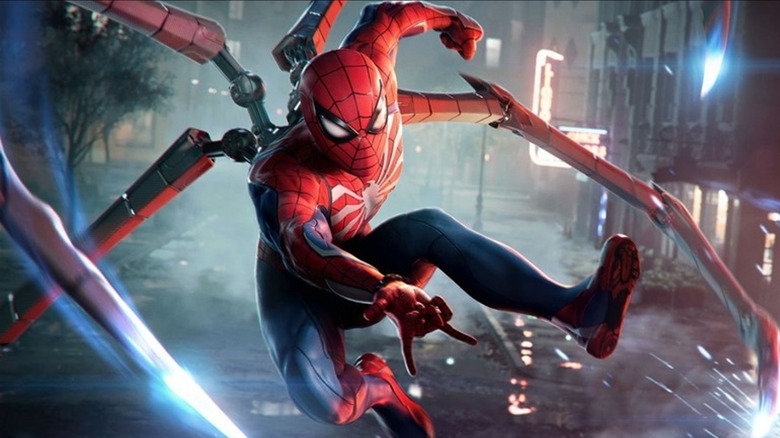 Sony Interactive Entertainment
Insomniac took to X with a heads up for fans who wish to remain unspoiled, posting, "As we approach launch, ["Marvel's Spider-Man 2"] spoilers may start to appear online... We worked hard to craft a story PACKED with surprises, so tread carefully and be mindful of posting spoilers." The replies to this statement are already full of people spoiling the game anyway, so definitely be careful when clicking on this post. Aside from the spoil-sports, a number of fans are taking Insomniac's post as a clear confirmation of the recent leaks. Others are asking for more spoilers, like a complete list of the game's unlockable variant suits or confirmation of who becomes Venom after Peter gives up the suit.
Advertisement
Hey Web-Heads! As we approach launch, #SpiderMan2PS5 spoilers may start to appear online...

We worked hard to craft a story PACKED with surprises, so tread carefully and be mindful of posting spoilers. Let's #BeGreaterTogether: please keep the adventure fresh for everyone! 🤫 pic.twitter.com/sYffnzl0J3

— Insomniac Games (@insomniacgames) September 29, 2023
Of course, Insomniac's post did not specify which of the spoilers posted online might be for real, but it's best to proceed with caution when logging onto social media — at least until October 20.