These Video Games Were Banned For The Weirdest Reasons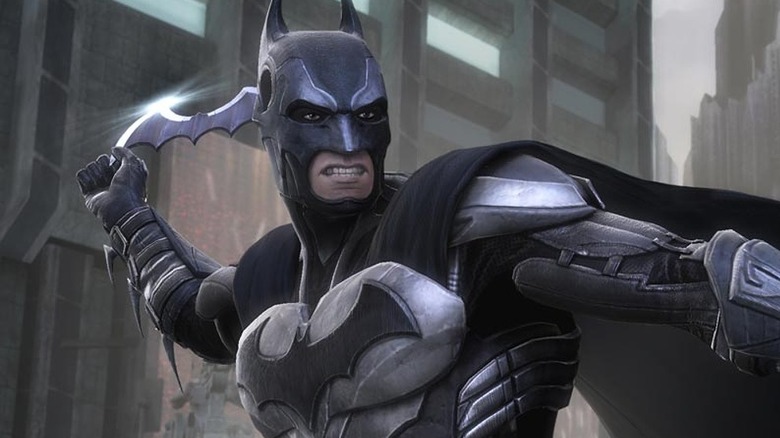 Warner Bros. Games
Since the early ages of gaming, there have always been detractors calling for widespread bans. Even back in the days of pinball, the game was persecuted for its perceived similarities to gambling. Though this may seem bizarre to gamers nowadays, things like this still happen on a fairly regular basis. Obscene or violent content often leads to controversial new releases earning a ban in at least a few areas of the world.
Advertisement
Some games, such as the hyper-violent "Manhunt" or the sexually explicit "Custer's Revenge," truly seemed to earn their bans in some regions. Other games have earned a ban for bewildering and incomprehensible reasons. Whether it's due to a disagreement of beliefs, security concerns, or moral objections, the following games have earned some strange bans. Some of these odd bans only affect a game in one or two nations. Many of the following banned games are still available in most other places, making it even more puzzling to casual players when they learn they were banned in the first place. Here are some of the strangest reasons that video games have been banned.
Pokémon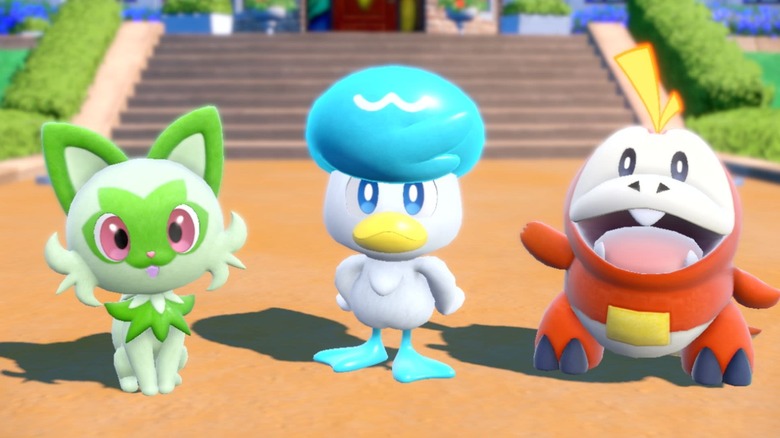 Nintendo
"Pokémon" is arguably one of the most tame and peaceful series out there. With themes of friendship and the importance of training, playing "Pokémon" is generally a wholesome experience that can teach audiences of all ages the value of working together. Sure, astute players can point out some of the darker and more violent implications of battling captured monsters for entertainment, but this strangely isn't the reason why "Pokémon" courted controversy in Saudi Arabia. Instead, the "Pokémon" franchise was banned due to a conflict of beliefs stemming from a specific mechanic in the games.
Advertisement
In "Pokémon," by raising your monsters to a certain level or completing a specific in-game condition, your Pokémon can evolve. This evolutionary process is a necessary part of the game to make your allies stronger and able to take on the toughest of foes. However, some Islamic nations took issue with the idea of spontaneous evolution, as it conflicts with creationist beliefs. Of course, fans know that the evolutionary process in "Pokémon" has little to do with how evolution is described in scientific communities. Instead, it seems this ban targeted the word itself, presumably to prevent any connection to the real-world concept. No matter the reason, this is a surprising ban on a typically wholesome series. Luckily for fans, the Wall Street Journal has reported that these bans are lifting as Saudi Arabia embraces the gaming industry.
Advertisement
Pokémon Go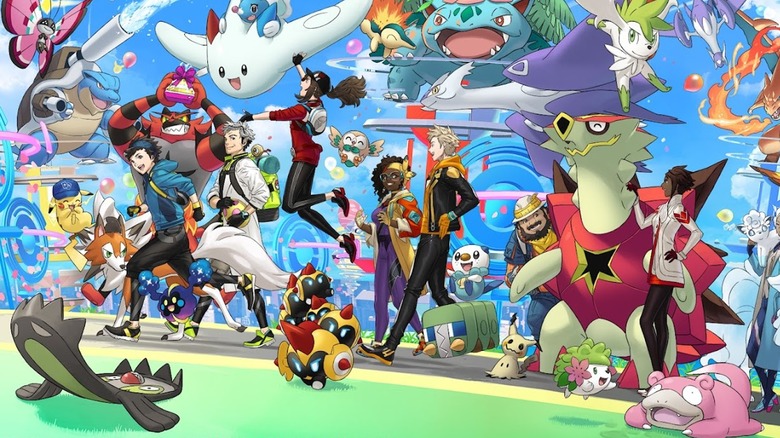 Niantic
The wholesome "Pokémon" series once again netted itself another ban, for yet another unexpected reason. This time, it was "Pokémon Go" that was placed under fire. By visiting real world locations, "Pokémon Go" players can earn rewards or battle extra-powerful Pokémon to become the strongest trainer around. This game instantly became a smash hit and gave a huge amount of players an excuse to get outside and start exercising. 
Advertisement
However, this exact concept has led to a multitude of problems associated with exploring the real world, including trespassing cases and general conflicts with players finding themselves at the wrong place at the wrong time. The game has been banned from a number of sensitive areas for security reasons.Due to the location tracking in the game, the United States Pentagon has asked personnel not to play "Pokémon Go" with phones that were issued by the Defense Department. Additionally, the Facebook page for Joint Base Lewis McChord (per Military Times) issued a warning in 2016, stating, "Do not chase Pokémon into controlled or restricted areas, office buildings, or homes on base." With warnings like this, it isn't the most surprising thing in the world to learn that the game has been disallowed from numerous bases.
Advertisement
Hogwarts Legacy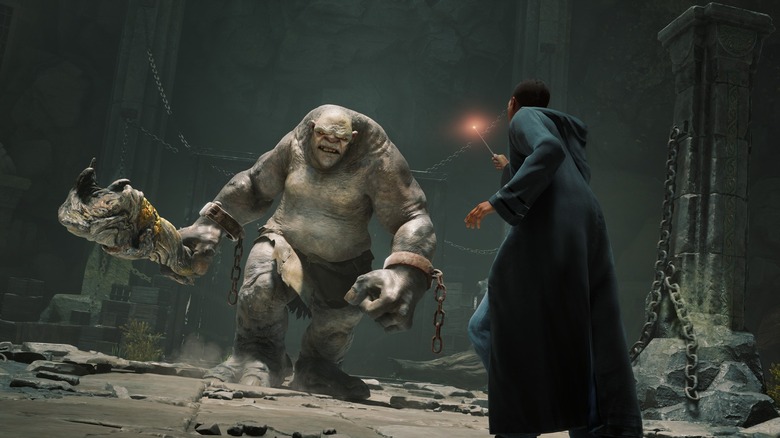 Warner Bros. Games
"Hogwarts Legacy" has been steeped in controversy since its release. Despite being a relatively simple game about witches and wizards, a massive online war broke out surrounding the game's release. Due to the controversial comments of franchise creator J.K. Rowling, this "Harry Potter" RPG gained a great deal of notoriety before launch. Although the game was relatively well-received by critics, the controversy is the first thing that many players think of when "Hogwarts Legacy" comes to mind. This has led to the title being banned from some major gaming events. However, Rowling's sentiments aren't the only thing to have earned "Hogwarts Legacy" a ban.
Advertisement
Instead, one ban stemmed from Russia's invasion of Ukraine and the backlash that the nation faced from various entertainment companies. Warner Bros. was among several major companies that reduced its output in Russia as a result of the invasion, which seemingly led to "Hogwarts Legacy" being banned from Steam in the region. Though this may seem like an obvious reason to net a game a ban, this ban only sparked more debates in the gaming community, making an already controversial game all the more notorious. Since then, however, much of the discourse surrounding "Hogwarts Legacy" has gradually slowed down. 
EverQuest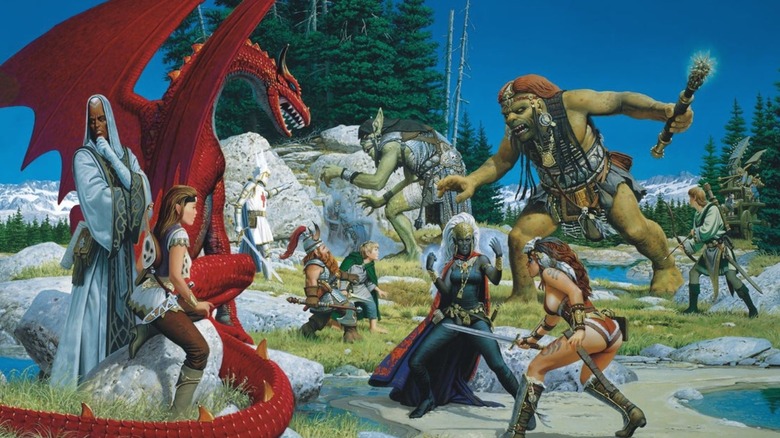 Daybreak Game Company
Being one of the earliest MMORPGs, "EverQuest" took the gaming world by storm. Players could complete quests, fight monsters, and gain experience points alongside their allies in a massive fantasy world like none other. Without the groundwork that "EverQuest" laid — including its innovative quest structure, creature design, and experience point system — the entire trajectory of MMOs would have been thrown off balance. Things like "World of Warcraft," "Guild Wars," and many more might have never existed without it. However, this hypothetical world without "EverQuest" has become a reality in one nation. While the game itself is fairly tame violence-wise, it was given a ban in Brazil.
Advertisement
It wasn't due to violence or sexual content, either: "EverQuest" earned its ban due to the nature of its quests. Brazilian courts decided that the ability to choose between both good and evil quests was too much to keep the game on shelves, though it's not entirely clearly how this stands apart from similar RPGs and MMOs like "World of Warcraft." This was an especially surprising ban to most players, considering the amount of modern games that deal with concepts of morality. Game Developer reports that the judge who determined the ban found that "EverQuest" and "Counter-Strike" both "were an attack against the democratic state and the law and against public security."
Animal Crossing: New Horizons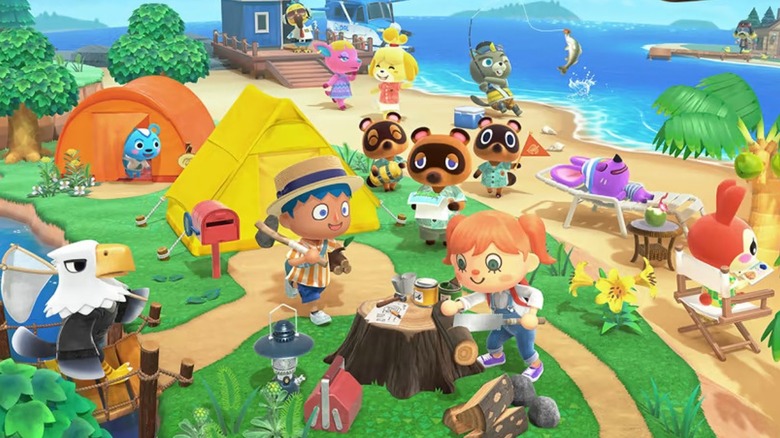 Nintendo
"Animal Crossing: New Horizons" is inarguably a child-friendly game. With gameplay that revolves around taking care of an island, being helpful to residents, and overall making the world a better place, it seems impossible to think of something that could net this peaceful game a ban. The key to one infamous ban, however, lies in its community sharing function.
Advertisement
With this function, players can share various patterns that they can display throughout their island or on their clothing. Though generally this was used for making cool outfits or fancy walkways, some online communities started to use this as a form of protest. These protests are what netted the game a ban in China, as fans used the game to share their pro-democracy viewpoints and criticism of China's President, Xi Jinping. 
This is what we do in #AnimalCrossing... maybe it's why these people are so anxious to go back to the game!! pic.twitter.com/vVeaGq54lv

— Joshua Wong 黃之鋒 😷 (@joshuawongcf) April 10, 2020
For someone like activist Joshua Wong, these sorts of bans border on oppressive censorship, as it prevents people like him from sharing their personal or political beliefs in a public forum. Players were extremely disheartened by this decision overall, losing something that they considered a space of safety and freedom.
Advertisement
Plague Inc.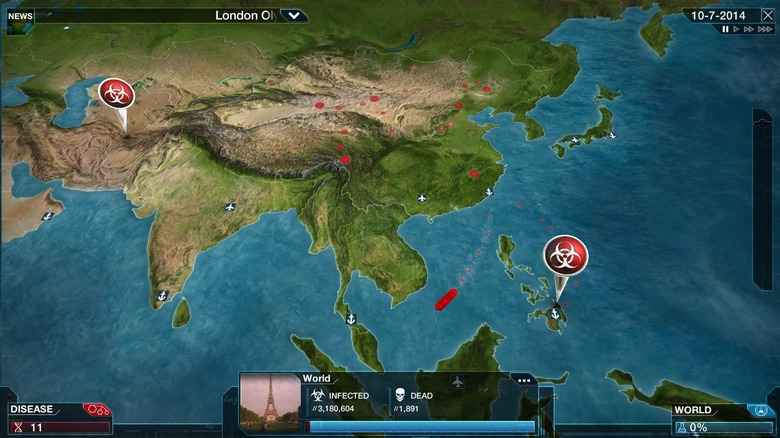 Ndemic Creations
"Plague Inc." offers players the chance to simulate the creation and spread of their own disease. Players are then encouraged to infect all of humanity by upgrading and modifying the disease. "Plague Inc." stands out among other simulation games for its bold concept and addictive gameplay. Though things started strong for the game on release, the beginnings of the COVID-19 pandemic thrust the title into the spotlight in a strange way. During the early days of COVID lockdowns, the game acted as a grim reminder of the problem literally plaguing the world, as well as a way for gamers to try and figure out what was next.
Advertisement
At this point, the motivation behind banning "Plague Inc." might appear obvious. For most nations, the title was largely seen as an uncomfortable mirror to reality. However, it avoided a ban in most regions. In China, however, this reflection of reality led to the banning of the game. The official report for the ban stated that it "includes content that is illegal in China as determined by the Cyberspace Administration of China." Luckily for dedicated players, the developers of "Plague Inc." didn't give up after hearing this news. Instead, the team at Ndemic promised, "We are working very hard to try and find a way to get the game back in the hands of Chinese players." It's plain to see how much these developers care about the playerbase, and how much a ban like this can impact a community.
Advertisement
Dante's Inferno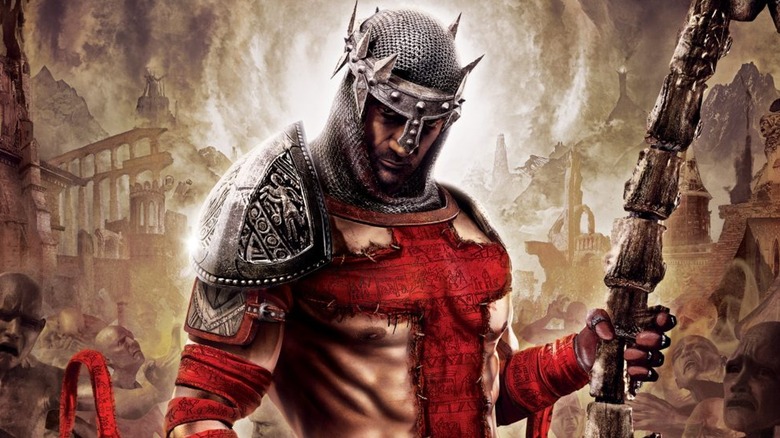 EA
2010's "Dante's Inferno" is a relatively forgotten game that borrowed cues from hack-and-slash hits of the time. "Dante's Inferno" tasked players with taking on the title character's quest as he tried to save his lover from the underworld. Its scythe-wielding gameplay, as well as the concept of fighting various gods and godlike figures, has led many to unfavorably compare the game to one of its contemporaries, "God of War." However, being themed after Dante's "Divine Comedy," this game delves more into Christian theology. As many readers might predict, this is where things go bad for the game.
Advertisement
In Malaysia, these religious connections have created some issues that earned "Dante's Inferno" a spot on the ban lists. Specifically, the game was banned due to its depictions of Judeo-Christian iconography, including a Christian underworld. Compared to something like "God of War," which uses a religious system that isn't followed as widely in the modern era, "Dante's Inferno" sadly stumbled upon subjective matter that was considered to be too sensitive. It's still interesting to note that although both games involve characters fighting religious figures, "God of War" has managed to avoid any bans in Malaysia. 
Danganronpa V3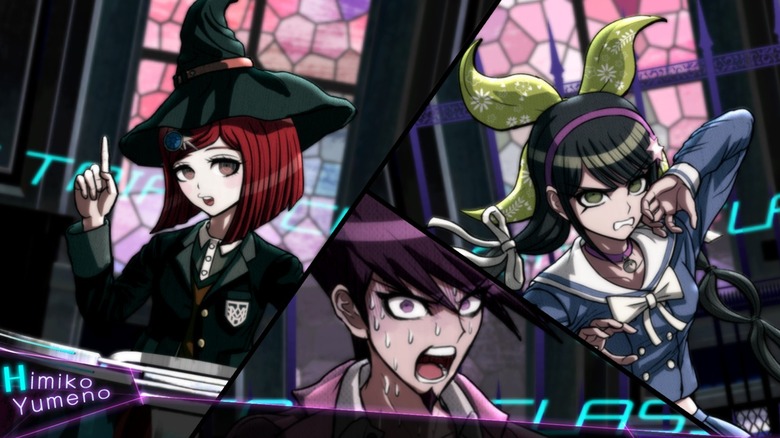 Spike Chunsoft
As a series, "Danganronpa" can prove to be a bit too intense for some players. In these interactive visual novels, players take control of a student trapped in a deadly game. To survive, players must investigate the murders of their fellow students, which have often been carried out in cruel and unusual ways. Between the excessive gore and bizarre subject matter, it's easy to see why "Danganronpa" could earn a ban. Surprisingly, the series has been kept whole in most regions.
Advertisement
The third entry of the "Danganronpa" series, "Danganronpa V3 Killing Harmony," was released in Japan in January 2017, with a wider release planned for September of that year. However, according to a report from Kotaku, Korea's Game Rating and Administration Committee rejected the game based on its content, for fear that it "would incite criminal behavior or copycat crimes." Some speculated at the time that the game's events were far too reminiscent of a brutal murder that occurred the same year. In order to avoid controversy, the game was canceled, leaving fans of the series without the newest entry. This ban was especially puzzling for fans, since the game was set to release many months after the original tragedy occurred. 
Advertisement
Hopeful fans still waited for the game to release after some time in South Korea, but Sony Computer Entertainment Korea announced that it would not be contesting the Game Rating and Administration Committee's decision.
Tropico 5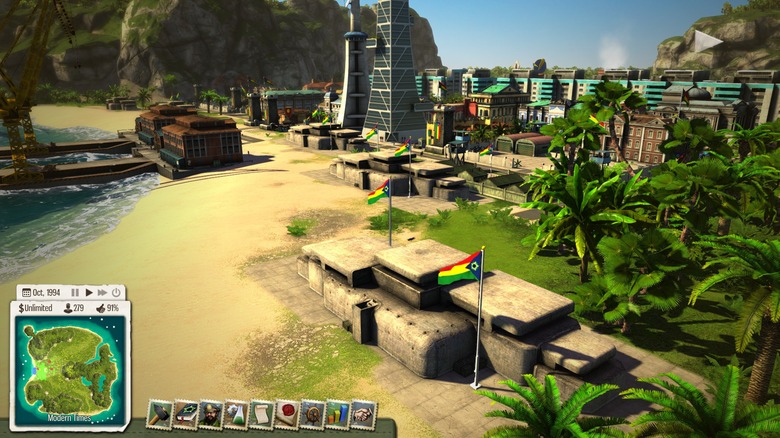 Kalypso Media
"Tropico 5" is a simulation game that tasks players with ruling over a nation. In order to lead, players must manage the politics, economy, and infrastructure of their burgeoning nation through both upfront and shady means. With some interesting tactics that players can use to silence political rivals, "Tropico" can get a bit dark at times. Despite the game's oppressive regimes and underhanded tactics, there's not much to suggest that "Tropico 5" should be banned. However, these darker elements struck countries like Thailand the wrong way.
Advertisement
This ban was particularly severe, deemed necessary by Thailand's government due to a concerns that "Tropico 5" might "affect peace and order" of the nation. According to a statement from developer Kalypso Media (via GameSpot), Thailand's Board of Film and Video Censors stated, "some contents of the game are not appropriate for the current situation." Most frustrating of all, the developer elaborated that the film and video board "did not pinpoint the exact content which caused concern." It's interesting to think about just how much reach a single video game can have, particularly if it can cause such a stir for a governmental body like this one.
Injustice: Gods Among Us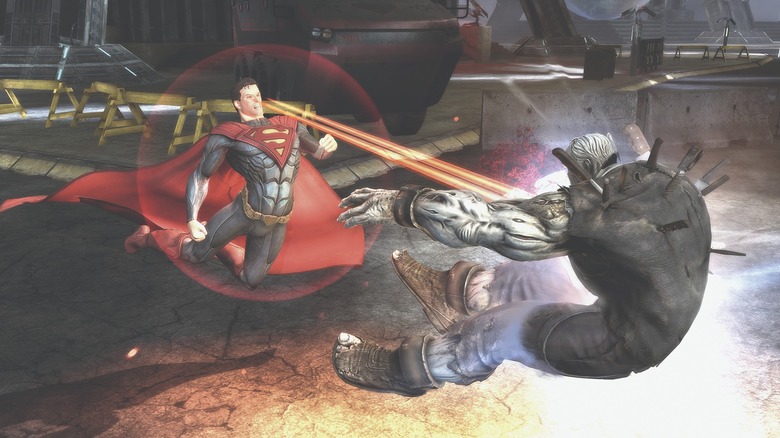 Warner Bros. Interactive Entertainment
"Injustice: Gods Among Us" is a fighting game that pits famous DC Comics characters against each other, with heroes like Batman and Wonder Woman duking it out for supremacy. The game takes place in a darker version of the usual DC Universe in which Superman has succumbed to his dark side, choosing to rule the Earth with an iron fist. These circumstances have led to a series of violent deaths for well-known characters, but it's not the violence that earned this game its ban in Saudi Arabia.
Advertisement
Though the game was initially marketed as "Injustice: The Mighty Among Us" in the territory, in order to avoid direct references to any deities, the box art and case still featured the original title. This was presumed to be the reason for the ban, which seems like a small oversight that could have led to larger consequences. The ban was later lifted and the title was surprisingly released with its original "Gods Among Us" subtitle intact. It's interesting how such a small detail can completely derail the course of a game's launch, if that is indeed what happened. The true source of this ban was never officially revealed by Saudi representatives in the gaming industry, leaving fans of the series to simply speculate.
Advertisement
Grand Theft Auto: San Andreas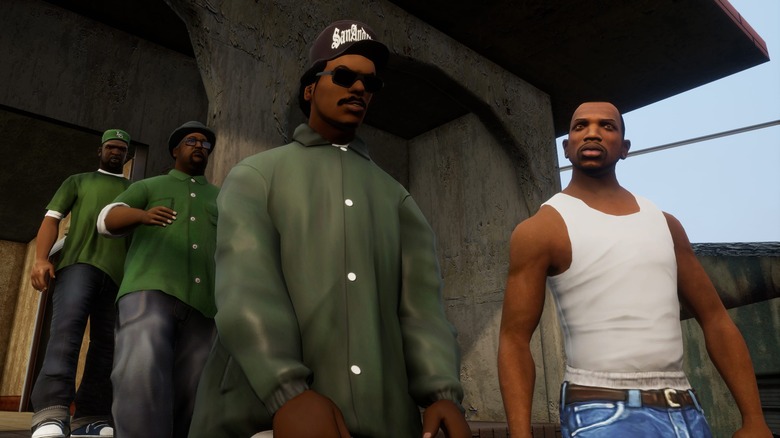 Rockstar Games
The "Grand Theft Auto" series is no stranger to scrutiny, causing many different controversies over the years for its excessive violence and sexual content. These problems have even led to various "GTA" games earning bans around the world. One of the most shocking "GTA" bans actually occurred in the United States. The circumstances that led to this ban of "Grand Theft Auto: San Andreas" had nothing to do with violence the series is known for, however: Hidden deep in the code for "GTA: San Andreas" was an incomplete mini-game that proved to be too much for audiences. 
Advertisement
Though it may not come as a huge shock to longtime fans of "GTA," the deleted section allowed players to participate in an interactive sex scene between two characters. This was considered to be a step too far even by "GTA" standards, causing the developers of the game to cut it before it reached the shelves. However, curious dataminers quickly found the mini-game and restored it with the so-called "Hot Coffee" mod, earning the title an "Adults Only" rating and resulting in it being pulled from a number of retailers. Since the sex scene was only available through hacking, this uproar left many players scratching their heads. The mini-game was removed from later releases of the title, but not before Rockstar was hit with a lawsuit that cost the company $20 million.
Advertisement