Things Mortal Kombat Left On The Cutting Room Floor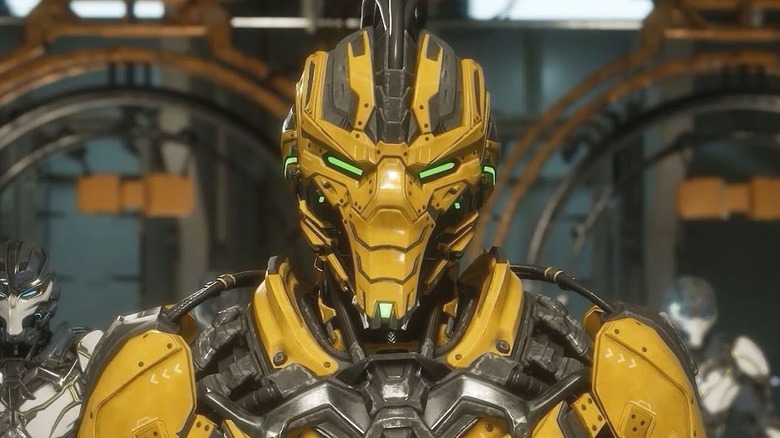 Warner Bros. Games
Fans of "Mortal Kombat" have been enjoying the brutal fighting franchise for over three decades — and with the massive September 2023 launch of "Mortal Kombat 1," it is clear that this series is still going strong. In the ongoing battle to save Earth from Outworld rule, fans have gotten a vast amount of content in the form of new fighters, arenas, challenges, move-sets and Fatalities.
Advertisement
But what about the things we didn't get to see? As with all interactive media, the creation process for "Mortal Kombat" begins with developers proposing ideas for each aspect of the game. Once a focused vision for a title has been locked in, successful ideas eventually become actual content. However, not every concept is feasible, so a little piece of "what could have been" gets left behind.
While we can never truly peek behind the curtain and understand why every deleted bit got the axe, it can be assumed that time and budget are typically major factors here. It should come as no surprise that plenty of "Mortal Kombat" content never saw the light of day, particularly in the early years of the franchise. What follows are some of the more interesting things left on the cutting room floor.
Advertisement
Goro and Shang Tsung changed early on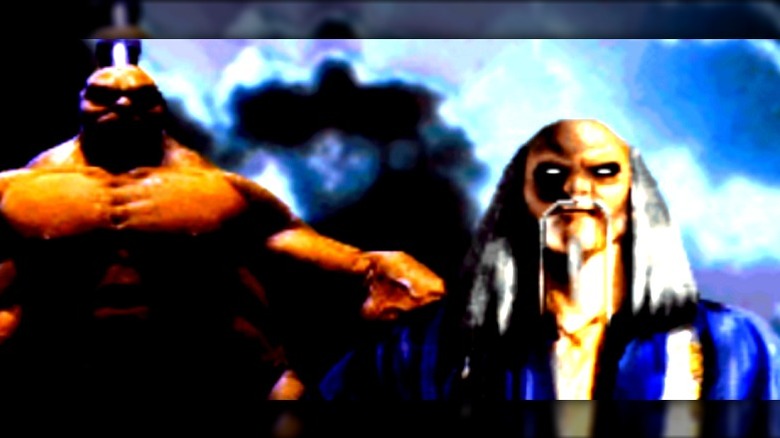 Midway Games
"Mortal Kombat" titles have classically used real actors and live-action motion capture to generate the animated sprites we see in the game. In fact, the original "Mortal Kombat" was one of the first pieces of interactive media to adopt this method of animation and use it to great effect. Not everything the developers animated or captured was used, though. The first "Mortal Kombat" game for arcades left some rather interesting animations behind before completion.
Advertisement
The devs at Midway created the first version of Goro as a stop-motion puppet made of clay, rather than use a live actor. This was the logical choice, not only due to the challenges posed by Goro's size, but also his extra set of appendages. Upon defeat, he was originally supposed to display a death animation in which he falls to his knees, turns to stone, and then half of his body disappears. It seems like the devs were never quite satisfied with the result: The final frame of the body breaking apart looks incomplete, as if that part of him is simply deleted from the sprite, as opposed to having it dramatically crumble away or slide off.
The other boss character in 1992's "Mortal Kombat," Shang Tsung, also left some interesting sprites behind. These include a laugh animation that was perhaps intended to be a victory pose, a single frame of him clapping, and most curiously, an animation of the wizard using a katana. The character detail of Shang Tsung laughing at the player makes perfect sense, but the use of a weapon was an interesting choice, considering the character's affinity for magic. The use of a sword seems a tad redundant, which probably explains why it was cut.
Advertisement
Cyrax and Sektor in MK11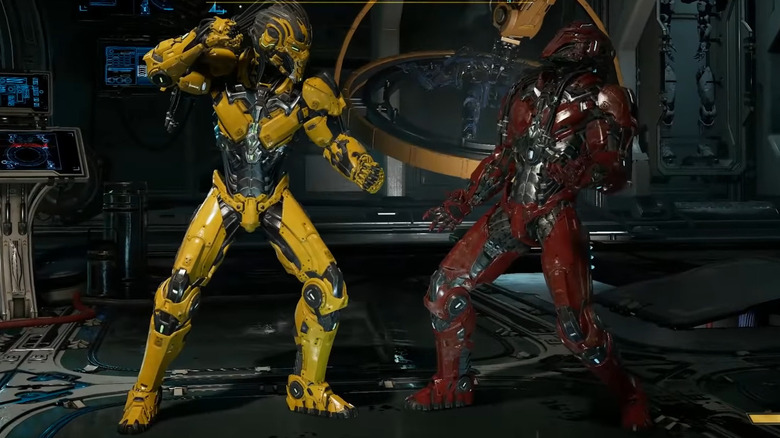 Warner Bros. Games
Every time a new "Mortal Kombat" game is announced, there's one main thing on everyone's mind: "Who is in it?" The character roster is easily the most anticipated piece of information for any new release. In thirty years, the "Mortal Kombat" series has generated a ton of fan-favorite characters. Two such characters, Cyrax and Sektor, made their debut in 1995's "Mortal Kombat 3." This cyborg ninja duo has always rocked sleek designs and creative specials, making them longtime hits with "Mortal Kombat" fans.
Advertisement
In "Mortal Kombat 11," these two characters are missing from the playable roster, but they notably make an appearance in the story mode as non-playable characters. Fans speculated they would be later introduced in a DLC pack, much like Sheeva and Nightwolf were. While it never came to pass, tech-savvy modders were able to pull Cyrax and Sektor in as playable characters, only to discover they had complete move-sets, implying that they were meant to become full-fledged selectable fighters. We can only speculate as to why these two fan favorites never made it in. Perhaps it was to make room for cybernetic guest stars like Robocop and the Terminator — which, when you think about it, might actually have been a reasonable trade-off.
Advertisement
Arenas cut from Deadly Alliance
Arenas in the "Mortal Kombat" series are more than just scenery. They can provide context, atmosphere and even ways to humiliate your opponent with a good old stage-based Fatality. "Mortal Kombat: Deadly Alliance" has perhaps the most documented examples of cut arenas in the history of the franchise. One playable example — accessible via an Action Replay Code — is "studio.ssf." This unused stage is set inside a primitive mo-cap studio, making it feel extra meta. This map even implemented collision physics, suggesting that perhaps this stage was used as a testing space for developers. 
Advertisement
Another cut map was called "senateofeldergods.ssf" which only seems to have made it to the early phases of development. The available art asset consists of images of galaxies and nebulas that were most likely going to make up the skybox, while a concept image shows how the map would look through sketches and 3D mock-ups. In the concept art, a series of T-posing figures populate the circular arena. These characters were most likely going to be the Elder Gods themselves, forever observing, judging, and testing your might.
The final example from "Mortal Kombat: Deadly Alliance" is the Cave Arena, which was actually featured in the game as unlockable concept art. Players can see a large rock formation covered in skull carvings, suspended high above the mountains on a man-made tower. As the name suggests, the fighting space was located inside the hollowed-out rock formation, complete with a rope bridge suspended over a pit of lava. This was perhaps another stage that could have featured a classic Pit Fatality. 
Advertisement
Fatalities have been cut, Mercies have been forgotten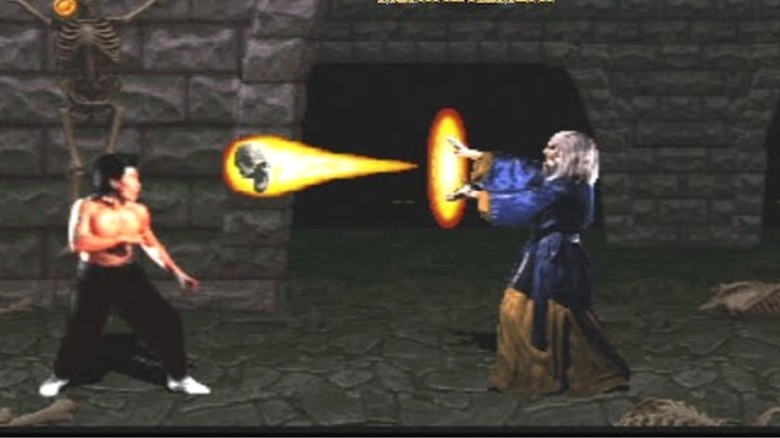 Midway Games
Fatalities are perhaps the most iconic and controversial feature of the "Mortal Kombat" franchise. These special moves give players the option to not only defeat their opponent with a finishing blow, but to completely annihilate them in a gratuitous display of violence. The original "Mortal Kombat" nearly included a Fatality that was not meant to be used by the player, instead belonging to the arcade game's final boss, Shang Tsung. The game's original code contains an animation of Shang Tsung swinging a katana. This was intended to be used after he defeats the player, adding insult to injury by lopping off his opponent's head. This idea was scrapped in favor of allowing players to pull off intricate Fatalities themselves — a decision that would ultimately define the franchise's identity.
Advertisement
As the "Mortal Kombat" franchise evolved, so did finisher options. Brutalities and Animalities would add alternative ways to obliterate your opponents, including some wild physical transformations. Friendships, Babalities, and Mercies offer players a very different way to conclude a fight. The latter even gives the defeated player a chance to turn the tide.
Mercies were also strangely missing from latest title and soft reboot of the series, "Mortal Kombat 1" despite daily in-game quests asking players to perform them. Dataminers have discovered that the mechanic lies dormant in the game's code, suggesting they were cut late in production. 
Deleted character: Kathy Long
One of the earlier stages in development for any game is the creation of concept art, these often hand-drawn sketches serve as referential material for the art-department and further development. This is also where the key stage in which many different characters are designed, proposed and often scrapped. The cutting room floor for the "Mortal Kombat" franchise is littered with characters that could have been but never where.
Advertisement
Going all the way back to 1993's "Mortal Kombat 2," we have proposed character Kathy Long, who was directly inspired by the real-life kickboxer of the same name. Series co-creator John Tobias admired her and wanted to pay tribute to her in the game, but due to time constraints, this character never progressed past the concept drawing stage. The concept art in question, however, shows the character standing tall and proud, clearly capturing the nobility Tobias saw in her.
A look at the lost Mortal Kombat II character Kathy Long. pic.twitter.com/hYp0Jd0YIX

— NBA Jam (the book) (@nbajambook) September 26, 2019
Deleted characters: Deadly Alliance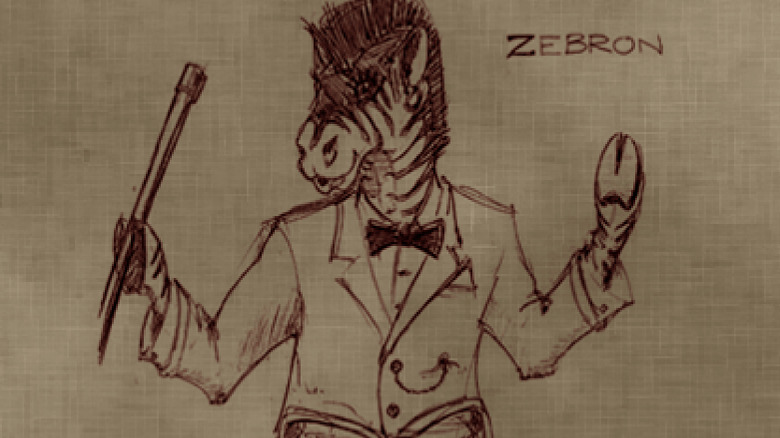 Midway Games
Perhaps the most widely known unused character concepts are those that can be unlocked in the Krypt in "Mortal Kombat: Deadly Alliance." These include a reptilian character called Tiamat, whose look would later be adopted for the look of Reptile in this installment, and Baphomet, a more traditional-looking demonic character.
Advertisement
Most controversial of all is the artwork for Zebron – quite literally a zebra man — because nobody has been able to figure out if he's for real. This concept image was originally posted on series co-creator Ed Boon's personal website prior to the release of "Deadly Alliance" both as a joke and to tease fans who were heavily speculating about the character roster. In the final release of "Mortal Kombat: Deadly Alliance," the very same Zebron artwork can be unlocked in one of the Krypt Koffins. This has led players to believe he was actually meant to be playable, and not just a troll for fans.
All kinds of sounds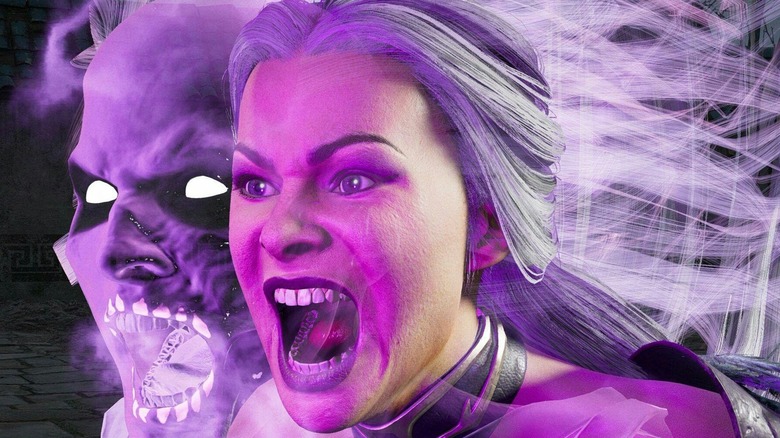 Warner Bros. Games
The sounds in a "Mortal Kombat" game communicate a significant amount of characterization, atmosphere, and feedback to the player. Sound design can really enhance a match like nothing else — but if a piece of audio falls to the cutting room floor, does it make a sound?
Advertisement
The first two games in the series left out a good chunk of sound design. In the original arcade edition of "Mortal Kombat," Goro's introduction was meant to be accompanied by a unique piece of music that would telegraph exactly how intimidating this four-armed brute was. While apt for the encounter, this audio was scrapped in favor of the "Goro's Lair" track. Though the song we got was similar, it's not nearly as intense.
"Mortal Kombat 2" has perhaps the most documented cut sounds out of any early installments, which isn't surprising. The game's source code was leaked in late 2022, resulting in fans immediately diving in and fishing out a whole bunch of unreleased stuff. Amongst these unheard sounds are a rather creepy laugh, a hilariously random vocal line of Jax yelling "Yeah," two variations on a kissing sound (really), and some miscellaneous damage and attack cries belonging to unknown characters.
Advertisement
Celebrity guests MIA
During a fiery interview on the chicken wing gauntlet known as "Hot Ones," Ed Boon talked in great length about the original idea behind notorious movie star Johnny Cage and his role in "Mortal Kombat." After the movie "Bloodsport" was a huge success in 1988, Boon essentially wanted to make "Jean-Claude Van Damme: The Game." Boon and co. contacted Van Damme's reps many times with this idea, but apparently never heard back. Nevertheless, one can tell that Johnny Cage's likeness was heavily inspired by Jean-Claude's look in "Bloodsport." In a full-circle moment, Jean-Claude Van Damme's '90s likeness finally made its way into 2023's "Mortal Kombat 1" as an alternate skin for Johnny Cage. How rad is that?
Advertisement
As mentioned before, another movie star who was meant to be featured in "Mortal Kombat 11" was Bruce Campbell as Ash Williams from the "Evil Dead" franchise. Promotional material was released touting the character, and dataminers even managed to find references to him in the game's code. Sadly, he never made it into the game, presumably due to licensing issues. A real shame, because Ash's chainsaw hand and boomstick would fit right at home in the "Mortal Kombat" universe.
Scrapped character designs: Mortal Kombat (1992)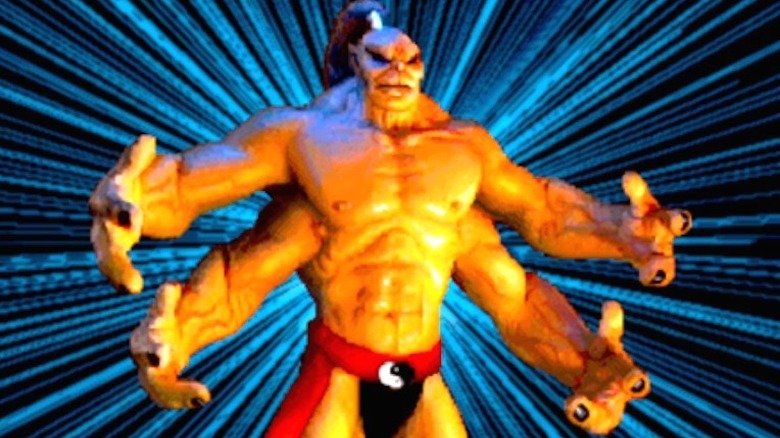 Midway Games
Many iconic "Mortal Kombat" characters began their existence looking drastically different than their finalized design in the games. Through early surviving sketches, we can see exactly how these characters originated and gain insight into what could have been. When it comes to the first game in the series, the most drastic changes were made to Goro. Originally beginning as a concept sketch for a character named Rokuro, his physical features were more grounded as a regular human-sized, two-armed demon warrior. Another sketch in the notebook refers to a "Big Brute With Four Arms." Sound familiar?
Advertisement
Would you like Rokuro (first concept design for goro) to b made into a MK character?
by
u/shonenhikada in
MortalKombat
Co-creator John Tobias also shared a drawing for the original "Mortal Kombat" that depicts the first form of what would become Kitana. The concept art shows a character named Kitsune, whose appearance has more in common with a traditional geisha than the "bikini ninja" style of Kitana's eventual debut in "Mortal Kombat 2."
We renamed Kitsune 2 Kitana, an amalgam of Kitsune and KAtana. Kitsune was a fox woman from Japanese mythology and a katana is of course a Japanese sword. Kitana was more ambiguous and implied the beauty of a fox w the danger of a sword... (7/17)

— John Tobias (@therealsaibot) April 21, 2021
Advertisement
Scrapped character designs: Mortal Kombat 2
The production of "Mortal Kombat 2" also yielded character concepts that greatly differed from their final iterations. The game attempted to be bigger and wilder than the record-breaking original, which led to the devs trying some exciting new things. In early concept art for Baraka, he was depicted as a bald human ninja sporting a yellow outfit. Instead of bladed talons built directly into his forearms, he is seen wielding two hook swords similar to Kabal's from "Mortal Kombat 3."
Advertisement
Early Concept Art of Baraka in MK2 that would later be the inspiration for Kabal in MK3
by
u/Fuzzman2012 in
MortalKombat
Kintaro also went through some significant changes during the concept stage. He was originally meant to more closely resemble an anthromorphic tiger with a ponytail, but due to challenges in designing a fur-lined outfit for the mo-cap actor, this design was scrapped. Instead, the devs opted for another clay stop-motion figure, along with the "Big Brute With Four Arms" formula that worked so well for Goro. The designers did, however, retain one notable feature from the original design: Kintaro's orange body is still covered in tiger stripes.
John Tobias' artwork of a deleted character in Mortal Kombat II — a Kintaro-esque "tiger-like humanoid" was abandoned in the mountains as a child and grew up among tigers.

Because of the difficulty of building such a complicated costume, the character was scratched. pic.twitter.com/HMHgeL8mK5

— NBA Jam (the book) (@nbajambook) December 22, 2018
Advertisement
The original Mortal Kombat HD Arcade Kollection
Perhaps one of the more upsetting things to be left on the cutting room floor was the very real (but very canceled) "Mortal Kombat HD Arcade Kollection." As the title implies, this was intended to be an overhaul of the original classic trilogy. This rendition would feature updated graphics and even a modernized UI. In addition, all-new mo-cap footage was recorded that featured actors in higher-quality versions of classic costumes.
Advertisement
Despite never being released, people who worked on the project have since shared artwork and behind the scenes footage from the game, including artist John Montenegro and makeup artist Tanea Brooks. This project was obviously a labor of love, which really makes you wonder what could have been. In 2015, Ed Boon himself shared a screenshot on X that showed a picture from the canceled game. With it, he promised to shed more light on the canceled project in the near future. Fans are still waiting for those details.
Hi-Res Kombat .... one of these days I'll post an article explaining how the MK HD edition never came to be..... pic.twitter.com/oubqNSIyiv

— Ed Boon (@noobde) November 7, 2015