Dataminers Squash Mortal Kombat 11 Hopes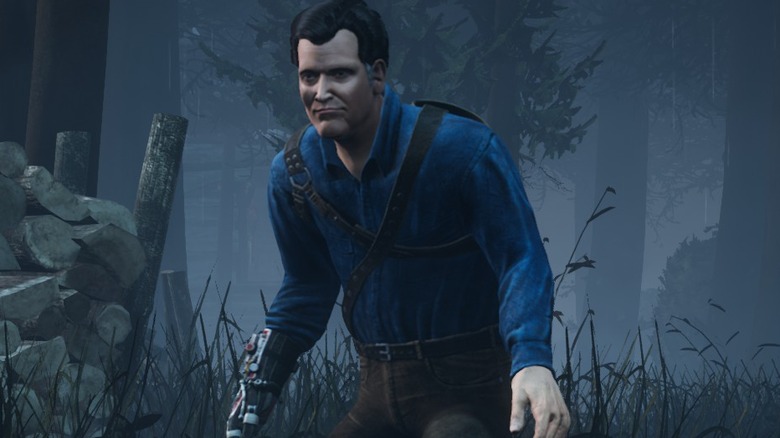 Mortal Kombat 11 fans are in for some less than groovy news. According to recent findings from modder and dataminer who goes by the handle "thethiny," Ash Williams from the Evil Dead series is probably not going to be released as a DLC guest character for the game. 
Advertisement
It is completely understandable if some fans are confused or frustrated by this development. After all, back in March, we pretty much had direct confirmation from NetherRealm Studios that Ash would be one of the next DLC characters for Mortal Kombat 11. Dataminers looking through the games files managed to find evidence of what appeared to be in the next three DLC characters. These characters were Sheeva, Fujin, and apparently Ash Williams, who had also seemingly been uncovered when people were investigating the Joker's original MK 11 design.
Then, an email sent to IGN seemed to further cement the probability of Ash's appearance. That email listed the copyright information related to all of the other guest characters that had been introduced so far, but it also listed on extra character that was unexpected. One line of the credits in the email listed one line of credits mentions "'ASH' character from 'ARMY OF DARKNESS.'"
Advertisement
At the time, this certainly seemed to have all but confirmed Ash being in the next game. In particular, the referral to Army of Darkness (the third film in the Evil Dead franchise) seemed to hint that Ash would appear as his younger self from the movies. This would have been a fun and interesting contrast from how Ash appears in games like Dead By Daylight. In that title, Ash appears as his present day self from the television series Ash vs Evil Dead. It would have been a lot of fun to see a younger Bruce Campbell throwing down with the likes of Shang Tsung and Liu Kang, but it looks like that's no longer a possibility.
According to thethiny, "Ash has been removed completely from the game's files, and there are no other DLC characters." In other words, it appears that all traces of the character have vanished from the game following the latest updates.
When pressed for more information, thethiny could only add, "[More DLC characters] might be coming in the future, but for now there's nothing."
When the Mortal Kombat 11: Aftermath DLC was announced, the next three additional characters were revealed. These included Sheeva and Fujin, who were discovered previously by dataminers. However, Ash was nowhere to be seen. Instead, players were shocked to find out that Mortal Kombat 11's latest guest character from another franchise was Robocop. Not only that, but the cybernetic arm of the law was being voiced by none other than Peter Weller, the actor who originated the role in the first two films of the series.
Advertisement
So what happened to Ash? That's the question that nobody seems to be able to answer at this point. For what it's worth, actor Bruce Campbell has repeatedly denied having any involvement in Mortal Kombat 11. Earlier this month, he even shared a meme on Twitter that showed him performing a Fatality on the very notion that he was in the new game. 
Campbell has also reiterated a few times that he's working on a very different video game adaptation of his famous Evil Dead character. Supposedly, this other project is something highly "immersive," which may be some kind of VR-based Evil Dead adaptation.
There's also the fact that fans were pretty much blindsided by the Robocop reveal. Is it possible that NetherRealm decided to go in another direction and scrapped Ash altogether? Were there licensing issues related to the upcoming Evil Dead game or Dead By Daylight that prevented Ash from being easily used in Mortal Kombat 11? It's just so bizarre that NetherRealm would seemingly go through the trouble of crediting the character's copyright only to not use Ash at all.
It's also possible that the character could still be up for inclusion at some point down the road, but NetherRealm has decided to remove him from the game's code for the time being. This would be a long way to go just for an attempt at a surprise reveal, however.
Advertisement
It appears more likely that Ash will not be appearing in Mortal Kombat 11 after all. In the meantime, he's still available as a DLC for Dead By Daylight. His appearance in that game has been praised by fans, with one Redditor calling him "without a doubt my favourite licensed survivor so far."