What Fortnite Looks Like Without The Special Effects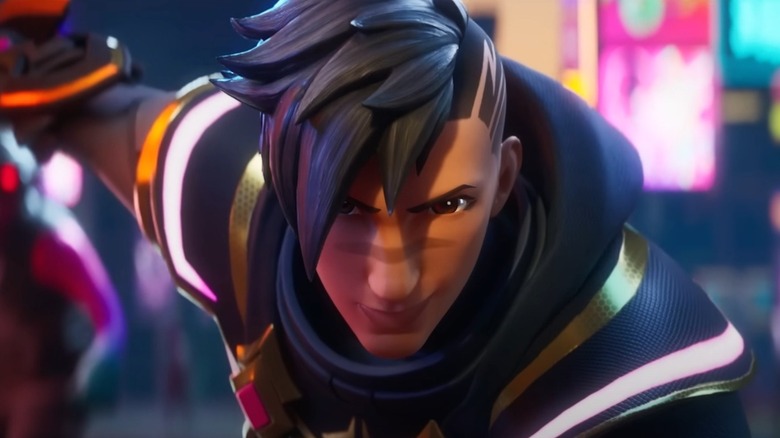 Epic Games
Ever since high-end graphics became accessible via readily available hardware, gamers everywhere have demanded nothing but the best from what they play. From procedural generation to motion capture, game developers have no shortage of tools to meet the requirements of modern audiences. Every game uses them, from action-adventure titles like Insomniac's "Spider-Man" games to fighting games like "Mortal Kombat."
Advertisement
As one of the world's most popular and culturally ubiquitous games, "Fortnite" thus has a huge number of special effects. In fact, its highly stylized, cartoonish, and whimsical art style is among the most recognizable in gaming. This is no accident, and it took a lot of work on the part of a nearly uncountable number of people over years to achieve this style.
The team behind "Fortnite" has been kind enough to put a lot of its creative process out in public for the world to see. As a result, it's possible for fans to take a look behind the curtain and really see what went into the making of this phenomenon, as well as what "Fortnite" would look like without special effects.
Motion capture is key
Motion capture is one of the building blocks of modern gaming, and though Epic Games avoided it in the early days, modern "Fortnite" uses it everywhere. From the game's hype-generating trailers to its meme worthy emotes, it's hard to look anywhere in the game without seeing something that was animated with motion capture.
Advertisement
For example, the game's "Desert Flare" short film was made almost entirely using motion capture, with an actor being filmed as the model for every one of Jonesy's movements. It might looks rather silly in this behind-the-scenes video, as almost all motion capture does before the animation comes in. After all, it's a clip of a man in a skintight suit and cap (studded with a bunch of white balls), running around an empty stage. The end result is impressive, though. In addition to all the on-site personnel working on the motion capture sequence, it also takes the work of countless animators, riggers, and software engineers to bring it to virtual life. 
Epic Games also uses motion capture to animate emotes for "Fortnite." In a clip posted to Reddit, a motion capture actor can be seen shown dancing and twirling a stick around a set, with the capture date being rendered into "Fortnite"-style animation in real time on the set. This would later become the game's "Singing in the Rain" emote. The real-time render lacks a lot of the detail and smoothness that one would expect from a finished animation, but it's still easy to see the building blocks of what the emote would become in-game.
Advertisement
A behind-the-scenes look at how Epic Games makes emotes for Fortnite
by
u/Niburu_Exus_4311 in
FortNiteBR
Building maps from the ground up (literally)
Map design is the most crucial pieces of any battle royale game. Each map needs to be carefully designed to be easy to look at and understand, visually engaging, and still laid out in a way that enables memorable firefights between players. This is a special effect all its own. In another clip posted to Reddit, we can see a time-lapse clip of the basics of the map design process for "Fortnite."
Advertisement
Fortnite DEV showing behind the scenes on making the Island, Just released!
by
u/Drdrakewilliam in
FortNiteBR
It starts with a barren grass-covered island, but slowly grows from there. The first thing added are different biomes, including snowy fields and sandy beaches, as well as elevation changes with hills and mountains. From there, finer details start to drop in. These are the things that really add character and memorability to a battle royale map. Things like buildings, rivers, roads, trees start to dot the landscape, and these are key to the player's experience in "Fortnite." Every "Fortnite" player knows the terror of needing to cross a busy road or river, or the tension of being stuck behind a tree while a sniper aims down at you. Without all the work put into the placement of various details on the map, or the thought put into how they'll be used and what they'll enable players to do, "Fortnite" wouldn't be nearly the game that it is.
Advertisement
Using ray tracing to add detail
Any game with a map as large as "Fortnite" is going to need to fit in a lot of small details. One advanced graphics technique used to render these details is ray tracing, which simulates realistic lighting. Ray tracing can be used to create lighting that's not just brighter and cleaner, but more lifelike as well. Ray tracing can even allow computer generated images to appear almost photorealistic with enough computing power. It makes sense that TechRadar once called ray tracing "the holy grail of gaming graphics," though some gamers still debate its merits.
Advertisement
A YouTube video from Cycu1 shows the effects of ray tracing in "Fortnite." Ray tracing adds a substantial amount of detail added when  turned on, when compared to what the game looks like when it's turned off. Without ray tracing, the game looks less vibrant. The colors are duller, with the game's unmistakable bright blues, greens, and reds being noticeably toned down. In addition, the edges of many objects lose a bit of their sharpness, becoming rounder, and somewhat more muddled, taking away from their realism. Reflections also change from clear and crisp to something more indistinct.
Art before gameplay
"Fortnite's" stylized graphics are one of the most recognizable elements of the game, not to mention a key part of the game's appeal. They make the game more recognizable to the core demographic of younger cartoon-loving players, as well as more palatable to parents who might worry about their kids playing a violent game. 
Advertisement
In a video for Game Informer, "Fortnite" lead animator Matthew Russell explains that the game's iconic art style "started off as an experiment." The animation team didn't originally conceive of "Fortnite" in the way we know it. Epic Games started with just a few stills in this style, then began to work from there. The devs took inspiration from classic "Looney Tunes" shorts, turning what was planned as a gritty horror game into something more over the top and fun, a world where every object is interesting to look at. Other sources of inspiration included "Team Fortress 2" and the movies of Tim Burton. The process of taking inspiration from these properties was described as telling each animator to "find that thing that you dig and make it yours in an honest way." Seeing "Fortnite" evolve from these early sketches of dilapidated buildings into the vibrant island that exists today seems almost impossible.
Advertisement
Exaggerated everything
Exaggeration has been in "Fortnite's" DNA from the start. Many of the game's early animations didn't have the right feel to them, and eventually what the animation team realized was that they needed to go bigger. Taking inspiration from "Devil May Cry" in particular, lead animator Matthew Russell told Game Informer that his team realized that adding more exaggerated motion was exactly what "Fortnite" needed.
Advertisement
Russell said the recipe for this was to take basic movements, then "crank them till they break and ... bring them back just a bit." After these changes, Russell said the team started to receive significantly more positive feedback on the game, particularly in the area of melee combat. These vibes quickly made their way into the rest of the game, with enemies becoming more cartoony and boasting wackier movements, not to mention buildings going from gothic and angular to more whimsical and winding. That foundation of exaggerated movement has made "Fortnite" such a visually unique and recognizable game to this day, even nearly a decade after its release.
Making unique monsters
It's easy to forget "Fortnite" isn't just a battle royale at its core. It was originally a survival game, and a lot of effort went into imagining the zombies and monsters for it. Instead of taking the easy (and presumably less costly) option of using more cookie-cutter zombies, the "Fortnite" team decided to get creative.
Advertisement
Taking inspiration from a variety of zombie films and shows, particularly from the 1980s, the "Fortnite" team managed to make up some truly unique monsters. These monsters were arguably the centerpiece of the game at this time. On top of the zombies, Epic decided to add "some cool ethereal creatures as well," as lead animator Matthew Russell explained to Game Informer. This led to a very interesting mix of monsters of all shapes and sizes. Early concept sketches show more horrific creations, each cloaked in a shroud of foreboding mist. Adding Epic's sense of exaggerrated design and fun visual language made them into something totally new. All of them are obviously inhuman creatures, but somehow whimsical and lighthearted in a way that fits the art style of "Fortnite." They are, as art director Pete Ellis described them, "adorable abominations."
Advertisement
A lived-in world
Despite what you might think, "Fortnite'" animation isn't all high-tech animation techniques, bright colors, and cartoonish action. The animators take a lot of time to add tiny details that are meant to make the world feel a bit more grounded and realistic. The process behind this is one of many things Peter Ellis detailed during a talk he gave at GDC 2018.
Advertisement
According to Ellis, a lot of textures were hand-painted to overcome the downsides of certain automated rendering features in the game's engine. A human touch is needed for many of the in-game textures to give everything more authenticity. Textures weren't the only hand-painted pieces in "Fortnite," however, as a variety of the game's props are also manually adjusted by animators. According to Ellis, this creates a "lived-in world" full of "little bits of dust and grunge and scratches." Even after the transition to battle royale mode as the game's primary selling point, these details remained a key piece of the game upon which Ellis and co. were not willing to compromise.