Darksiders Is Officially Coming To Nintendo Switch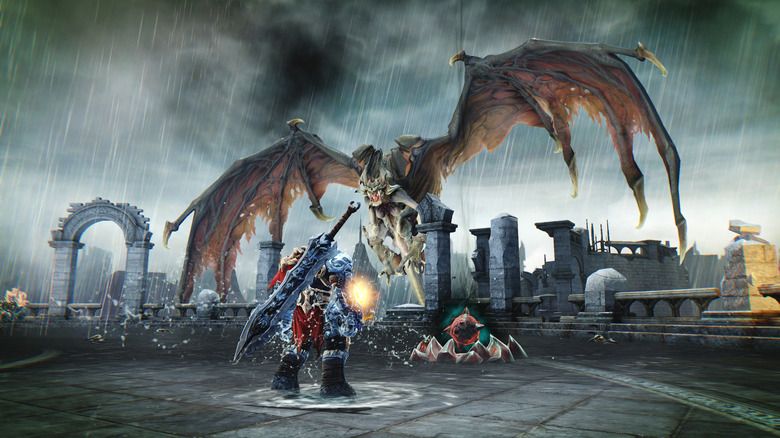 We felt pretty good about Darksiders: Warmastered Edition coming to Switch yesterday after THQ Nordic accidentally leaked its trailer. But we didn't want to come right out and say it was definitely happening. We wanted to be sure. And now we are.
A press release sent out by THQ Nordic today makes the release official. Darksiders: Warmastered Edition will hit the Nintendo Switch on April 2, and will actually break with many of the Switch ports we've seen recently by releasing at a discount price of $29.99. That price will hold true both in retail stores as well as in Nintendo's eShop.
Looking to jump into Darksiders: Warmastered Edition for the first time, and interested in learning about the story? Fortunately for you, THQ Nordic provided a brief synopsis of the game's plot in its press release.
"Deceived by the forces of evil into prematurely bringing about the end of the world, War — the first Horseman of the Apocalypse — stands accused of breaking the sacred law by inciting a war between Heaven and Hell," the release says. "In the slaughter that ensued, the demonic forces defeated the heavenly hosts and laid claim to the Earth."
Basically, you accidentally made a very, very big mess, and now you're tasked with cleaning it up. And if that means taking it to some angels or some demons in the process, then that's what you'll have to do.
It's nice to get some confirmation on this. We're really not sure that THQ Nordic planned on unveiling this Darksiders port so soon, and it's possible that yesterday's unintentional leak played a part in the decision to do it today. But it's a pretty high profile game, and as we stated yesterday, success with Darksiders could tempt THQ Nordic to bring more games to the platform — and could get other publishers looking at their own libraries, too.
Mark your calendars: Darksiders: Warmastered Edition for Nintendo Switch arrives April 2 at a price of $29.99.