Thimbleweed Park Is Free Via Epic Games Store On Feb. 21, Axiom Verge Is Free Today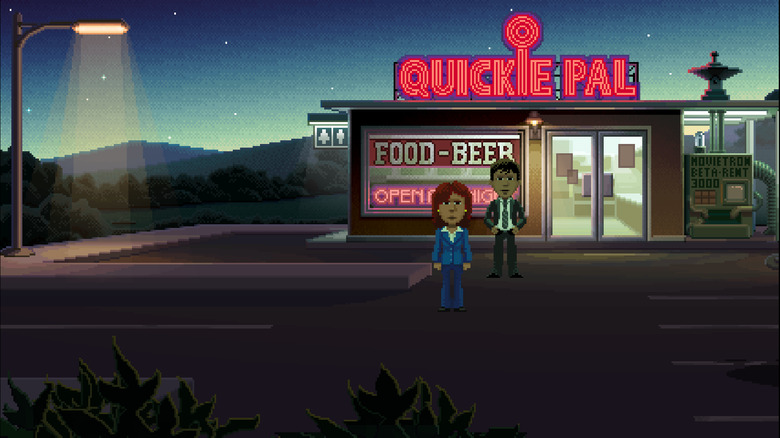 Epic Games has unveiled the next PC game it'll give away in its namesake storefront, and that game is Thimbleweed Park, the 2017 retro-style adventure game from developer Terrible Toybox.
Players can look forward to downloading Thimbleweed Park on Thursday, Feb. 21.
We've talked in the past about how Epic Games is really killing it with its free game selection, having already offered titles like Subnautica and What Remains of Edith Finch. It's safe to say that Thimbleweed Park is another game in the vein of those two examples — one that isn't exactly a big-budget, AAA experience, but one that still received a lot of love when it came out a few years back.
IGN's Ryan McCaffery had high praise for the title. "It's not a comedy like Monkey Island," McCaffery wrote, "and its voice cast doesn't always do the best job of breathing life into the humor that's there, but its occasional how-far-can-I-take-this conversation trees and densely packed puzzle chains make Thimbleweed as deep and memorable of an adventure game as I've played in years."
And Polygon's Whitney Reynolds had equally nice things to say of Thimbleweed Park, stating,  "It's a game that exists somewhere between 1987 and 2017, and for someone with a love of the genre, it feels like coming home."
So you know you'll have Thimblweed Park waiting for you in a few weeks. But if you're familiar at all with the Epic Games Store's giveaway process, you'll know that we only have the name of this new title because the previously teased game is now available. That means you can head on over to Epic's shop right now and download Axiom Verge, yet another game that keeps with what appears to be the overall theme. It's not a household name, but it's still very, very good.
We'll have more for you in two weeks' time, when Thimbleweed Park steps up to bat and a new game drops into the on-deck category. Until then, stay tuned.