This Apex Legends Easter Egg Is A Touching Tribute To A Lost Friend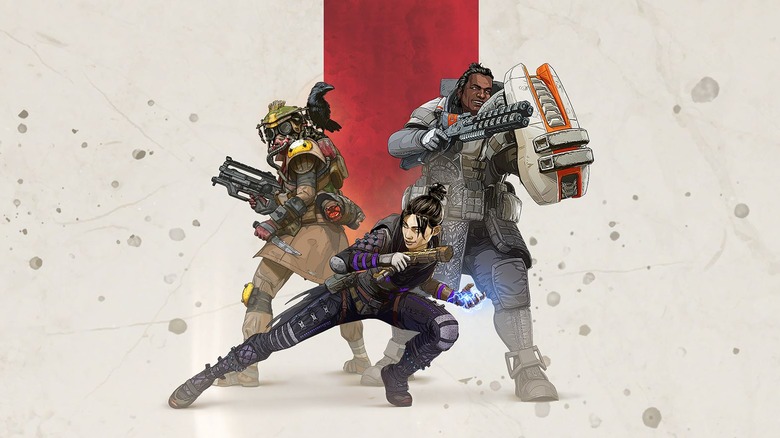 In some ways, Apex Legends can be viewed a feel-good story — a redemption tale, of sorts, for the studio known as Respawn Entertainment. The original Titanfall, as a proof of concept, showed a lot of potential for where Respawn could go in the future. And Titanfall 2, its sequel, released to wide critical acclaim and delivered on the promise of the original with one of the best first-person shooter campaigns in years.
Advertisement
Yet neither of those games managed to capture the zeitgeist. At least, not in the way Apex Legends has. Apex is the game everyone is talking about right now. Apex is the title that clocked 10 million players after just three days. And Apex Legends is showing that Respawn Entertainment is more than capable of creating an addictive first-person shooter that people just can't put down.
In the past day or so, though, another story related to Apex Legends has come along to tug at everyone's heartstrings. And it has less to do with the tribulations of Respawn Entertainment as a studio, and more to do with the loss one of it's developers suffered.
In the area of the Apex Legends map known as the Market, a tribute sits in honor of developer Jason McCord's best friend — a dog named Shadie, who passed away while the team at Respawn worked to finish the game. The fine folks at Kotaku first reported on Shadie's shrine, which consists of a plush dog sitting on top of a pillow, along with two photos. And on Twitter, McCord confirmed the existence of the items and explained their meanings.
Advertisement
"Our dog of 10 years passed away suddenly from health issues while I was working hard on Kings Canyon," McCord wrote. "As any animal lover knows, this was a crushing blow to my morale and made many days hard to come to work." McCord continued. "Shadie was our best friend, and so I wanted her to live on in this little corner of the map. It legit makes me feel better to visit this area sometimes."
McCord then posted a close-up image of the shrine, which gave everyone a better look at the plush dog and the photos. He then explained that one of the photos was of Shadie herself. The other photo was of McCord and his wife, placed nearby "for solidarity," he said.
If you've ever lost a pet, you can surely relate to McCord's pain and his desire to remember his best friend in an everlasting way. A small plush dog — sitting on a pillow as his own Shadie might have done so many times before — into an online game is certainly one of the more creative and heartfelt ways to accomplish that goal. And while it may not totally remove the sting, McCord can at least take comfort in knowing that there are a whole lot of people playing Apex Legends right now. And thanks to the stories about his tribute to Shadie, some of those players will be looking to visit that very spot on the map and see the shrine for themselves.
Advertisement
That's not the only potential Shadie sighting you can have in Apex Legends, by the way. There's also another Shadie plushie located on a mountain somewhere in the game's map. But that one, it seems, won't be as easy to find.
Hats off to Jason McCord for showing his fallen friend some love in such a unique way. And really, hats off to the entire team at Respawn Entertainment for the work they've put into Apex Legends. It can be easy to get caught up in what the game is or isn't, how it compares to all the other battle royale games out there, and what it means for the future of the Titanfall franchise. But if this story can remind us of anything, it's that a lot of time and energy went into creating the shooter Respawn released this past Monday.
And that every single person who devoted that time and energy to the game is a real human — a human who poured his or her soul into the project, dealt with the highs and lows of the development process, and might have even lost a very close friend along the way.