CEO Of Smite Developer Hits Sony On Unfair Crossplay Stance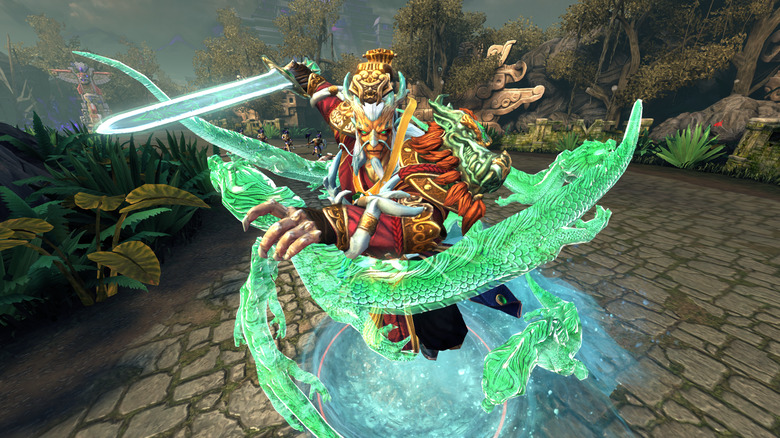 It was just a matter of time. Sony's slow-moving beta for PlayStation crossplay has only been available for two games thus far: Fortnite and Rocket League. Now the CEO of another development studio is giving the company an earful.
Advertisement
"Hey @Sony @PlayStation. It's time to stop playing favorites and tear down the crossplay/progression wall for everyone," wrote Stew Chisam, the CEO of Hi-Rez Studios, remarking that games like Smite, Paladins, and Realm Royale are "ready to go" when Sony is. He then tagged Tim Sweeney and Joe Kreiner — both of Epic Games — presumably to ensure they saw the tweet, as well.
Despite Sony dragging its feet on crossplay and cross-progression, Hi-Rez Studios has still committed to both features across all of its games — at least for the versions that appear on PC, Xbox One, and Nintendo Switch. Still, it has to involve extra work to keep one platform's port of a title separate from the others where networking is concerned. Hi-Rez's Realm Royale competes directly with Fortnite in the battle royale arena, and you can't help but feel a tiny bit of the studio's frustration, as it appears that Fortnite's been on the receiving end of some favoritism due to its popularity.
Advertisement
But there's also a good chance that both Fortnite and Rocket League got the go ahead because of all the noise the games generated. When Fortnite arrived on the Nintendo Switch in the middle of last year, fans were quite angry when they discovered that Sony had been locking their accounts to PlayStation, essentially walling them off from all other platforms. Sony handled its response to that crisis poorly, to the point where caving almost felt like an inevitability.
Rocket League, meanwhile, had been pushing for crossplay and cross-progression for a long, long time. And Pysonix, the studio behind the game, had already turned crossplay on for all non-PlayStation platforms.
In that sense, perhaps the strategy employed by Hi-Rez Studios here has a good chance of working.
We can't imagine that Sony will just ignore this very direct message. Should the company respond, we'll let you know.