Smite, Paladins, Realm Royale To Get Cross-Play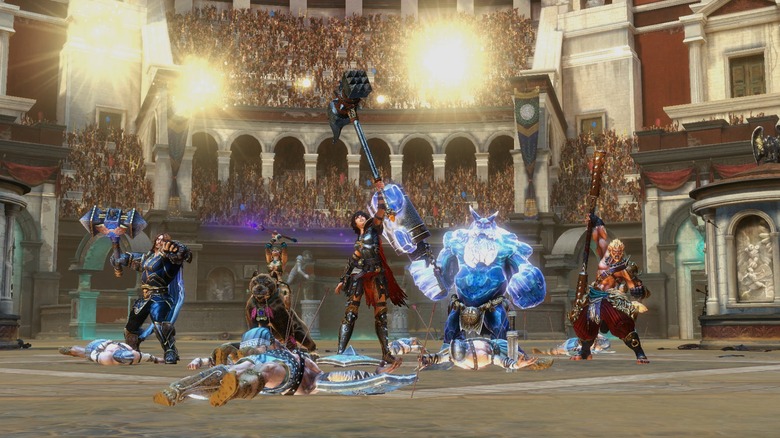 Hi-Rez Studios is ready to embrace a world without video game borders. According to a section on the company's website, Smite, Paladins, and Realm Royale are all getting support for cross-play and cross-progression, enabling players to face those on other platforms and take their progress anywhere.
Well, almost anywhere. There's a platform that's missing from the list of supported operating systems and devices, and you might not be surprised to learn which one that is. It's the PlayStation 4, which has allowed Fortnite to experiment with cross-play and cross-save but has yet to green light those features for any other games.
Regardless, Hi-Rez seems ready to take on the challenges that come with supporting games that connect across platforms.
"Hi-Rez Studios believes gamers should be able to play with their friends — and access their content — regardless of what platform they play on," Hi-Rez wrote on its website. "We are incredibly excited to be at the forefront of this great cross-platform movement."
The company couldn't help but toss a little shade toward Sony, however.
"Cross-play will be supported across PC launcher, PC and Mac Steam, Xbox One, and Nintendo Switch," Hi-Rez said, adding, "We are technically ready to support cross-play on other platforms as the opportunity arises."
As you can see, there aren't a whole lot of other platforms left.
Smite, Paladins, and Realm Royale are just the latest games to seriously push cross-play and cross-progression, which more and more developers are hoping becomes the rule rather than the exception. Fortnite was, of course, the most successful in achieving this goal, as it currently supports cross-play across almost every platform imaginable. But other games, like Blizzard's Diablo III and Psyonix's Rocket League are working to get either cross-play, cross-progression, or both working for those respective titles.
Cross-play and cross-progression is expected to go live in Smite and Paladins sometime in January 2019. According to Hi-Rez, Realm Royale will have cross-play support on the first day of its full release, while cross-progression will arrive sometime after that.
And in case you missed the news, Smite is indeed coming to the Nintendo Switch. The game will enter a closed beta on Jan. 24, 2019. Players who want to jump in early can purchase a Smite Founder's Pack, which should be up for pre-order sometime soon.