What The Critics Are Saying About Metro Exodus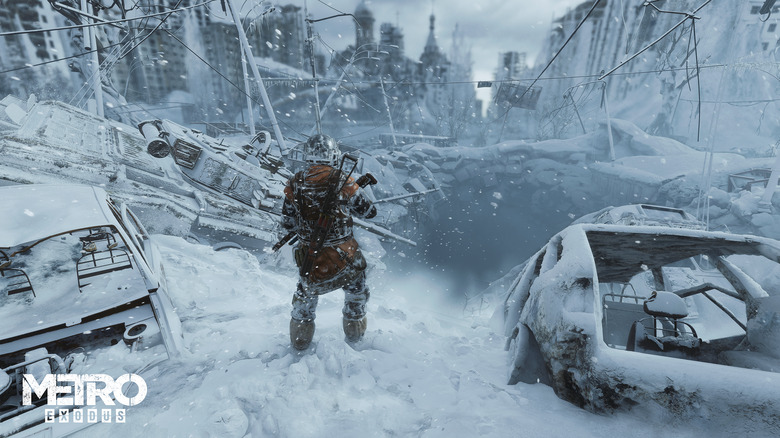 We're just two days away from the release of Metro Exodus, the post-apocalyptic shooter from 4A Games and Deep Silver. And fortunately for those who've been holding out for critical views on the game, the review embargo has lifted. Which means just about everyone has a hot take on how Metro Exodus fares.
Below, we've gathered a collection of thoughts from other video game outlets that have reviewed Metro Exodus (along with scores, where applicable). You may not feel like you're getting the whole scoop from just one site. Hopefully this roundup can do the trick.
IGN's Tristan Ogilvie: "Metro Exodus takes the fear-inducing formula of the series and transplants it into expansive, sandbox-like levels without losing any of the oppressive tension that makes the Metro games memorable and distinctive among post-apocalyptic first-person shooters." Score: 8.5/10
Polygon's Charlie Hill (still in progress): "I expected more polish this time around and, so far at least, I feel a little let down. The game looks salvageable, and I expect it to perk up after a few patches. But, because of the bugs, even die-hard fans may want to wait for a while before they commit the time to get stuck in."
GameSpot's Michael Higham: "The open sandboxes may not be [the] strongest addition, but the game still embraces the sense of vulnerability and post-apocalyptic terror alongside impactful weapons used in refined combat and stealth scenarios. You may miss the mystery and intrigue of the previous games, but Exodus puts together a charismatic crew of friends and family that you'll want to follow to the ends of the earth." Score: 8/10.
VG247's Alex Donaldson: "Here the ambition of Metro Exodus shows, though it's not at all where it's not at all where it is at its best. That's when you're out in the open world, scavenging and scrabbling together resources in order to repair your gas mask and stock up on ammo before going on a dungeon crawling dive into an abandoned bunker. It's when a sandstorm rolls in midway through a slugfest of a firefight. It's when scripting gets out of the way and solidly built game systems can simply interact and create something special. When Metro Exodus does all that — which admittedly isn't all the time — it's a brilliant, smart sequel."
Twinfinite's Tom Hopkins: "The survival horror tropes, linear moments, and emphasis on atmosphere haven't been lost, but Exodus proves that Metro can be much more than a journey through dark and decaying tunnels." Score: 4/5
USgamer's Hirum Cryer: "As the conclusion to the Metro trilogy, Metro Exodus gives closure to key characters that we've spent time with for multiple games now. Exodus sheds the complex conflict between the Hansa, Communists, Nazis and more for a character-driven tale, and it pays off. The combat is still difficult but enjoyable, with a certain learning curve coming with every weapon in the game, whether it's a shotgun or a gas-powered rifle. But it's the forgettable open world, with bland and repetitive objectives, and the at-times infuriating stealth sections with brutal consequences that lets the entire adventure of Metro Exodus down." Score: 3.5/5
DualShockers' Ryan Meitzler: "While its transition to a semi-open-world structure may make for a radical change from what fans may expect from the series' third installment, Metro Exodus expands on what has made the series so unique from anything else with a compelling mix of action, stealth, survival, and horror. Much like how the Aurora has brought Artyom and his companions to new, uncharted territories, Metro Exodus is bringing the series into a new direction that seems to have so many possibilities." Score: 8.5/10
Eurogamer's Edwin Evans-Thirlwell: "Far from just another map-clearing game, Metro's first above-ground outing is an atmospheric, characterful voyage across a ruined Russia."
Destructoid's Chris Moyse: "Metro Exodus is a tour-de-force in apocalyptic exploration. It offers a rich, evolving world, brought to life with stunning visuals, immersive sound, and ghastly creatures. These thrills and chills are irritatingly tempered with menial tasks, poor voice acting, dull stealth and a soulless hero, all of which prevent Metro Exodus from achieving its true potential. Behind these grievances, however, lies an absolutely thrilling adventure for anyone who dares board The Aurora. Just prepared to get your ticket punched." Score: 7/10
So there you have it. By all accounts, it appears that Metro Exodus is widely regarded as a worthy third entry in the Metro series. Not as great as it could've been, but still good. It's worth noting that the Polygon review-in-progress spent a significant amount of time talking about bugs in the game. That wasn't a large focus of other reviews we checked out, so it'll be interesting to see if that becomes a complaint of the player base at large when Exodus launches on Friday, or if that was the unfortunate experience of one reviewer.
Metro Exodus drops this Friday, Feb. 15.