Killer Queen Black Is Coming To Xbox One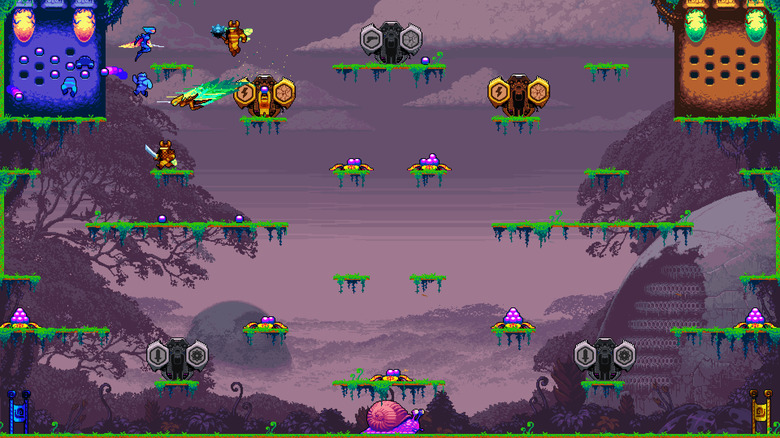 Arcade fans, rejoice. According to Destructoid, Killer Queen Black, the console and PC take on the popular Killer Queen arcade game, is slated to hit the Xbox One later this year.
The game had been previously announced for PC and Nintendo Switch, so the mention of an Xbox One version is certainly news. Interestingly enough, though, there doesn't appear to be a PlayStation 4 port of Killer Queen Black in the works, and there might be a reason for that.
Advertisement
Cross-play.
Gaming Bolt is reporting that full cross-platform play is coming to Killer Queen Black across PC, Nintendo Switch, and Xbox One, which means you'll be able to work, kill, or snail ride your way to victory with friends regardless of where they pick the game up. That's a pretty huge feature, and you can't help but wonder if Sony's wishy-washy stance on cross-play has something to do with why Killer Queen Black isn't appearing on the PS4.
For the record, Sony maintains that it's open to exploring cross-play with any developer that expresses an interest. However, a number of developers have recently come out and stated that Sony's talk doesn't quite line up with what's happening on the ground.
Advertisement
Killer Queen has long been a staple at arcades, and regularly draws lines of players waiting to mix it up with whoever's running the cabinet. It would be a crying shame for PlayStation 4 owners to miss out because BumbleBear doesn't want the hassle of walling off its online play on one console. Hopefully things get squared away and PS4 players can jump on board with everyone else.
Killer Queen Black is scheduled to arrive on PC and Nintendo Switch in the third quarter of this year. The Xbox One version will drop sometime in Q4. We'll let you know should we hear anything about potential ports of Killer Queen Black hitting other platforms.