Here's The Schedule For Mortal Kombat 11's Pre-Order Beta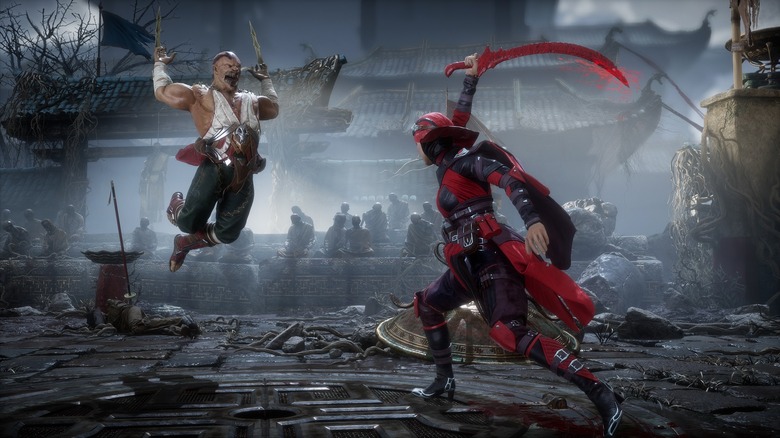 Looking to satisfy your video game blood lust in the upcoming Mortal Kombat 11? If you pre-ordered the game, you have access to an exclusive beta period, which the official Mortal Kombat Twitter account finally detailed today.
Those who've pre-ordered Mortal Kombat 11 in the United States can start playing the pre-order beta on Wednesday, March 27 at 11 a.m. ET. The beta period will run over into the next week before finally coming to a close on Tuesday, April 2 at 2:59 a.m. ET.
Based off of the way Mortal Kombat 11's stress test went this weekend, there don't appear to be any major issues players have to worry about. Movement was a concern in some of the game's earlier builds, but some players reported after the stress test that movement felt much better when compared to that prior version. Ed Boon also remarked that movement in the final version of Mortal Kombat 11 will be even better, so there's a chance those who take part in the closed beta could get a look at that before MK 11 ultimately hits retail next month.
Otherwise, things look promising for MK 11. The servers didn't explode, which is a plus for any game with an online component these days. And so far, MK 11 looks visually phenomenal now that it can finally make use of the enhancements found in the more powerful hardware iterations (the PS4 Pro and Xbox One X). The fatalities are already stunningly over-the-top and detailed. Those fatalities in HDR and at higher resolutions? We're here for that.
We've been covering the living daylights out of Mortal Kombat 11, including the things you should know before buying it, the dark truth behind some of the game's characters, and the unknown history behind the series as a whole. Oh, and there might have been a few Shaggy-related articles along the way. We suggest you check them all out in preparation for one of the year's most anticipated fighting games.
Mortal Kombat 11 is scheduled to hit PlayStation 4, Xbox One, Nintendo Switch, and PC on April 23, 2019.