Possible Star Wars: Jedi - Fallen Order Teaser Poster Revealed On Amazon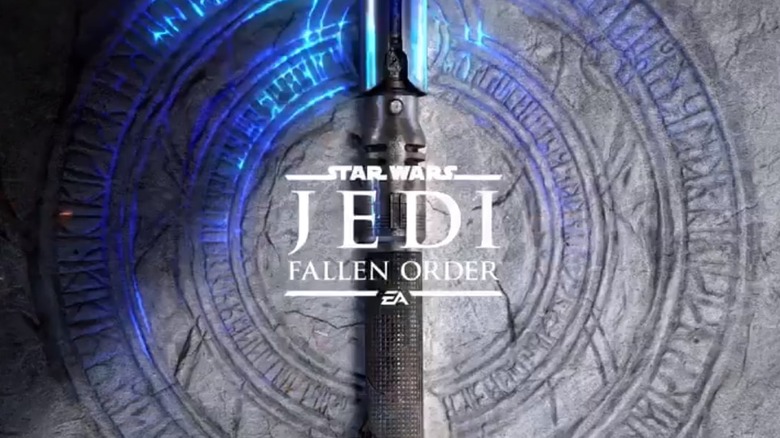 An Amazon listing for a commemorative shirt may have prematurely revealed the teaser poster for Star Wars: Jedi — Fallen Order. 
First spotted by Twitter user Warior64, an item labelled "Star Wars Jedi Fallen Order Logo Teaser Poster T-Shirt" appeared on the online marketplace earlier today. The listing has since been removed but not before savvy netizens noted some key details.
The poster displayed on the T-shirt shows a rocky terrain next to river rapids. Patches of a white substance border the river, likely snow or salt. A humanoid figure wielding a blue lightsaber is visible in the foreground. Their companion, a small droid, appears to be examining runes etched into the rockface. A crashed Republic-era Star Destroyer rests in the distance while TIE Fighters loom in the sky above.
As reported by IGN, the item description read, "Get ready for a brand-new action adventure game coming to you this Holiday 2019 with this official Star Wars: Jedi — Fallen Order teaser poster tee shirt. An original Star Wars story, Jedi: Fallen Order follows a surviving Padawan and is set shortly after the events of Star Wars: Revenge of the Sith. This official Jedi: Fallen Order teaser poster has just been revealed at Star Wars Celebration Chicago and the tee shirt is now available, hot off the press, right here on Amazon!"
This description supports what little information Respawn Entertainment has shared about the game's plotline. The story will center on a Padawan who survived the massacre that followed in the wake of Order 66. The decree marked all Jedi as traitors to the Galactic Republic in Episode III, calling for their execution. It was Order 66 that spawned the heartbreaking scene in the film when Anakin Skywalker murdered the younglings at the Jedi Temple.
If the listing proves legit, it may return Saturday following the Star Wars: Jedi — Fallen Order reveal at Star Wars Celebration.