The Xbox Spring Sale Kicks Off Today With Fresh New Deals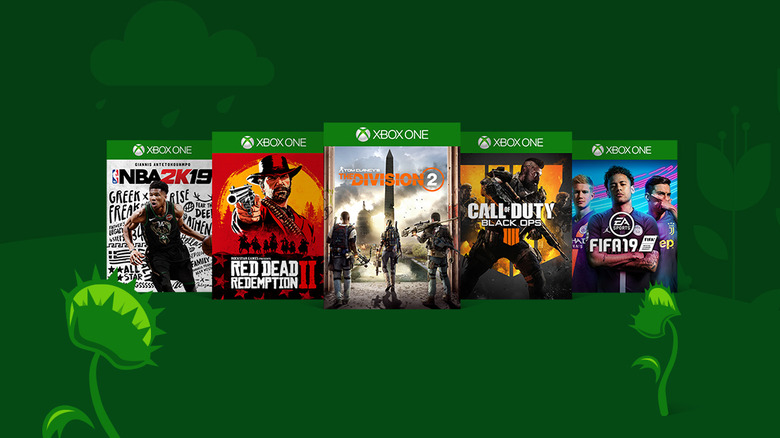 We're about to enter a bit of a lull in terms of video game releases, so why not pad your backlog with some discounted games? The Xbox Spring Sale just sprouted up today, offering savings on a number of blockbuster titles for the Xbox One.
We've combed through the deals in this latest sale and picked out some of the brightest stars. So without further ado, here they are.
The Division 2 is a vast improvement on the series' first entry, with just about everyone praising its environmental storytelling and improved endgame. You can pick this one up for $49.79.
Call of Duty: Black Ops 4 might not have a campaign to go along with its tried-and-true multiplayer gameplay this year, but it does have something else: a CoD spin on battle royale in its Blackout mode. If you've been on the fence about paying full price for a Call of Duty game without a story, you may want to give this one a look at its $30 sale price.
Red Dead Redemption 2 was one of the biggest games to release last year, but hey, we understand if you haven't played it yet. The game's campaign length can be daunting to some, and there was a very good chance that you'd still be playing it when the game finally went on sale — as it has now. You can nab Red Dead Redemption 2 for $40.99 in today's sale, so now may be the time to buy.
Sea of Thieves has evolved quite a bit over the past year. Rare — the studio behind the title — has added much more to the game's world, making it much harder to run out of things to do. And Sea of Thieves' Anniversary Update is just around the corner, bringing a dedicated PvP mode to the title as well as a fully fleshed out story campaign. You can buy Sea of Thieves today for $30.
Shadow of the Tomb Raider will never cease to receive our praise. Sorry, it just isn't going to happen. The folks in Red Dead Redemption 2 never stole anything the way you'll be stealing Shadow at its sale price. You can get it for just $30 while the sale lasts, and if you don't mind another recommendation — get the season pass, too. There's more than enough content there to keep you busy long after you wrap up the campaign.
Assassin's Creed: Odyssey is a far cry from the AC games of the past. There is still plenty of stealth action to be had, but the games have slowly been morphing into action RPGs right before our very eyes. Odyssey represents the best of this transformation, and, in a less-crowded year, could've easily won a Game of the Year award. At just $24, you owe it to yourself to pick this one up.
Think about Bethesda before Fallout 76. Pretty good, right? All of those good games are on sale. Doom is $15. The Elder Scrolls Online Collection is $30. Dishonored 2 is $20. Prey is $15. The Evil Within 2 is $20. Wolfenstein 2 is $20. Where is Skyrim, you ask? It's bundled with Fallout 76. Bethesda is really trying to move that game. Fortunately, any of the others will do just fine.
And hey – Kingdoms of Amalur: Reckoning is on sale! Remember when someone had to pry this game away from Rhode Island? That someone was THQ Nordic, praise be, and now Amalur is backward compatible and selling for $10. If you've yet to experience Curt Schilling's collapse in video game form, now's the time. It's actually a very underrated and beloved title.
The Xbox Spring Sale runs from today through April 22. If you have some spare cash lying around, you have until then to spend it on some cheap Xbox One games.