Apple Could Invest Over $500 Million In Arcade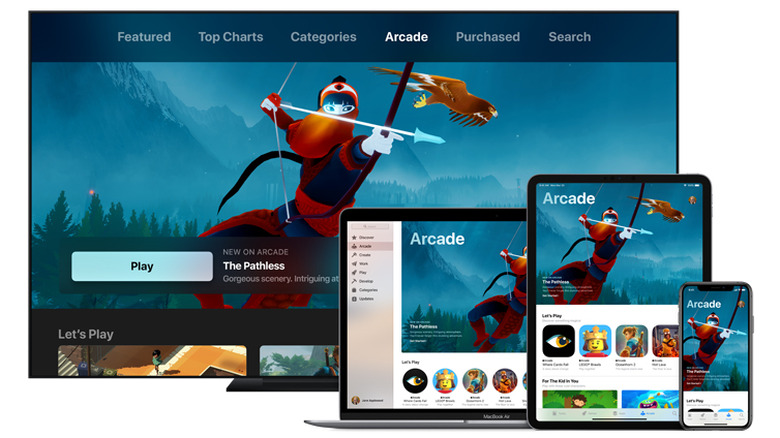 Apple's most serious foray into gaming yet could also be its most expensive. According to Gizmodo (via the Financial Times), Apple could spend more than $500 million on its new Arcade game subscription service — over half of the company's reported streaming TV budget.
That's a pretty serious investment for Apple, which has hosted plenty of games on its iOS App Store yet hasn't played much in the space otherwise.
Fortunately for the Cupertino company, analysts believe the money will be made back in short order. Revenue projections from HBSC have Apple earning $370 million from Apple Arcade in 2020, with that figure growing to $2.7 billion by 2022 and $4.5 billion by 2024. And while Apple has yet to reveal its subscription price for Apple Arcade, those same HBSC analysts have taken a stab at it, predicting Apple will charge $12.99 per month for access to the Arcade service.
If you're still on the fence about how big Apple Arcade will be for the company, consider this: HBSC believes Apple Arcade's revenue will surpass that of Apple TV+, the streaming TV push that took up the majority of the company's March event. You probably won't catch Jennifer Aniston or Oprah in any of the games coming to Apple Arcade, but many of the titles reportedly have multimillion-dollar budgets, which suggests a level of production not often seen on the App Store.
Apple already has a collection of partners creating content for Apple Arcade, with some games offering exclusivity — at least for a brief period. And the company has the hardest part out of the way, in that iOS devices are in "a billion pockets, ya'll" (according to Oprah). If Apple can get the value proposition right for Apple Arcade, and the experience feels as seamless as the one the company touted, we could have yet another subscription competing for our time and money.
Apple Arcade is set to launch in Fall 2019. There's no word yet on whether or not we'll hear more about the service before then.