GTA Online Offering Double Rewards And Doomsday Discounts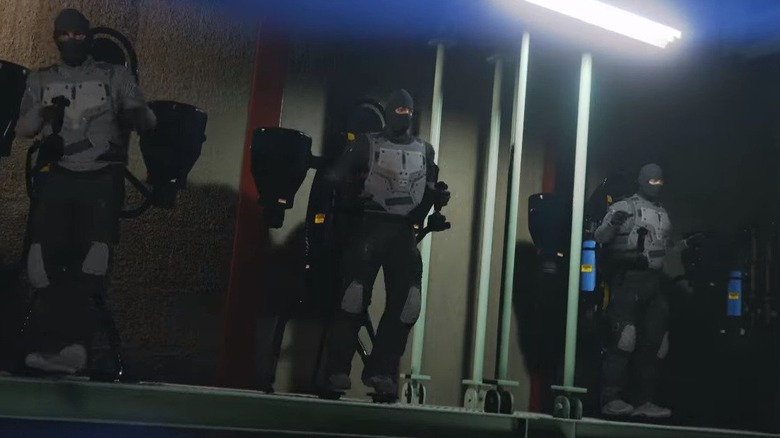 From now until April 24, you can score double rewards from all Contact Missions on GTA Online. To get started, just dial up Gerald, Lamar, Ron, Trevor, Lester, Martin, or Simeon. You have the option to complete the missions solo or as part of a squad, with groups receiving a cash bonus.
Advertisement
The money-making opportunities don't stop there. Rockstar is also offering 2X the GTA$ and RP for all Occupy, Hardest Target, and Juggernaut Adversary Mode matches and completing "The Doomsday Scenario Finale." In "The Doomsday Scenario Finale," which concludes The Doomsday Heist, you'll infiltrate a base hidden within Mount Chiliad to stop a nuclear warhead from launching. To help you survive your mission, Maze Bank Foreclosures and Warstock Cache & Carry have teamed up to provide a discount on: Facilities, Facility Add-Ons and Renovations, Pegassi Oppressor, TM-02 Khanjali, HVY Chernobog, Mammoth Avenger & Renovations, HVY Menacer, and Mammoth Thruster.
All Biker Clubhouse owners will receive a GTA$250K gift next week. For those currently without a base, the Great Chaparral Clubhouse is on sale for 75% off. You can also purchase the Grand Senora Desert Counterfeit Cash Factory at an 89% discount until April 24. In another bout of generosity, any player who logs into GTA Online this week will receive the Skulls Livery for the Mammoth Avenger and TM-02 Khanjali.
Advertisement
GTA Online has announced three upcoming premium races: Criminal Records on April 18, Route 68 April 19-22, and Wiwang Park April 23-24. You can sign up for the Premium Races via the Quick Job App on your in-game phone or the yellow corona at Legion Square. You'll have to hand over a GTA$20K entry fee to compete for the GTA$100K grand prize. Second place will receive GTA$30K and third place will break even with a GTA$20K reward.