Mysterious Floating Runes Have Appeared In Fortnite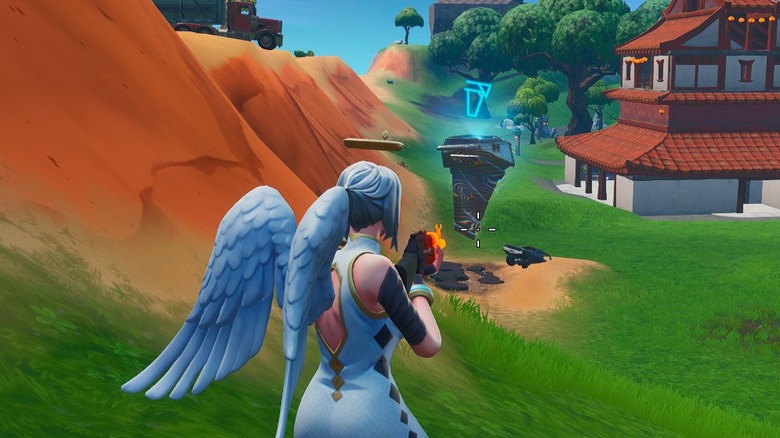 With a few weeks left in Season 8, Fortnite appears to be gearing up for its next in-game event. Earlier in the week, a giant metal hatch spawned at the center of Loot Lake, puzzling players. A glowing symbol has since popped up above one of five indentations around the hatch.
Adding fuel to the fire, a floating platform with a rune projected above it appeared near Fatal Fields at 12 p.m. EST. The platform moves towards Loot Lake each time it takes 100 million collective damage from players. This damage is synced across all servers much like the excavation sites that appeared at the end of March.
The rune on the platform differs for players, matching one of five symbols previously datamined by Twitter user @FireMonkeyFN. As the Loot Lake hatch has five "rune slots," players will likely need to move five distinct platforms across the map to unlock the next stage in the event.
So, what does all this mean? File leaks from Wednesday's v8.40 Fortnite update provide potential clues. Dataminers discovered three main event files, complete with their own sound files, titled "Sleepy," "Snowy," and "Leaky." References to a beam and iris were also discovered leading some to speculate that the hatch is actually a massive plasma gun.
Alternatively, Fortnite players may get their wish for a cross-server boss battle, with the big bad emerging from the hatch once all five runes have made it to their respective platforms. Will the "Ruin" Epic promised finally arrive? With Avengers: Endgame debuting next week, you may even see another Avengers-themed event. Taking on Thanos as a team would leave a lasting impression.
While only speculation at the moment, it's clear Epic Games has big plans for the Season 8 finale. Until then, enjoy the mystery while it lasts.