Crimson Moon Expansion Coming To Starlink: Battle For Atlas Next Week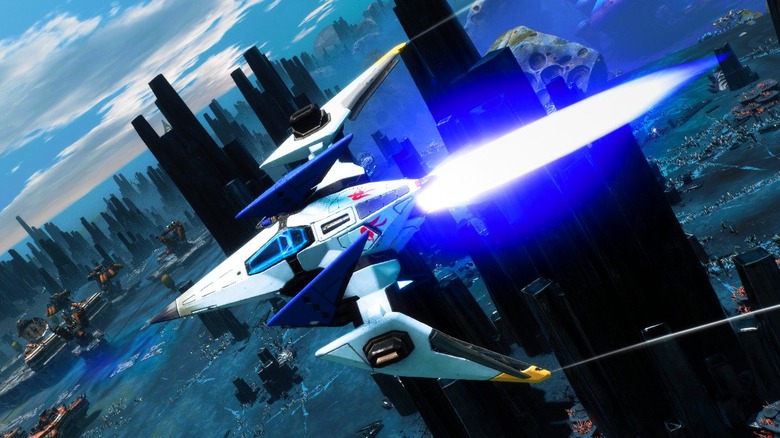 Ubisoft has announced that the Crimson Moon update for Starlink: Battle for Atlas will arrive on April 30 alongside the PC version of the game. Available for free on PS4, Xbox One, Nintendo Switch, and Windows, the Crimson Moon update focuses on the sudden appearance of the Crimson Moon in the Atlas system. According to the official website, the Crimson Moon signifies the start of the Outlaw Games, an event that determines which clan will reign over the system for the following 15 years. The Outlaw Games will feature several activities for players to take part in, including racing, the Crimson Coliseum, and most-wanted Outlaw bounties.
The Crimson Moon update will include the new "Celestial Anvil" quest. "Help the Expedition crack the secrets of Atlas by investigating the Wardens' Cradle," Ubisoft says. Players will have to decipher ancient codes to uncover the location of the Celestial Anvil. Those who take part in Crimson Moon events will receive Cogs, currency they can use to purchase custom Paint Jobs for their ships. New faction story missions, weekly challenges, and Leaderboards will further spice up the experience. 
New paid content is on the way with five new pilots, three new Starships, and 11 weapons to choose from. Nintendo Switch players will be able to purchase new Star Fox content in which they'll hunt Star Wolf as part of a series of story missions. These missions feature three new Star Fox pilots: Peppy, Slippy, and Falco. All have their own special ability and skill tree.
Starlink: Battle for Atlas released in October 2018 to mixed reviews on the Switch and PlayStation 4, with the Xbox One version receiving higher marks. Critics praised its customization options and detailed ships while disparaging its repetitive nature and pay-to-win mechanics. The title allows players to create and customize their own starships, which they can use to explore the planets of the Atlas star system. As of April 4, Ubisoft has discontinued the toys-to-life aspect of the game in which players purchased components to construct physical models of their starships, citing poor sales. Despite this change, the publisher assured the game would live on with new digital content. The Crimson Moon update delivers on that promise.