Fortnite Heats Up With Inferno's Challenges Pack And Large Party Support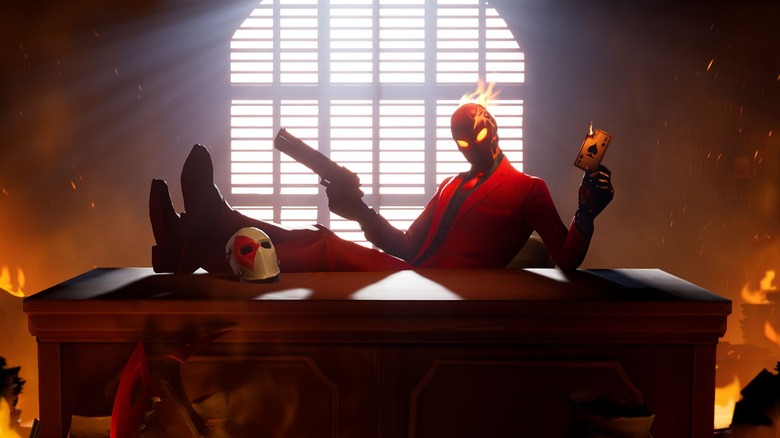 Fortnite has unveiled a new Inferno Outfit and Challenges Pack. Priced at $19.99, players who purchase the pack will unlock Inferno's Outfit and a series of 6 Inferno-flavored Daily Challenges. Completing these challenges awards a pickaxe, wrap, and up to 1,000 V-Bucks. You can use this in-game currency to buy customization items in the Battle Royale and Creative modes and Llama Pinata card packs in the Save the World PvE campaign.
Epic also announced the addition of Large Party Support to Fortnite today. This new feature allows parties to have up to 16 players in game modes, including Limited Time Modes, that support squads of four or more. Larger modes like Team Rumble, Creative Mode, and Endgame will all benefit from this change. The feature follows months of requests from players interested in partying with their friends, especially in the massive 50vs50 mode, rather than randomly-filled strangers. New settings in Creative Mode will let players keep the party going by adding multiple rounds to their games.
Still in the midst of the Limited Time Avengers: Endgame Mode, Fortnite has released its second Marvel cameo outfit. Players can now give their Fortnite characters the Star Lord treatment with the Guardians of the Galaxy Set. A sarcastic gunslinger with a love for the classic hits, Star Lord is the leader of the Guardians of the Galaxy.
Purchasing the set unlocks the Dance Off emote based on Star Lord's iconic dance at the end of the first Guardians of the Galaxy film. It also comes with a special pickaxe, backpack, and glider. The set costs 1,500 V-Bucks or $15 and follows in the wake of the Black Widow outfit added last week. Epic has not specified how long these exclusive outfits will remain available. If either set catches your eye, be sure to grab them before they're gone.