Latest Destiny 2 Patch Nerfs Spectral Blades And Fixes The Tower Bounty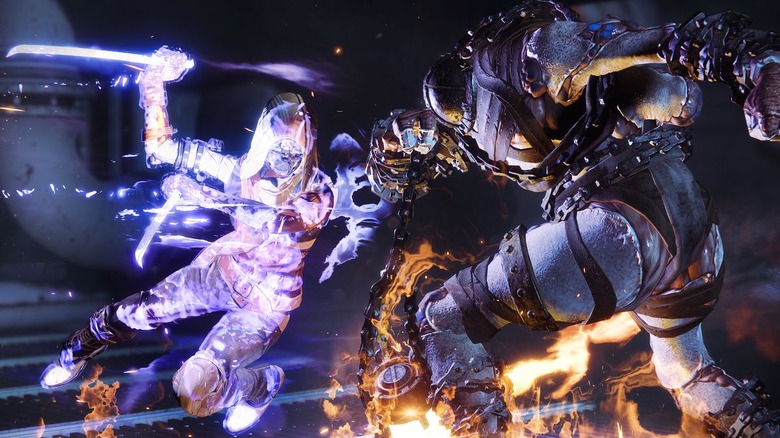 Bungie has released a new patch for Destiny 2. Though the update adds no new content, it should make multiplayer a more pleasant experience. The promised changes to Spectral Blades, the new Hunter super from Forsaken, have gone live. Xur's "Invitation of the Nine" questline is also back in working order.
With its stealth, true sight, and damage reduction, the Spectral Blades super has been dominating in the Crucible for months now, much to the annoyance of many players. To help balance this, Bungie has scaled back the damage reduction, in and out of stealth. In theory, this should force Hunters to rely more on strategic movement than tanking enemy fire. The developer has also shortened the super's duration and increased its light melee cost.
Since April 26, a bug has prevented players from completing The Tower, week seven of the nine-week questline "Invitation of the Nine." Until today, it was impossible to "collect Vex samples" as part of the Warden of Nothing strike, one component needed to finish the bounty.
Today marks the end of The Revelry, Destiny 2's first spring celebration. With the festivities concluded, special vendor Eva Levante is no longer accessible. In Eva's absence, the Arbalest, an Exotic Linear fusion rifle introduced during The Revelry, has entered the general Exotic loot pool. 
Despite its generally positive reception and lineup of post-launch content, Destiny 2 has struggled to live up to Activision's sales expectations. Season of Opulence, the publisher's latest bid to drum up the numbers, is scheduled to launch next month. Though players continue to wait for an official announcement, the Destiny 2 Gameplay Calendar indicates the season will introduce a host of new content. Free updates will include new quests, rewards, triumphs, and lore books while Annual Pass holders have a new raid and 6-player matchmade activity to look forward to.