Ubisoft's VR Escape Room Beyond Medusa's Gate Launches Across US And Europe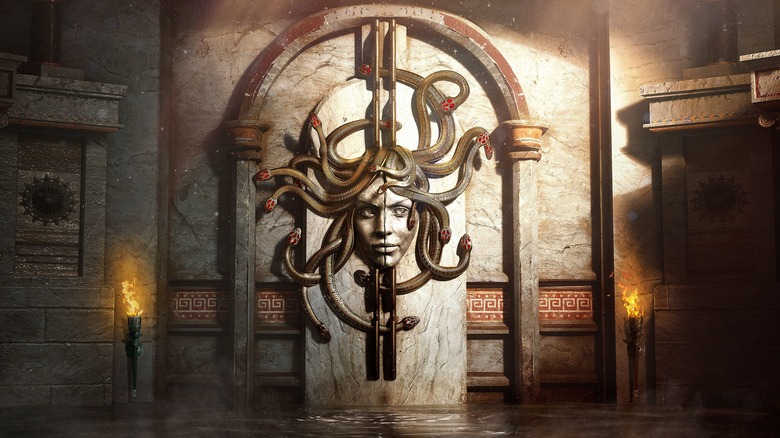 Today, Ubisoft announced that its VR escape room Beyond Medusa's Gate is now available at over 100 locations across the US and Europe. 
Billed as a cooperative multiplayer experience, Beyond Medusa's Gate transports players to the world of Ancient Greece. "Two or four players team up and have 60 minutes to find a way out of a vast Aegean coastal cave where the legendary ship of the Argonauts is anchored," says the official website. "To successfully escape, players must use cooperative teamwork, problem-solving skills and precise timing to solve riddles and find their way out of this room-scale experience."
Advertisement
At the start of the adventure, players choose from six avatars which they can customize with Ancient Greek accessories. According to today's press release, the VR game uses the same recreation of Ancient Greece seen in Assassin's Creed: Odyssey.
Beyond Medusa's Gate is the second VR escape room offered by Ubisoft. The first, titled Escape the Lost Pyramid, released in 2018. Set in the world of Assassin's Creed: Origins, Lost Pyramid takes players back to the year 1928 via a simulation of the lost expedition of Sir Beldon Frye. As a team of 2 to 4, you must navigate the pyramid of Nebka as you hunt for the object for which the original expedition lost their lives.
"It might not be as ground-breaking as The Void or as accessible as Jurassic World's VR Expedition, but I left Escape The Lost Pyramid with a giant grin on my face, swapping stories with other players about our best bits," said Upload VR's Jamie Feltham. "It's fitting proof that this can be a great way to introduce newcomers to the wonderful world of VR."
Advertisement
To experience Beyond Medusa's Gate firsthand, head to the Ubisoft Escape Games website for a full list of locations.