Nintendo Rolls Out Game Vouchers For Discounts On Select Switch Titles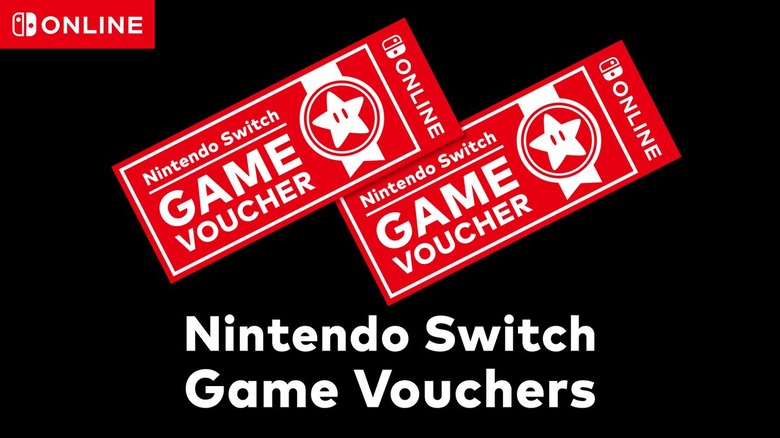 There are a slew of Nintendo Switch titles that rarely get digital discounts, but a new initiative from the company can help you save on some of the console's best games — along with some that haven't even come out yet.
Nintendo Switch Game Vouchers are tickets that come in $100 packs of two, and are available only to those who subscribe to Nintendo Switch Online. When you buy a set of Game Vouchers, you're essentially getting passes you can redeem for two select Nintendo Switch games in the eShop. You can use your vouchers on current releases or future games, so long as you use them within a year. But you will need to purchase your pack before July 31, as Nintendo plans to stop offering them at that time.
Here are the games you'll currently find in the Game Vouchers program:
1-2 Switch
Mario Kart 8 Deluxe
ARMS
Xenoblade Chronicles 2
Splatoon 2
Super Mario Odyssey
Bayonetta 2
Sushi Striker: The Way of the Sushido
Kirby Star Allies
Donkey Kong Country: Tropical Freeze
Mario Tennis Aces
Pokemon: Let's Go! Eevee
Pokemon: Let's Go! Pikachu
Super Mario Party
New Super Mario Bros. U Deluxe
Hyrule Warriors: Definitive Edition
Yoshi's Crafted World
Pokken Tournament DX
Fitness Boxing
Dragon Quest Builders
Go Vacation
The World Ends with You: Final Remix
Super Mario Maker 2 (pre-order)
Astral Chain (pre-order)
Fire Emblem: Three Houses (pre-order)
Marvel Ultimate Alliance 3: The Black Order (pre-order)
By purchasing Nintendo Switch Game Vouchers, you could potentially save $20 off the cost of buying two of these games at retail price in the eShop. So if you're someone who wants to keep your Switch library strictly digital, there is definitely some value to be had here.
There's no word on Nintendo's future plans for the Game Vouchers program after July 31, and it's quite possible this is just a one-time, limited run sort of endeavor. But we'll keep an ear to the ground and let you know if Nintendo makes mention of bringing it back in the future.