Minecraft Earth Puts An AR Spin On The Series, Arrives In Beta This Summer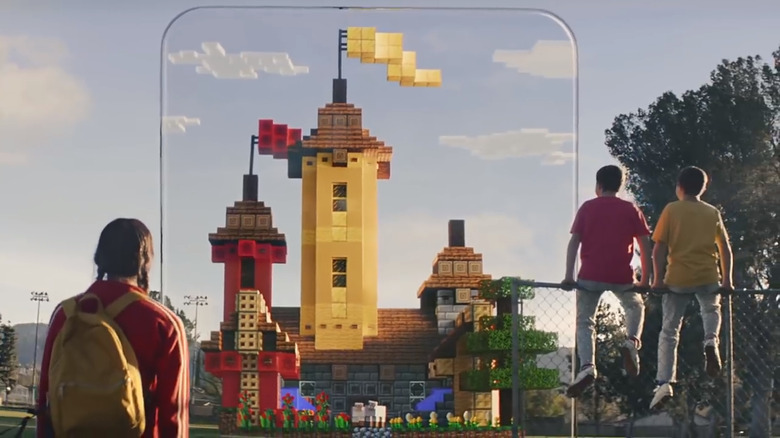 Today is the 10th anniversary of Minecraft, and to celebrate, Microsoft has announced an entirely new title in the blocky survival game franchise.
Minecraft Earth is a mobile game coming to both iOS and Android this summer, starting with a closed beta. But unlike traditional Minecraft, Minecraft Earth is an augmented reality experience that makes use of the camera on your mobile device to show you the real world, all the while enabling you to build structures and see the creations of others. It's a Pokemon Go-esque approach to the brand, inviting you to wander your neighborhood with friends, dream castles and skyscrapers into existence, and keep a lookout for mobs. Honestly, it looks really cool.
Advertisement
And depending on when the beta and subsequent full release drop, it could be coming right on time.
Pokemon Go arrived at the perfect moment back in 2016. Its July 6 release date placed it right in the dead of summer, where school-aged kids had all the time in the world to roam the streets searching for their favorite Pokemon. In many areas, it wasn't uncommon to see large groups of lucky summer breakers slowly moving down sidewalks and through parks, eyes on their phones, looking like zombie hordes. Those players really helped Pokemon Go take off, and it's not hard to imagine something similar happening with Minecraft Earth if it manages to sneak into summer.
We forget, mainly thanks to the outrageous success of Fortnite, that Minecraft is still one of the most-played games on the planet. If Microsoft can direct some of that game's biggest fans toward Minecraft Earth, look out.
Advertisement
We don't have a clear-cut answer on when Minecraft Earth's beta is set to kick off, but Microsoft does have a page up already for those interested in signing up to take part. Minecraft's 10th anniversary was a good day to announce the game and put it on everyone's radars. We can definitely envision Microsoft spending some more time on it — and perhaps giving us a solid date for the closed beta — at E3.